It's a Duesy, Doll.
The classic stylings and soft colors of the lace and satin Vintage Doll set will flatter those who feel left out of the "sultry black and red" club and the "adorable pink bows" club. The sturdy construction and honest sizing are sure to please if the set suits you---the bra should flatter a range of figures, while the g-string and garter belt do a great job breaking up the line of the eye down the thighs. Pear shapes especially, delight in this set!
Published:
Pros:
Flattering on pear shapes, true-to-size, classic styling, great construction.
Cons:
Bra makes rustling noises, back garter straps a little short.
I'm quite new to lingerie. I'm not used to thinking of myself as "pretty," and I don't have much of an established "personal style" outside of my pretty well-defined work clothes. That said, not a lot of black-and-red sultry lingerie looks appropriate on me, and hot-pink-cutesy doesn't suit me very well either. I was excited to see the Vintage Doll series from Fantasy Lingerie. The whole collection is classically styled with light blue satin and white lace, and the size chart didn't look like it left me high and dry. I was especially excited to see several items that matched (like the
Bustier and Crotchless Panty
,
Lace Booty Short
,
Bra, Mini-Skirt and G-String
,
Corset and Thong
, and
Garter Chemise with G-String
). Being part of a comprehensive line of clothes is a big plus to me, because since the sizing and construction are as good as I had hoped, I will now be able to order more from the same set and have a reliable, mix-and-matchable wardrobe.
THE SET
This set includes a matching lace-and-satin bra, a lace-and-satin garter belt, and a lace g-string. These can be worn as a set to great effect. The pieces can also be worn separately, and the bra and garter belt are sturdily constructed enough to be worn under clothes. The g-string hasn't got a cotton pantyliner, so it is much better suited for a short romp in the bedroom than all day wear.
SIZING
Fantasy Lingerie has been quite true to their promised size for this Bra, G-String, and Garter Belt set. I'm 5'5" and 143-145# with a very curvy figure. I usually wear a dress size 8 in a style that doesn't hinge upon my larger hip circumference. I have a 36" bust with C cups, a 28" waist, and 42" hips. Following Fantasy Lingerie's sizing chart, I ordered a medium, which should fit a size 10-12, busts ranging from 37-39 inches, waists ranging from 28.5-30.5 inches, and hips ranging from 39.5-42.5 inches. It's not uncommon for my hips to run a size or two larger than my waist and bust, so I was really excited to see myself fall mostly within the expected range.
I did find the bra to fit a little loosely---I wear it at the tightest of three hook settings, and my breasts still have a quarter-inch to fall when I lean forward. I wouldn't recommend this size to women smaller than me in the chest, and I think it would fit a fuller-C-almost-D better than it fits me. Still, it gives me sufficient support to let me wear it all day comfortably.
Similarly, I wear the garter belt at the tightest of its three hook settings. It might be a smidgen loose at the spot you're "supposed" to wear a garter belt, but I nudge it down til it fits me snugly. Because you can adjust the height you wear it at, the garter belt should fit the expected range, give or take an inch in either direction.
As I expected, the g-string was the tightest part of this set on me---I wouldn't recommend it for women any 'hippier' than I am---it's stretchy, and it fits my hips without giving me an elastic-line, but anything larger than the suggested circumference might be cut into a bit. It should fit anything smaller in the range, though.
THE BRA
I was excited about this bra, but it's my least favorite element of the set. I like the look, from an outsider's perspective, of the satin gathers under the cups---but to the wearer they make the bra much bulkier and rustlier than it needs to be. I like my clothing to be silent... but I suppose that's the price of beauty.
The bra is well-constructed and comfortable for long-term wear and I'd have no qualms wearing it in public under clothes. It is supportive, with a sewn-in underwire, and completely opaque, with the lace sitting over-top of concealing fabric. I am a little disappointed that my breasts don't completely fill the cups. I'm including pictures of the construction, of the satin gathers from a waist-eye-view, and of the leftover space to fill when I bend forward.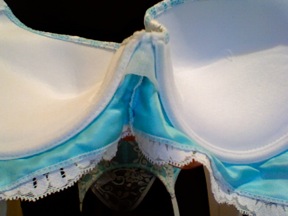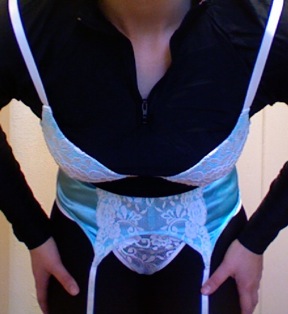 The GARTER BELT
I've never worn a garter belt before this one. It's basically built of satin, with lace paneling over parts, and it hooks together in the back with hooks in the same way a brassiere does. It serves the dual functions of giving you straps with which to hold up your thigh highs (instituted in the days before elastic, I assume?) and smoothing the curve from your waist to your hips, if you need help in that area. I actually found this to be a teensy bit bulky on me, but my waist smoothes to my hips efficiently already.
Experience
I chose
these Leg Avenue Lace Top Thigh Highs
almost at random, but they were a great choice for this set because the lace seems to match. This garter belt has two straps in the front and two in the back which adjust and stretch down to 'catch' the thigh-high top. Fully extended, both the front and back straps are 8.5" long. I had 3 spare inches of adjustment in the front, but I had to adjust them to their maximum length in the back, so I think Fantasy Lingerie could have made the back straps an inch or two longer. Other than that, these leave nothing to be desired. I discovered I'm a big fan of the look that the garter belt's strap has, cutting down the back of my thigh. It's very flattering for me, and I'm one of those women who has very low confidence about her thighs.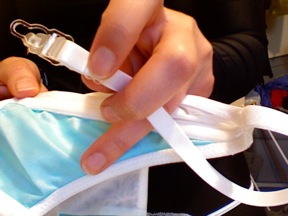 THE PANTIES
I had expected the lace g-string to be nothing special---but I like it a lot! The lace is attractive and flattering, and covers the entire mons. It narrows into a true g-string in the back---and this is vital for the complete look! I wish it had a cotton pantyliner so I could wear it for longer periods of time, but it's really simple to slip out of the way for sex, and that's a trade-off I'm willing to make.
Take a look at these pictures of the complete ensemble, and you'll see exactly why this g-string is so important! (The horizontal hem you see running across my hips is the hem of my spandex shirt---there's no random hem in the lingerie set.)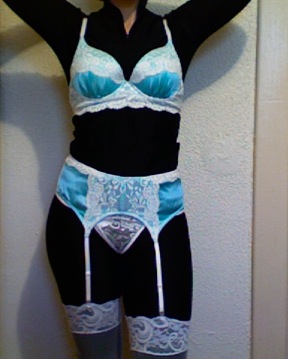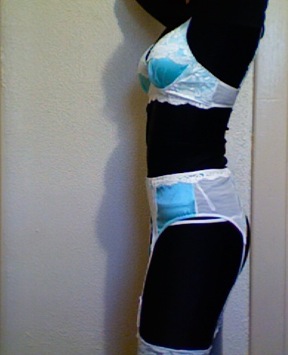 CLEANING AND CARE
The set is made of satin, lace, nylon, and spandex (though I'm not too sure which parts contain the last two components). As such, they can be machine washed in warm water and either tumbled dry or hung to dry. The less tumble-drying you subject your clothes to, the longer they'll last, and for even better longevity you can hand wash the set.
This set appears as though it was built to last, and though I haven't had mine for very long let, I'll let you know how well the bra, garter belt, and g-string hold up when I write my followup review.
FINAL THOUGHTS
As a newbie venturing into the world of lingerie, this was a very good first set for me to choose. The styling and colors are classic and flattering. The fit is exactly as promised (and that matters a lot when you're buying online!). To my surprise, I really love how my thighs look in this set. That picture just above? I think that's the first picture ever taken of me from behind that hasn't made me cringe. I'm really happy with this look, and other women who are self-conscious about their legs might want to invest in this set! It comes in a stylish black and purple if sky blue and white aren't your colors.
This product was provided free of charge to the reviewer. This review is in compliance with the FTC guidelines.

Thank you for viewing
Vintage doll bra, g-string & garter belt blue
– bra and panty set review page!