It's a nice bra if you can find one that fits!
I'm disappointed that this bra didn't fit me correctly. I'm a plus size girl and finding bras that fit my odd bra size is often really difficult and takes a lot of trial and error. The bra is affordable and comes in different sizes and colors which is a plus if you can find one that will fit you! The cups were just barely big enough you might need to order up a size. The removeable and changeable straps allow you to customize it to your outfit. It's a nice bra but not for me!
Published:
Pros:
Affordable, nice packaging, available in different sizes and colors, underwire, slightly stretchy
Cons:
Band was too short for me, cups might be too small for some, the cups looked crushed
I'm a plus size girl so this review is from a plus size perspective. It's important for me to say that even though this is a plus size review I don't have plus size breasts. My bra size would be a 43B but I usually just get 38B or 40B sized bras (because they're the only ones I can find!) and hope that the band is stretchy enough to work. Sometimes I have to wear bra extenders even though I hate those things. I bought this bra just to take a gamble and see if it would work or not. Unfortunately it didn't fit me and even though it's slightly disappointing I'm not really surprised. Finding my bra size is difficult and annoying and I end up doing a lot of trials and errors with bras. I hope this review is really helpful to anybody that requires a larger band size as I'll be including actual measurements down below.
What's a convertible bra and why should I get one?
A convertible bra is a bra that has removeable/changeable straps. You can customize your bra to go along with any outfit. It's sort of like having four different bras in one, hence the name "four way convertible bra." The bra has plastic clips just like the clips on the top of garter straps.
You can wear the bra in the following ways:
1. vertical straps on each shoulder like a regular t-shirt bra.
2. straps crossed in the back.
3. strap around your neck like a halter top.
4. take the straps off completely and wear it strapless!
You can wear the same bra with a blouse, a strapless dress, a halter top, or anything you want! This bra comes in basic colors which are essential staples for your wardrobe. It's available in black, white, brown, and nude.
Material
The bra is made of a plolyester/spandex blend. The straps are very stretchy but the band is only stretchy to a limit. The bra feels soft and satiny like a typical t-shirt bra. There's slim to none padding in the cups but it feels like there's an extra layer of material inside. If it's a cold day I don't think you'll need to worry about your nips showing because it seems thick enough. This bra has underwire in the cups. To the touch it does feel a little cheap and misshapen. The inside of the cups have some lines like the cups have been a little crushed or not made very well. It doesn't effect the view from the outside of the cups but I think it just depends on the bra you get.
There's a double row of thin elastic that lines the length of the bra that helps keep the bra in place if you decide to wear it strapless. The elastic feels gummy to the touch and might cause a little skin irritation if you've stretched the bra to the limit or if you wear it for a long period of time. The back of the bra has a normal bra clasp with 3 rows of two hooks to adjust the fit.
Size/Measurements
This review is on size 38B. I was hoping that the bra would be about 38" unstretched so I could possibly stretch it to fit me.
Here's some actual measurements that I took of the bra:
Straps
- 16 1/2" unstretched end to end. The bra straps are very stretchy but they are thin. If you have a larger bust I think wider straps would be more supportive and comfortable.
Entire length of the bra end to end unstretched
- 30"
Entire length of the bra end to end stretched
- 39"
Packaging
The bra came in a clear plastic bag with the brand name "BACI" printed all over it. The bra itself was wrapped in white tissue paper. The paper was sealed with a clear round sticker. The insides of the cups had two wads of crumpled up paper that are supposed to help keep the cups from getting crushed during the shipping process which obviously didn't help much. The packaging looks nice. It's better than no packaging at all but it could have been better.
Final Thoughts
Well, the bra didn't even come close to fitting me! I was surprised that the cups were just barely large enough to fit my breasts. If you have a large bust you might want to order two bras, one in your normal size and one that's a size up. On Edenfantasys it doesn't say that this is a non-returnable item even though it probably should be. I already wripped the tissue paper. I'm probably going to give it to a friend or I might list it in the Eden Classifieds later.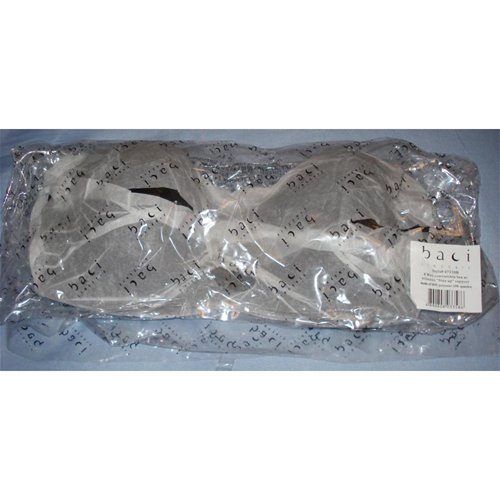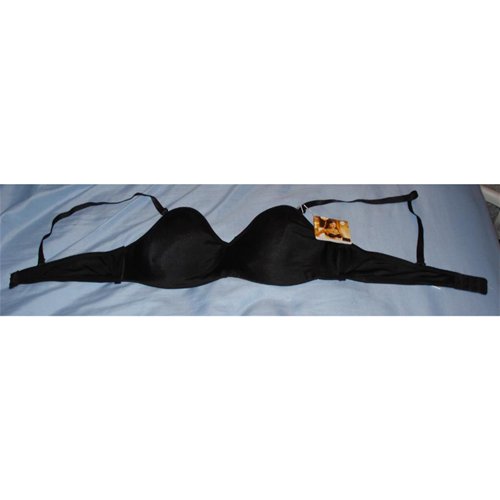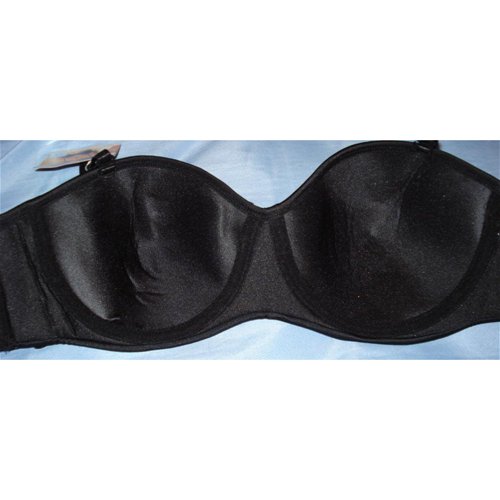 Follow-up commentary
1 month after original review
The bra doesn't fit me so at the moment it's just sitting in my closet. I'm not sure what to do with it at this point. Maybe I can list it in the Eden Classifieds later. Now that I know that this bra didn't fit I won't be buying anymore bras off of the internet. It's just too risky for me. I'm glad I took a chance on it though because at least I know now.
This content is the opinion of the submitting contributor and is not endorsed by EdenFantasys.com

Thank you for viewing
Black four-way convertible bra
review page!