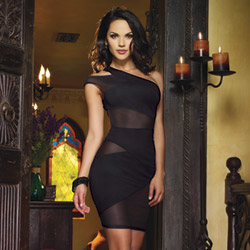 Black crush
Dress
by DreamGirl
It takes a minute to have a black crush on someone. (XL)
While this isn't exactly the dress to end all dresses, I feel that the pros outweigh the cons. For the brave, this can be worn in public and will turn plenty of heads. For those not-so-daring, it can be worn for a romantic at-home dinner date.
Published:
Pros
Nice material, Breathable, Easy to get on, Comfortable, Tight but not restrictive, Sexy
Cons
Useless zipper, Nothing is adjustable, Right side scrunches up, No breast support
With the recent influx of Dreamgirl products, this is the one that really caught my eye. I love asymmetrical clothing, and this was something that came in my size and was also something I felt I might actually be able to make work (yes, I realize making something "work" is highly subjective, so you can just decide for yourselves).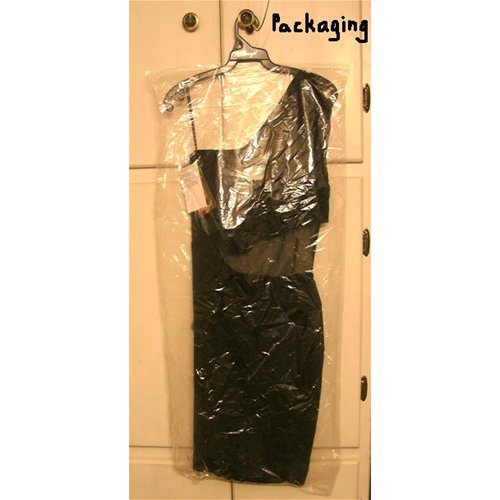 This dress comes packaged inside of a plastic sheath and on a plastic hanger.
Included: Just the dress. No accessories.
The tag reads: Hand wash in cold water, Line dry, 50% Cotton (!!!) 45% Polyester 5% Spandex.
You read that correctly. Cotton. The opaque material of this dress is cotton with spandex. Although I haven't washed this yet, it SEEMS like I could safely wash this thing in my washing machine (I'd use cold water and the delicate cycle, of course), as the opaque material feels very sturdy and the sheer material seems very durable for mesh.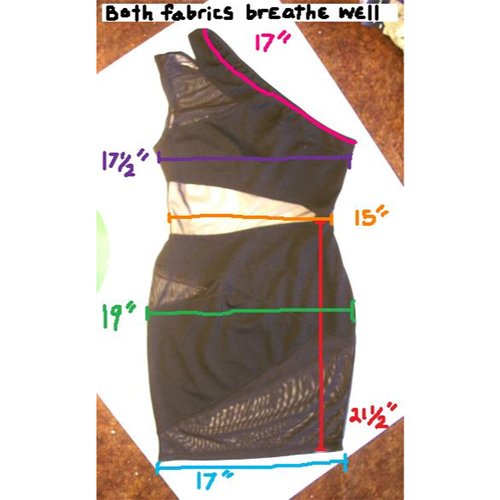 Here's the (front) view of the dress, laid flat. This dress is more forgiving than it looks (since it looks pretty hateful, really) because of the cut and the fabric. It's cut into a nice hourglass shape, and the fabric, while tight, is sturdy enough to "hold stuff in" somewhat. The opaque fabric (which covers the breasts, stomach, butt, and love handles) is a cotton-spandex mix and feels like the material of a low-impact sports bra. The mesh (described as "power mesh" on the product page) won't contain things as much but occurs in places where it doesn't really have to.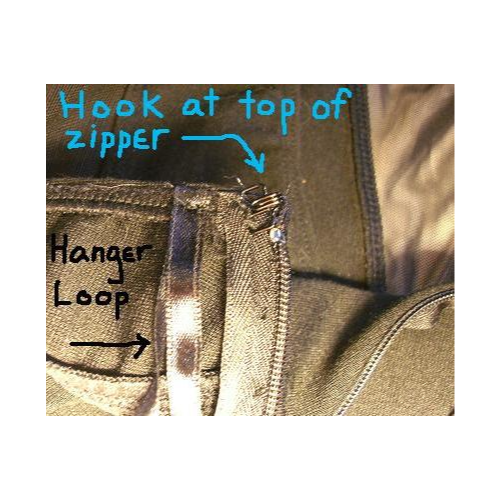 This dress has a zipper. It doesn't really need one, in my opinion, but it has one. As I am one to fret over zippers rebelling against me on tight dresses, I thought I'd include proof that this has a hook at the top of the zipper to 1) make it easier to zip and 2) help guard against zipper accidents.
Sizing Information:
Eden's
DreamGirl Size Chart
doesn't include XL, but the DreamGirl website says that an XL should fit:
Size 14-16
Cup D/E
Bust 38-40
Waist 31-33
Hips 40-42
Weight 160-180 lbs
Me:
Size 16
Cup C
Bust 42
Waist 32
Hips 42
Weight 180 lbs
HEIGHT: 5'8"
Things are mostly in order here. Apparently my breasts are too small, but my bust is too large. Whatever. Onward and upward.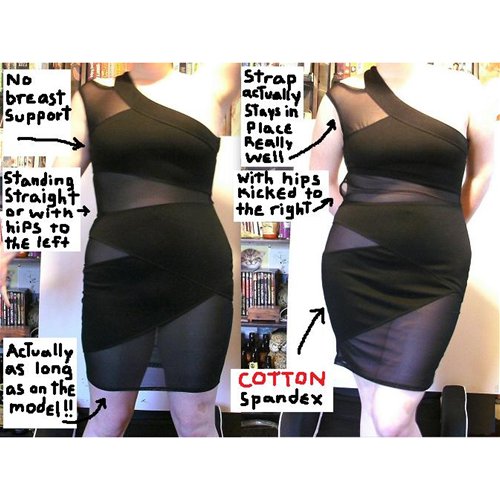 Front view of the dress. I'll work my way down.
The two shoulder straps (I'll call them upper and lower since there really isn't a left/ right thing going on) stay in place surprisingly well and aren't uncomfortable. The lower one stays nicely perched on the tip of my shoulder and the upper on doesn't cut into my neck. The only issue with either one is that the upper one has a tendency to bunch up, and this effect is slightly enhanced because of the seam at the very top of the strap. This isn't a big deal for me, personally, but worth noting.
Experience
(continued)
The bust area will somewhat restrain the breasts (like a light sports bra) but won't really support them (also like a light sports bra). I don't take issue with this aspect of the dress, but someone who "needs" breast support would, as wearing a bra with this dress would be really awkward. Also, the strap panel dimples slightly above my right breast if I don't stick my chest out.
The waist fits just fine, but if the body is leaning to the right, the fabric on that side sticks out since there's about a 4 1/2" expanse of mesh that isn't anchored down because of the cutouts in the back. I consider this the biggest downside to the dress.
The hips fit just fine, and I don't find the sheer panel on the right hip to be unflattering.
The left picture above shows how far apart my legs have to be to fill out the very bottom of the dress.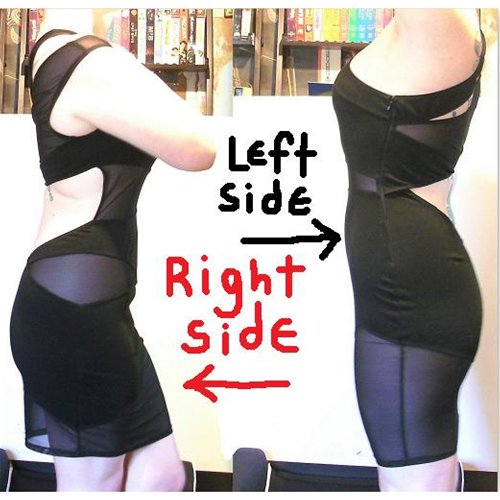 Aha! A dress that warrants TWO side views! The picture on the left (the one of the right side) shows how the dress "falls" when the legs are together (as does the right 'front view' picture). I feel this is important because sometimes tight dresses look....just wrong if the hem isn't as tight as the rest of the dress. I think this one looks okay, though.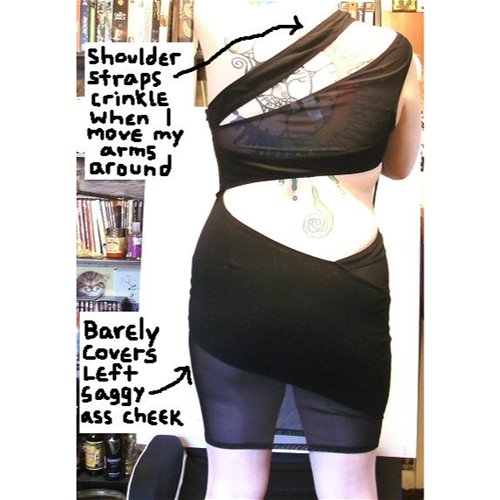 Finally! Back view! Believe me when say that it doesn't look as wrinkly on me as it does in this picture. The straps just weren't pulled as tightly across my back because one of my arms is raised. The upper strap usually retains its small hump, though (as seen below).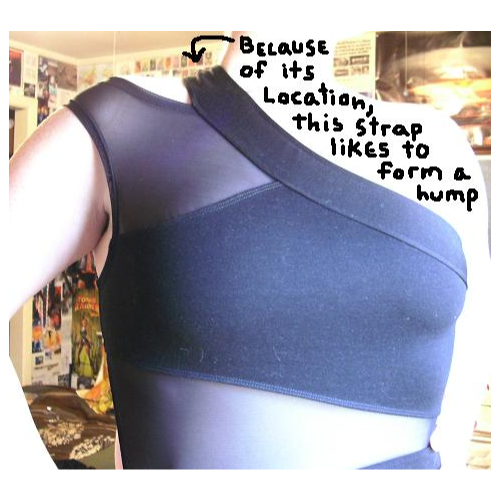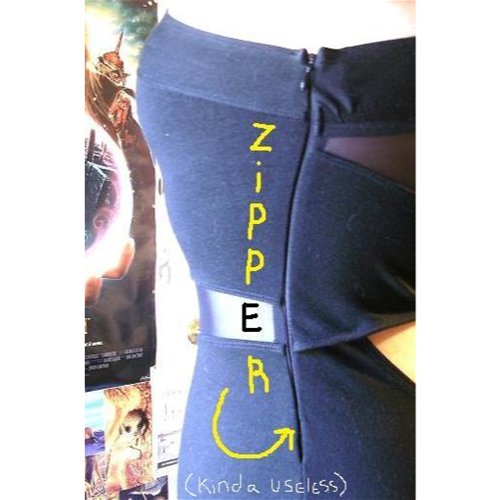 Here's the deal: It is MUCH easier for me to step into this and pull it up, then pull the straps over my right arm... than it is for me to put this on using the zipper. I am NOT too big for this dress, but the zipper is a major pain to zip up if the dress is on, even with the hook and eye closure. It zips up smoothly enough if the dress isn't on, and it zips DOWN smoothly enough if the dress IS on, but it catches something fierce if I try to use it for it's actual purpose. The only thing it's possibly good for is for gracefully removing the dress, but it's really not that hard to do that without the zipper.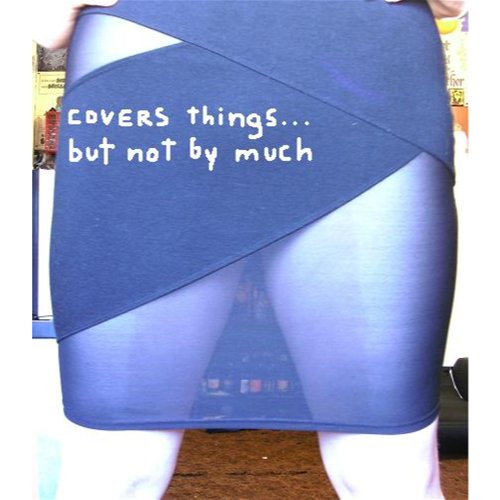 And this is why I won't be leaving my house with this on. If this bottom part of the dress weren't mesh, it might happen....but that's not the case. It totally is, and I'm totally at risk for showing my naughty bits if I sit down or bend over. That's far from a problem in the confines of my house, though.
More Sizing Information:
I think Dreamgirl's size chart is pretty close, although I'd say that it could be pushed a few inches more in each area, though I'm not sure I'd recommend this dress for E cups. Something more like:
Cup B/C/D
Bust 38-44
Waist 31-35
Hips 40-46
Thanks for reading! Feel free to ask questions in the comments or via private message!
This product was provided free of charge to the reviewer. This review is in compliance with the FTC guidelines.
Thank you for viewing
Black crush
– dress review page!