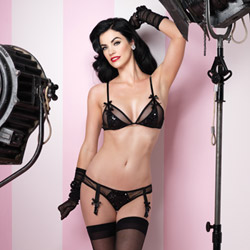 Burlesque playful set
Bra and panty set by Leg Avenue
Itchy and ill-fitting
I thought this set looked very cute, so I got it. I was worried about the sizing, and wondered if the M/L (largest size available) would fit me well. Turns out - the answer to that is a big NO! The sizing is awkward, and the fit is as well. I can't comfortably wear the bra OR the panties.
Published:
Pros:
Cute concept
Cons:
Sizing, ill-fitting, would work best for smaller breasts, itchy mesh...
This set came packaged in a pink striped Leg Avenue box. I think the box is a nice package and it looks pretty, and it's a simple yet cute package for this set to come in. The bra and panties are packaged in a plastic sleeve inside of this box.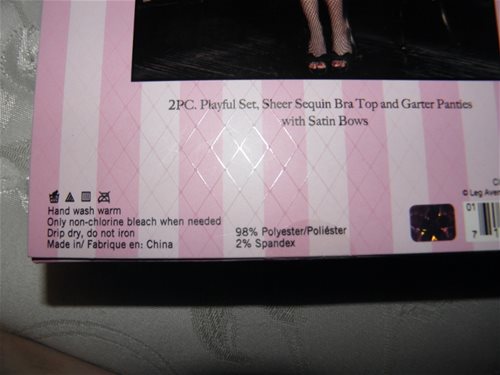 Then I took out the bra and panties and laid them out I thought, "There is no way this bra is going to fit me." I wear a 38 C, or D depending on the bra. Not to mention, I am used to wearing push-up bras, but made an exception for this set since I thought it looked totally cute, fun, and sexy. First off, when I took out the bra and laid it out flat, it looked very small - not just in terms of cups or something, but overall. I mean, it looked like a training bra; like it would fit a child, not an adult. It was THAT bad - the bra is 12" across when laid flat and unstretched. I didn't even think I would get it on just getting a first look at it. Though the cups and body of this bra is composed of black mesh, so it has a bit of stretched to it. Enough that I was able to wear it (on the last row of hooks, large as it gets) on my 38" bust.
I had to fully extend the straps as soon as I got it on. Still, the cups kept sliding up from underneath my breasts; these cups really cannot contain them. The cups have no underwire, no padding, and provide no support - I have trouble even keeping the cups down over my breasts! I wish the straps extended to be longer, and that the cups were more covering. This whole bra would need to be redesigned if I wanted it to fit me well. Another thing was once I got it on and tried to straighten it out, I noticed my nipple was showing completely through the black mesh on one cup, but was covered by the sequin panel on the other cup - one of my breasts was entirely visible. That is when I realized - the cups are made with a black mesh, and the sequins are not sewn into one spot directly onto that mesh. The sequin panel is stitched over the mesh, but not directly on to it. The sequins are stitched on to a second panel over black mesh, and then that is sewn on at the bottom of the cup and stitched to the ribbon/strap at the top of the cup - so the sequin panels can be moved and adjusted into place somewhat. I was able to shift both sequin panels into place, so that they looked even as they could get, and so that neither of my nipples were fully exposed anymore. Though, it's hard to pull the cups down in a way that I feel like they wont pop up exposing my breasts completely. Once I pull the cups down, there is not enough length to the straps for me (just another inch would do), and they end up rising back up again. Not to mention, once I have the cups situated so that they aren't sliding up over my breasts, and are actually kind of where they are supposed to be (though that doesn't last long because of the straps - I have to keep pulling and adjusting), then the sequin panel isn't covering enough or in the right position, so my nipples end up showing right above where the sequins are! Frustrating! As I sat wearing the bra, my nipples began to itch, I could only assume from the fabric since it was annoying and sudden and never happens, so I had to lose the bra. This annoyed me because I don't expect mesh that is not dry to the touch to irritate my nipples like that when worn.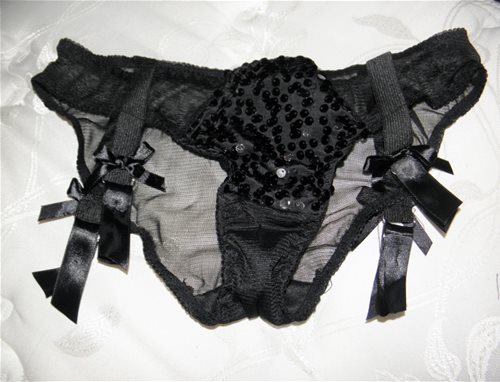 The panties have 4 non-removable garters attached. The clips and hardware on the garters is all silver metal. There is a liner in the panties, which is oddly satiny and black, as opposed to typical cotton or something. For a liner, you generally expect something breathable, or just no liner at all. The liner fabric is thicker than the mesh fabric that the panties and bra are made of! To me, that seems very impractical.
Experience
(continued)

There is a black, wide, obvious seam that goes up the middle of the back of the panties. To me, that seemed like an attempt at a retro/pinup look; sort of a backseam for your bum. I thought that, if these fit, they would look SO cute with a pair of backseam stockings! But, of course, I had about as much luck with the panties as I did with the bra.

I have 38" hips, and wear a large in pretty much any brand of underwear. These panties are bikini-cut, and they feel like they could be higher in the front especially. It feels like, when wearing them, the front is low-rise but the back isn't quite. The back goes just about an inch above the top of my bum. The panties feel lie they cut in to my thighs when wearing, to the point of where I couldn't just sit in them, I had to take them off. When I lay back when wearing these, they slide down and half of my vagina ends up exposed. The fit of these is really ridiculous. And the way that my nipples started to itch after I sat wearing the bra? Well, the panties weren't much different. I was really excited to see the burlesque collection on EF, but I decided against ordering the other bra and panty sets, or any of the other M/L sized items, until I got this one. I was going to wait and see if this fit okay, and if it did, I would get others. Given the fit of this, I definitely won't be getting any more of these M/L sized items!
This content is the opinion of the submitting contributor and is not endorsed by EdenFantasys.com

Thank you for viewing
Burlesque playful set
– bra and panty set review page!