itsy bitsy leopard print bikini
I do love the colors and the design. I like the fact that it's very easy to take off in the heat of the moment. I just don't like that my boobs keep falling out of the bottom, but that might just be because it seems to be a size too big. I wish that the bottom covered just a little more so that I could wear it out. Even with that it's still a nice sexy piece for the bedroom. This won't fit every body type.
Published:
Pros:
Love the colors, Love the style, Very sexy, Easy access!
Cons:
Boobs tend to fall out underneath. Bottom's smaller than what I thought, only for bedroom use.
Use-
This sexy Orange Snap off bra and Leopard two piece bikini by Espiral Lingerie is made to wear. You can wear this as lingerie in the privacy of your own bedroom. If you're brave enough you can wear this as a bikini. Wear this where ever, or as what ever you please.
Material/Texture-
This set is made from 84% Nylon and 16% Elasten. These fabrics to me, are very durable and also very stretchable. These also make the set very soft. I love the way it feels against my body and my husband loves the way it feels on his as well. Usually when I get something, it has that "new clothes smell" this actually had no smell to it at all. No bad smells, but no good smells either.
Design/Shape/Size-
Well it is a two piece bright orange leopard print bikini. The top is a halter top with tie string at the top an a wide band 1-in thick that goes from breast to breast and closes in the front with a snap button. The bottoms in the front are like your average bikini bottoms, thin straps and low rise with two snaps at the hips (or you can just slip them on). The back is what makes the bottoms so different. They are tiny in the back; when I have them on they actually only cover 8 inches of my butt. That is all they are in the back. Plus they have cute scrunching on the butt. When I looked at the picture I thought the bottoms were going to cover a lot more, but that is OK; I think it is still very sexy. Here are some measurements for the whole bikini set. Top of bikini: triangle cups are 9 inches long and at the widest part 6 inches wide, the strings are only 14 inches long. To me that's short for bikini strings. When I set it flat on the bed I measured the thick band and it was 15 inches long. The bottoms hip-to-hip was 16 inches wide, from the middle of the bottoms to the end of the crotch it was 8 inches long. So this set comes in S-M-L-XL Hot Pink/Leopard or Orange/Leopard. I got, as you can see, the orange in the XL. I wish I would have gotten the L, there is to much room in both top and bottom for me. The pictures don't show the true color of the set either, because it is actually brighter in person. Here are their measurements as well as mine.
Espiral lingerie
Bust Waist Hip (inches)
S 34---25---34
M 36---27---36
L 38---29---38
XL 40--31---40
My Measurements
Bust (in) 36C-D
Waist (in) 28
Hips (in) 41
Honestly, I was little nervous about taking these pictures; I'm not in love with certain parts of my body but I want to be as helpful as I can, and I know pictures help people make decisions.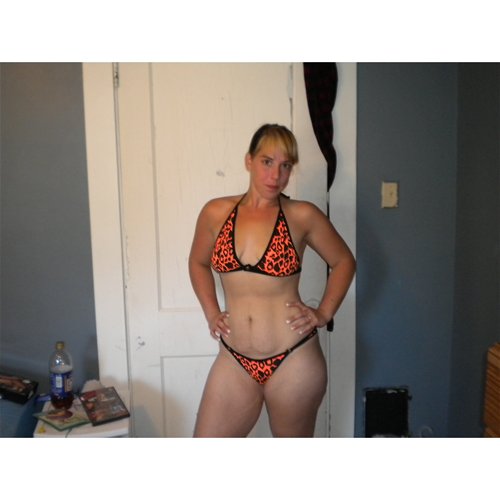 front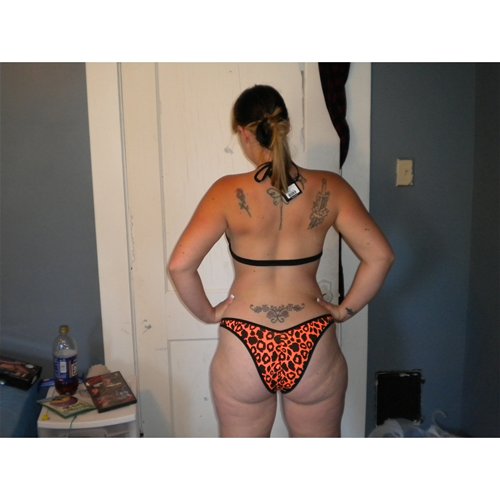 back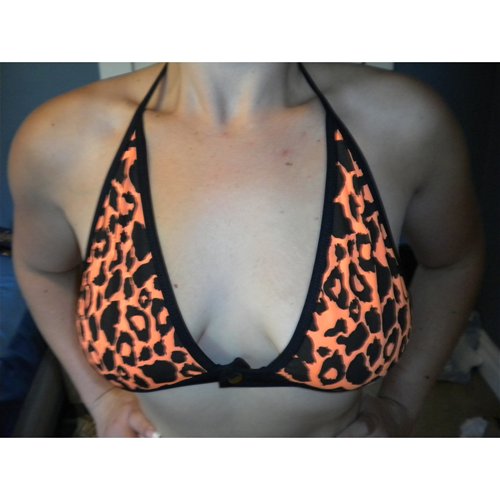 top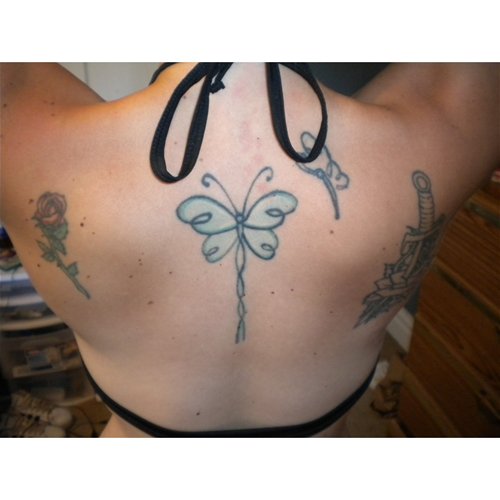 back top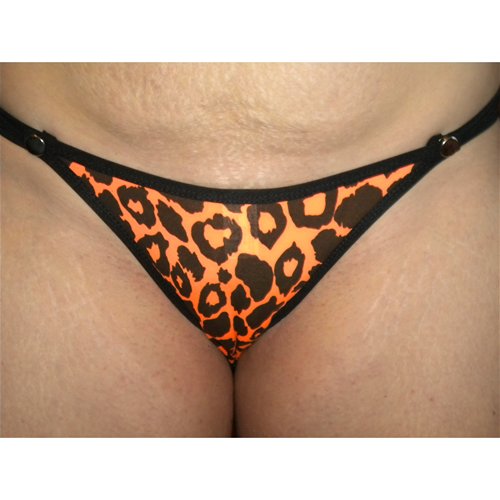 bottom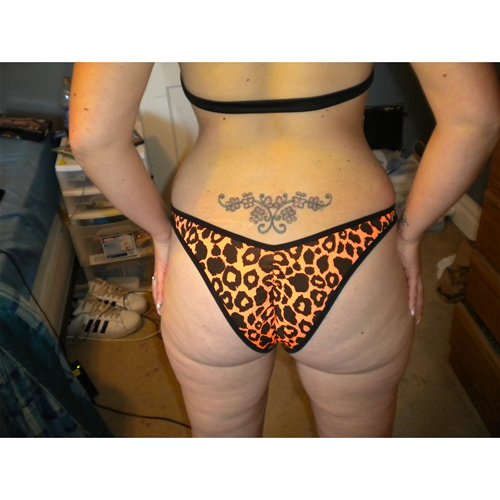 back bottom
Functions/Performance-
This has three snaps for easy access. You have the one on the top in the middle of the triangles that unsnap and you can take it off with ease. The other two are located on the bottom towards each hip. They aren't that far out they are in more towards they private area. You can use them to quickly take off these sexy bottoms. They also have a pantyliner. There is supposed to be padding in the top, but I couldn't find it. It is a very comfortable piece as well. I did tug and pull both top and the bottom of this piece, I didn't hear any ripping or tearing. It actually went right back to it's normal shape. I didn't find anything wrong - no lose threads, no bad stitching, etc. It was very well put together.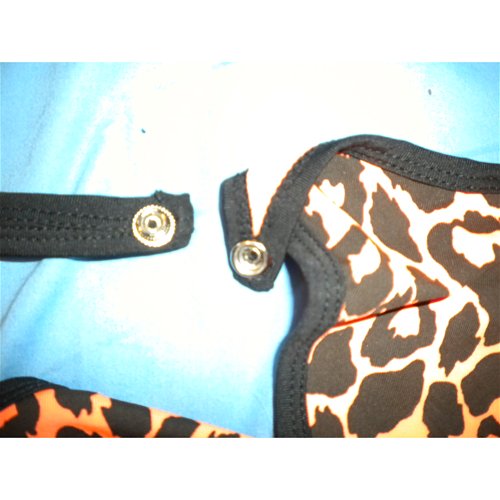 Care/Maintenance-
It says to wash separately, no bleach, and drip dry. Honestly anytime it says to wash separately I always wash by hand. So after I wash by hand I will hang to dry, than after drying I will fold it up and put in my drawer for storage.
Packaging-
This comes in a plastic bag, in a box, which are both recyclable. The front has a picture of the model wearing the hot pink one (on the box it's not hot pink, it is purple). It also tells you who made the set, colors it comes in, and size. The back has two models on it one wearing the "pink" one and showing the back of the bikini, and the other model is showing the front of the orange one. The back tells you how to care for you product, size, color and what it is made of.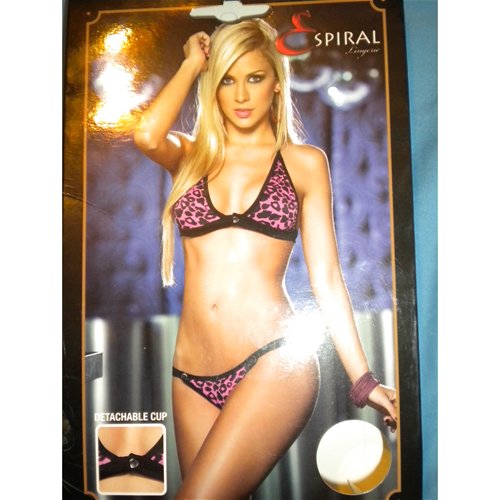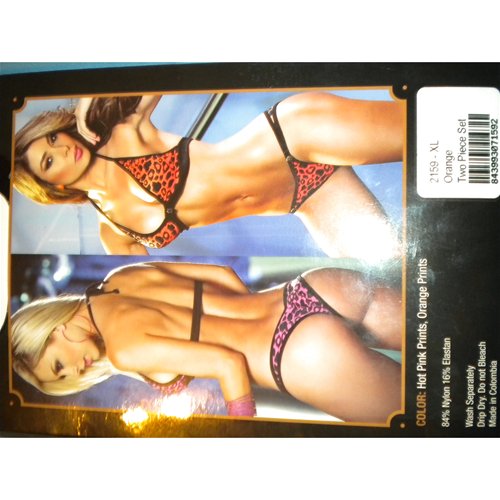 Experience
So this is a new item for Esprial Lingerie. When my husband and I saw this sexy two piece bikini we looked at each other with big smiles on our faces, so I ordered it. So now that I have this set I will say that this little bikini is not for everyone. Even though it goes up to an XL and also has some stretch to it, it still isn't going to fit every body type. Also I don't think that it is going to fit women with really big boobs. I really do like this bikini. It's bright orange, leopard print, and just plain sexy! I really wanted to be able to wear it to the beach or the lake but because it doesn't really cover a whole lot on the bottom area it will still be fun for the bedroom. I do dislike that it says it's lightly padded, as there is no padding at all.
Follow-up commentary
2 months after original review
We're still excited about this bikini set. I have grown to like the fact it doesn't cover too much of my back side. The hubby on the other hand loves that most of my butt is showing--he finds it very sexy. We've even had some fun with it in the pool while nobody was home or around. Only one problem, as I went to get out I almost lost my bottoms. Since getting the bikini, I've lost quite a bit of weight. Now the bottoms are much bigger on me than before, needless to say the fit and the weight from the water just pulled them straight down. I'm so grateful no neighbors were home or around. Other than that we're still very happy with this set!
This content is the opinion of the submitting contributor and is not endorsed by EdenFantasys.com

Thank you for viewing
Orange snap off bra and bikini
– bra and panty set review page!