Itty bitty teeny weeny boobies only!
I would really only recommend this set to someone that is thin with small breasts, otherwise plan on just wasting your money. I would have expected alot more from Dreamgirl and am shocked they produced something of such poor quality and design.
Published:
Pros:
four sizes available, no loose threads
Cons:
small cups on largest size, cheap looking, highlights chub
I will first start by saying..What the hell was I thinking?! I should of known better with this set right off the bat, and I did, but figured I would give it the benefit of the doubt. I'm not getting married and always generate towards darker pieces and different styles, but since there was no reviews on this and I saw people were having mixed feelings on it I figured I would take the plung and break my no white status and request it.
This is a three piece set by Dreamgirl that is only available in the white that you see (thats why it has the world bridal in the name, I'm guessing). It is available in four sizes...SM, M, LG, and XL. I ordered the extra large because according to their sizing chart I fall into that bracket, so this is what my review will be based on.
The three pieces in the set are a bra, thong, and a gartered waist cincher. I will describe each piece seperately for better understanding.
The bra:
To me the bra is the worst piece. Yes people it really is as small as it looks in the stock photo! This is a demi style bra with nothing grand about it. It looks like a bra I would get at a chain store..like Walmart, Kmart, etc.. It is made from 75% polyester, 15% nylon, and 10% spandex. Having adjustable bra straps and three sets of two hook and eye in the back makes for better adjustment to your body. The whole bra is a solid white silky material with white lace running only at the top of each cup. Besides from the lace the only other embellishments on this is two medium sized bows on each side where the straps meet the bra, and a seam that runs down the middle of each cup. The bra does boast underwires which I find to be funny because the only size this bra would fit would be an A or possibly a small B cup and neither one of these sizes need support from wires! Its unfortunate too because I think if this bra was made for more cup sizes in mind it would probably offer a great deal of support because of the underwire and non stretchy material on the cups. The bras measurements from one end of the underwire to the other is only 6"inches and running down the middle seam from top to bottom is only 5 1/2"inches!Hopefully you can tell in my pictures that in acouple I have this bra sitting on top of a black demi bra that is sized at 36D. I have the underwires lined up on the bottom and the white bra only covers half of the one it's laying on!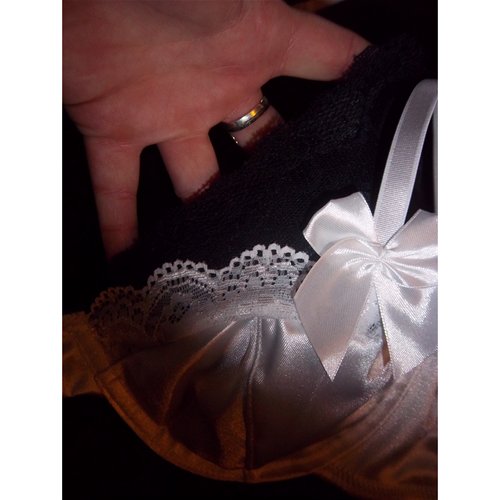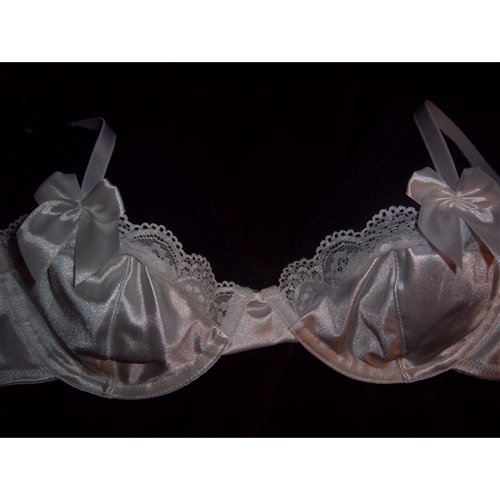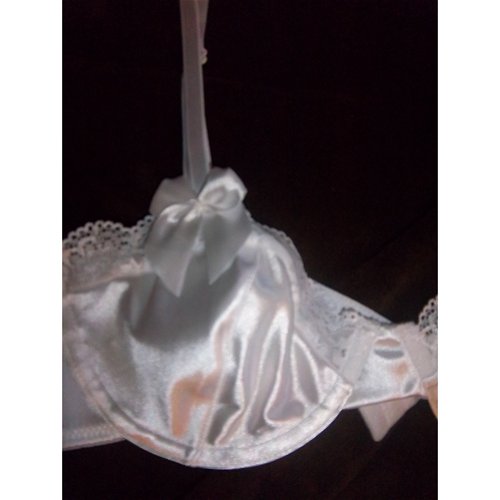 Waist corset:
The waist corset is more for decorative looks than cinching in anything. It is purely white and made from 75% polyester, 15% nylon, and 10% spandex, like the bra. The material is soft and satiny and trimmed out in lace. It is plain in design with no embellishments on it. Four plastic boning pieces are built inside to supposedly help cinch your waist, they are only alittle over an inch long. Two are placed on each side in the front and two on each side in the back where the garters are. Two sets of hook and eye in the back for better adjustment to fit around your waist. It is 31" inches long when unhooked and laid out on a flat surface and when hooked at the last hook and eye it measures at 14 3/4" inches. The middle in the front is slightly wider than the ends, measuring at 7 1/4" inches and the sides at 4 1/2" inches wide. On the waist cincher you will find four non detachable garters with small metal clasps. Each garter at its longest measures at 12" inches and when at shortest 7 1/2"inches.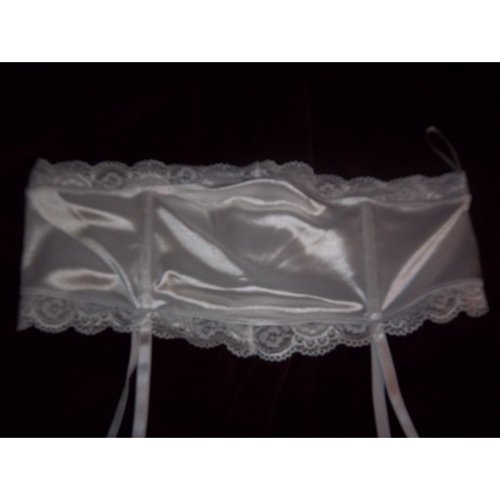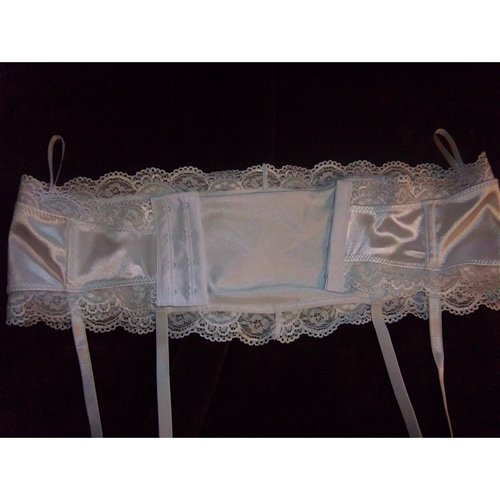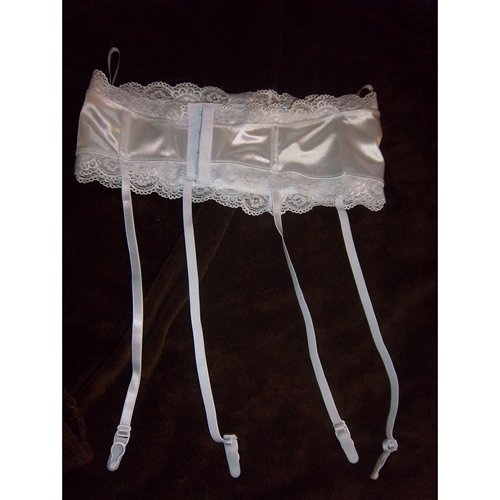 Thong:
The thong is made from the same materials as the other pieces in this set, and even though it is soft and has quite abit of stretch to it, it looks like it would be very uncomfortable. The front is cut very wide making it look unbalanced I think. There is two white bows on each side at the top for embellishments. Going into a string around the hips allows for alot of stretching to it, 23" inches when stretched out and 14" inches not stretched. The back has a wide band ( 2 1/2"inches at widest) that runs along your tush and connects to the front. You will also not see a cotton liner in this thong.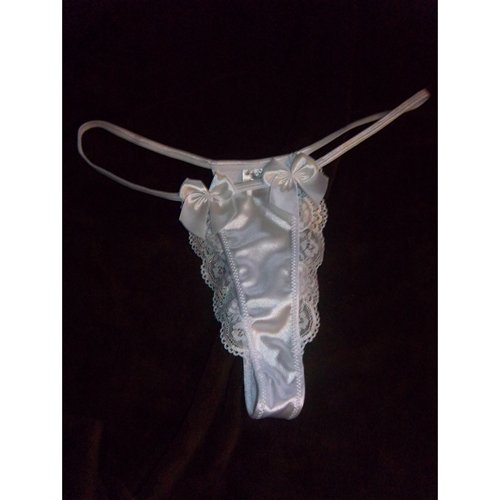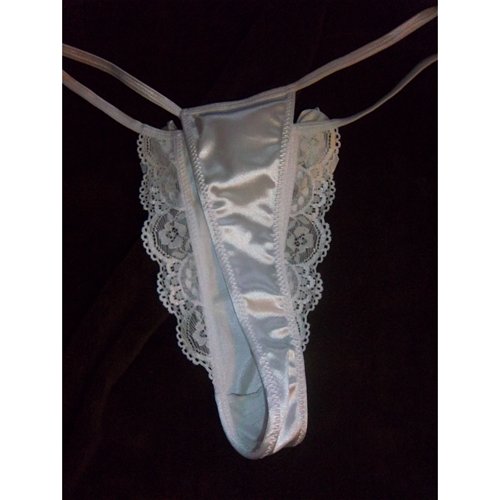 Experience
My sizes:
10-12 clothes
155-160lbs.
38 D-DD (depending on brand)
5'5"

Cup Bust (in) Waist (in) Hip (in) Inseam (in) Rise (in) Weight (lb)
Small 2 - 6 A - B 32 - 34 24 - 26 34 - 36 34½ 7 - 7½ 90 - 120
Medium 6 - 10 B - C 34 - 36 26 - 28 36 - 38 35 7½ - 8 120 - 140
Large 10 - 14 C - D 36 - 38 28 - 32 38 - 40 35½ 8 - 8½ 140 - 150
Sm/Med 2 - 8 A - B 32 - 34 24 - 26 34 - 36 35 7½ - 8 90 - 130
Med/Lg 8 - 14 B - C 36 - 38 28 - 32 38 - 40 35½ 8 - 8½ 130 - 160
1X/2X 16 - 18 D - DD 40 - 48 36 - 40 42 - 48 36½ 9 - 9½
Since Dreamgirl doesn't have an extra large in their size chart on Eden I am assuming it is the 1x.


I don't like anything at all about this set. The bra doesn't even go to my nipples and the waist corset makes my puggy stomach stand out more. I didn't even try on the thong as it looks uncomfortable with the thick band in the back. I can't imagine having that stuck up my booty even for a minute!
Follow-up commentary
2 months after original review
I still have nothing good to say about this set. My opinion is based on the fact I could never wear most of it!
This product was provided free of charge to the reviewer. This review is in compliance with the FTC guidelines.

Thank you for viewing
Bridal boudoir bra thong and waist corset
– bra and panty set review page!