Jingle Bell Thigh High
Can you tell I love Christmas? These thigh highs are so much fun with the feather, bow, and bell accent at the top. The bells make subtle noise as you walk and the white feather is a nice contrast to all that bright red! These thigh highs are sturdy and well made. Since they are thicker, they are perfect for wearing in the cold weather. They get me excited for the holiday season!
Published:
Pros:
High Quality
Festive
Comfortable
Cons:
NONE
I am very in to the cheesy dress-yourself-up-for-every-holiday-possible thing. I know some people aren't. But I am, and I am proud of it. I think it is fun to dress like a sexy bunny for my husband on Easter, or likewise, like Mrs. Claus for Christmas. And these Thigh High Tights are just the missing accessory to the handful of Christmas outfits that I own. I've been waiting for something like these, and now I own them!

Packaging:
The Holiday Thigh Highs (other name: Opaque Thigh Highs with Satin Bow and Bells) by Leg Avenue are a Christmas carolers dream! They come packaged like a typical Leg Avenue nylon/tight/thigh high. They are in a small, tidy plastic bag with a black hanger for in-store hanging. Inside the package is a cardboard sleeve with a little bit of information. This sleeve shows a picture of the thigh highs on a model, the style, size, washing instructions, barcode and some other jibber-jabber. It is pretty informative and the package could be re-used for storage. Since the thigh highs are so small, and take up nearly no space, they are easy to store.

Contents: Holiday Thigh Highs (2 - One for each leg)
Made in Taiwan

Design/Shape:
These festive red nylons are ones you can deck the halls in! They are bright Christmas-color-red. They have a single enforced toe and a 1-inch multi-re-enforced top band. These thigh highs feel more like tights than nylons or pantyhose. My reason for this is because they are not sheer, see-through and they are very thick. They will keep you warmer than thinner nylons.

They really stand out from the crowd because of their cheery white marabou puff, red satin bow and two jingle bells that are sewn on the top of the thigh highs. The cutesy decoration is sewn in two different spots with red string, and is done well. If you wanted to, you could easily remove them and not ruin the product. But I won't be doing this, they would be no fun without it!

Sizing:
The sizing is one size fits most. This is pretty typical for thigh highs. It is recommended for weights: 90lbs - 160lbs. I would have to agree. I am 125lbs and they fit me great, and still have room to stretch.

I am also 5'4" and think that these could fit someone with longer legs too. Maybe 5'8" or so, but of course everything depends on the length of your legs (not your height) and how low/high you want these to ride on your thigh. So to help you decide if they would fit, I did some measurements:

The measurements I took:
Top Band Circumference Flat: 9"
Top Band Circumference Stretched: 16"
Leg Length Flat: 28"
Leg Length Stretched: 60"

*Do note: the leg length also includes your foot, since the thigh highs go from thigh to toe.

Care/ Maintenance:
Nylon is easy to hand wash in cold sudsy water. I always air dry completely before storing again. I never put in the dryer or iron these. I also never use a scouring powder.

I store them in the original plastic bag, folded up neatly. They are actually in a Christmas decoration box, so I don't loose them among my other lingerie in my lingerie drawer. I figure keeping them in the Christmas box is best, because I won't be wearing these any other time.

Material/Texture:
Material: Nylon
Nylon represents a family of synthetic polymers, a thermoplastic material. Nylons are generally strong, tough, and resilient polymers which offer good barrier and high fatigue properties. They are hypo-allergenic and offer good resistance to oils, greases and solvents. They have good resistance to a wide range of chemicals and a high abrasion and weathering resistance.

The material is very sturdy and thick. It feels like it will last for more than just a few wears. I also don't think it will run as easily or fast as thinner nylons. These would be good to wear in the winter when it is a little on the chilly side.

There is only one seam - and it it in the toe. There is also the control top portion of the thigh high, that feels very secure. The texture is soft and a little itchy. The nylon is very stretchy and accommodating.

Personal Experience :
When the holidays are around the corner, I will be pulling these out once again. They are fun for Christmas parties, santa festivals and when I play naughty-or-nice with my husband in the bedroom. They go great with my Sleigh Bells Costume and my Santa Top and Skirt Outfit.

Conclusion: ★★★★★
Experience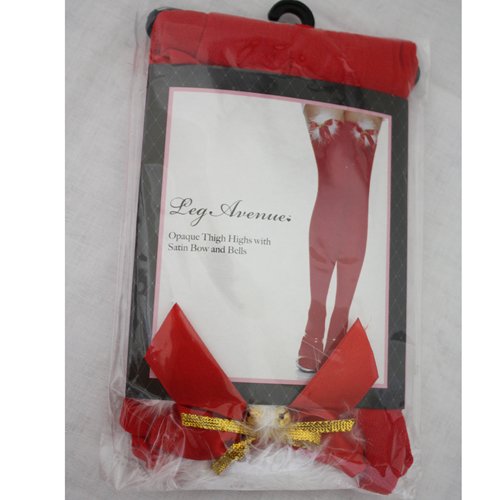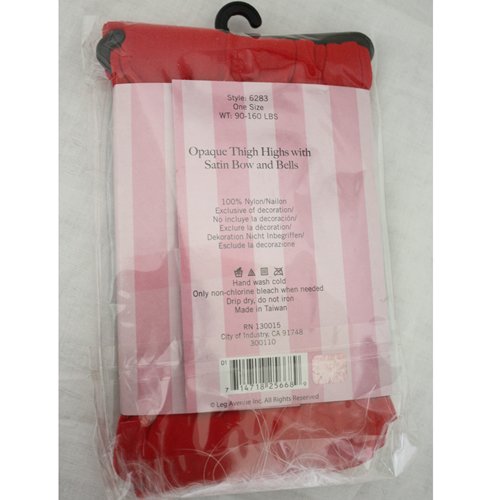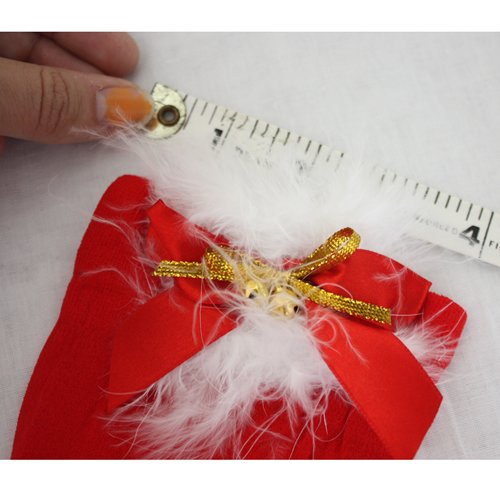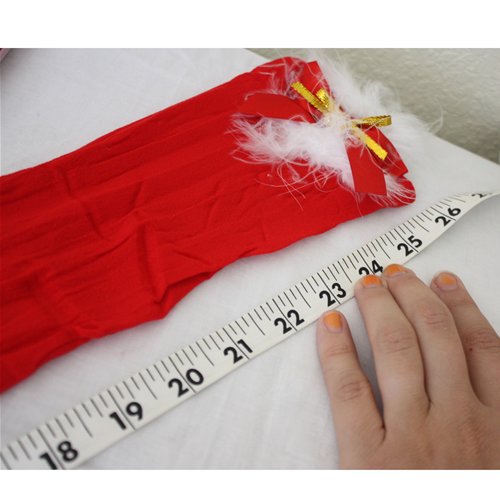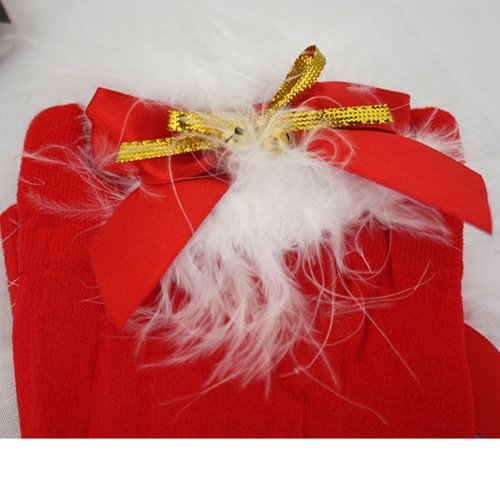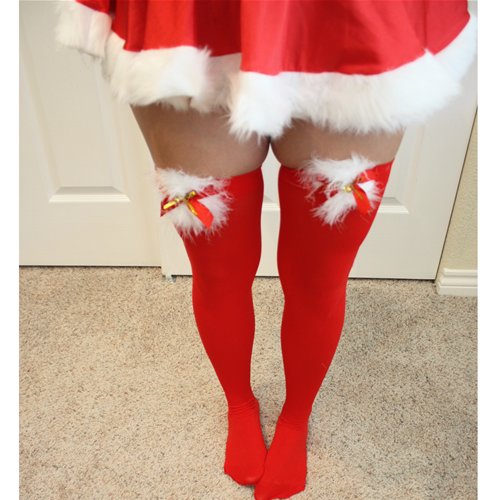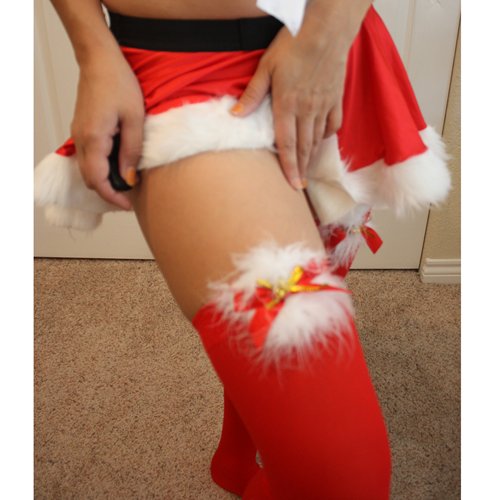 Follow-up commentary
10 months after original review
I am a huge fan of these for the holidays! I love them! I've worn them a few times since my review almost a year ago. They get good use in December! They are still sturdy, warm and comfortable. They have stretched out a little bit, but still fit tightly on. They are a bit annoying to wash (I've hand washed them twice) because of the top frill thing and bells. Overall I love these festive nylons, and plan to use them again this year for some ho ho ho-ing.
This content is the opinion of the submitting contributor and is not endorsed by EdenFantasys.com

Thank you for viewing
Holiday thigh highs
review page!