Jumbo net
These are cool, but I really wish the thighs fit better. If you have even remotely thick thighs, these are not going to fit you at all. Aside from that issue, these look pretty cool and different from your usual hosiery.
Published:
Pros:
Interesting look, can be layered with other hosiery
Cons:
Tight thigh band, awkward to get on, unsure about how to wear over toes
These come packaged in pretty standard hosiery packaging, a cardboard sleeve.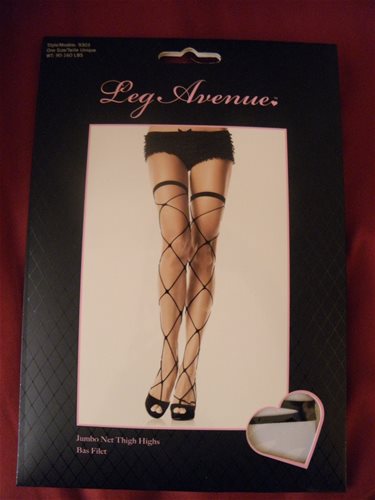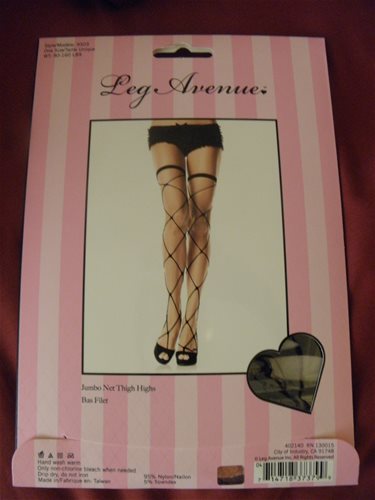 When I took them out of the package I couldn't help but notice how small these looked. They are really only strips of fabric, pretty different from any fishnet material. The fabric looks and feels like shredded up t-shirt fabric, if you've ever altered a t-shirt before. Though, the fabric does have stretch to it, but the elastic thigh band doesn't seem to have as much stretch as the fabric.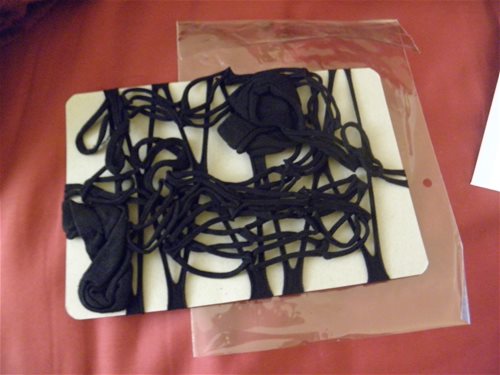 When I held these up, I wondered how I would get them on. Usually, you roll your stockings up, then slip them on to your foot so you don't snag them; these are slightly different. I wasn't sure how to best slip these on so I tried to roll them up as I would with any typical stockings, even though it was a bit awkward since this is basically made of thin fabric strips.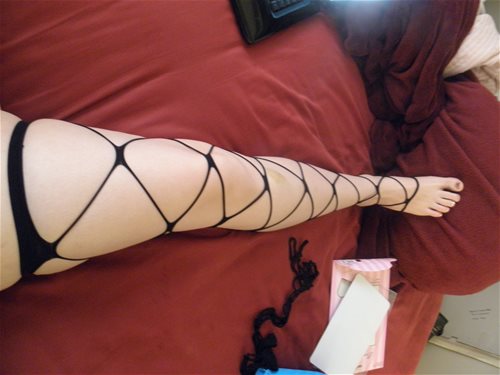 The toe on these was a bit confusing. I wasn't sure how it would best fit on my foot, a reinforced toe or something would be nice. There is no place for toes to rest in these, so you really have to just figure out how to wear them yourself. I found that these are best worn as basically footless stockings; if you try to get them to stay over your toes it's just awkward and seems ill-fitting. These can be given a fuller look if layered over other tights or stockings - other nets would add an interesting look.
The biggest issue I have with these is the thigh bands. My thighs are about 20 inches or so around. I'm wearing these now as I write my review, and after 10 minutes of having them on they've already dug a mark into my leg around my thigh. The elastic band on the thighs doesn't have as much give to it as the fabric that the rest of the stocking is made of, which is pretty silly. If your thighs are much bigger than mine, these won't even stretch to accommodate your legs. It would be great if there was a bigger size of these available. Still, these are pretty interesting looking, and they're different from fishnet and fencenet, which people are more used to seeing.
Care for these is pretty standard.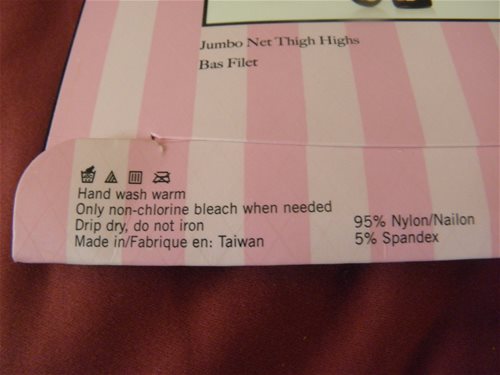 Experience
I think these are nice to add to my hosiery collection since they are a slightly different take on netted hosiery. However, the thigh is too snug for me to really like them. If I had some strappy black heels, I feel like these would look even cooler!
This content is the opinion of the submitting contributor and is not endorsed by EdenFantasys.com

Thank you for viewing
Jumbo net thigh highs
review page!