Just a Tad Ridiculous
I was shocked when this turned out to be florescent pink, and had to laugh at myself when I saw how little this restrained my boobs, but it still a bit fun to try on! I like the open back, long sleeves, and color combo.
Published:
Pros:
$, Unique design, Katy Perry likes it, Stretches a fair amount
Cons:
Hate big boobs (even medium ones!), Much brighter than pic,
I got this as a last minute choice because I glanced at the pictures and thought the open back was really hot! Unfortunately, the cute coloring that looks like it is a sweater is actually florescent fishnet that looks like a wardrobe piece for XXX Stripper Barbie. It fits decently in most places but is beyond horrible in the chest area for anyone larger than the models likely B boobs. The odd fit combined with the cheesy coloring, makes this looks a tad ridiculous. How my boyfriend still manages to find it hot probably lies in the fact that it DOESN'T fit my boobs. For me, it just isn't as sexy as the misleading picture makes it look. It's the wrong kind of trashy.
*Contents/overview:
Two pieces
*Mini dress
*Thong
This set from Leg Avenue has two pieces, a mini-dress and matching t-string thong. It is is a fishnet dress that can't really be worn over other things well. It comes in one color combination, hot pink and black. Available in only one size fits most, it's not a good one at that.
*Material:
Decent, Durable
The set is made of 100% nylon. The fishnet is a very standard size but the diamonds are a bit more stout. The materiel is thicker than fishnet you'd expect from stockings. It is also more durable and goes back to its original size much better. It stretches in any direction and is not easily snagged.
Picture of the actual color. No photo I found online made it look how it does in person.
*Design/craftsmanship:
Not the greatest
Odd is the first word that comes to mind. This is a long sleeve mini-dress with a back cut out and a very odd chest area.
The bottom is the easiest to explain. It's a micro mini skirt that is small enough to barely cover what you got, and maybe not that much depending on the size of your rump. Unstretched it is only 8" long! The way ti fits on the model and on me, it hugs the hips or a little lower. I've seen it on a more petite girl and it rides higher, especially in the front.
The front then has a center part that is 5" wide in the middle. It shows the sides of the torso and connects to the top portion. The neck line is VERY deep going past where my breasts end. It is lined with a thin spandex seam. The center portion of the torso splits where the neck line ends, so it can cover the breasts, or attempt to. This part is only 2 1/2" wide. Then it goes into long sleeves. The end of the sleeves are doubled. From the back it looks like a crop top paired with a mini skirt. The very bottom of the mini dress has a line of spandex sewn onto it. There is a seam on both sides of the skirt portion, around where the sleeves connect, and down each sleeve.
The t-string thong is pretty normal. It has a normal sized crotch area and has no pantie liner.
*Cleaning/care/storage:
Hand wash, bag
This set came in a plastic bag with a cardboard tag attached to it. The tag says to hand wash only in warm water. Let it drip dry. The fishnet is sturdy enough, that you can run this through the washer in a lingerie bag.
Experience
I found images of another model wearing the dress. The coloring is so off, though.
I edited the picture to look more like the actual color.
*Sizing/fit:
Runs small, especially for the bust
Of the three most popular companies here, Leg Avenue, DreamGirl, and Coquette, Leg Avenue usually tends to run the smallest, especially for OS sizes. That's the case here, but it's not horrible. The one size says it should fit dress size 6-11, cup size A-C, band 32-38", waist 23-29" (don't worry about this one), and hip 34"-40".
The skirt portion is great on curves and smaller frames, but the chest area is horrible. I don't fit in this any way you want to squish me. This will not fit C boobs nicely unless they are fake. This doesn't even fit with a bra on my D cups. I'm a size 8 in jeans, 8 or 10 in dresses depending on the bust. It is best for small chests, no larger than B cup. The dress size will also fit smaller and doesn't fit the large end. I'd say 2-8 is more accurate. It'll fit size 10 hips, but remember the chest still! There really is no band or waist, so don't need to worry about that. My hips are about 38.5". The hip range is pretty accurate. The thong is fine. It fits me, but will start breaking seams or cutting in on pant sizes larger than 10. If you have large upper arms, you might find the sleeves to be uncomfortable.
My Re-done chart:
Dress: 2-8
Cup: large A-B
Hips: 34-40"
*Possible accessories:
You can get those at bristols6.com. You don't have to wear a nipple pastie, but it is a good idea if you have nipple jewelry.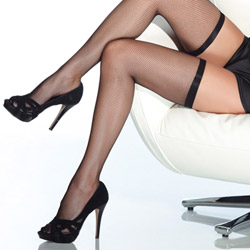 I recommend the
Coquette Fishnet thigh highs
because they have a thin black band that matches the stripes on the dress. This looks great without stockings, too.
Embrace the trash and go with some equally trash glam heels! These are flippin' awesome because they light up in black light and my guess is that the dress does too!
Delight 608 UV
Alexander-Mcqueen's Heart Pumps
You can even pair it with other things like Katy Perry did in her photoshoot!
*Conclusion:
2 stars ★★
I was conflicted on what to give this. I usually reserve the 2's and 1's for lingerie that will pretty much fit no one or looks like it was constructed by drunken elves. This will work for some women, but it just isn't kind to anyone who needs to wear a bra. The quality is expected for the price, so I'm not knocking it for that either. If I could, I'd give this 2.5 stars. But it get knocked a ton just because it doesn't even seem to work THAT well for those with smaller chests.
Follow-up commentary
2 months after original review
It was clear that this item was never going to fit me right, a returnable item from the first try on.
This content is the opinion of the submitting contributor and is not endorsed by EdenFantasys.com

Thank you for viewing
Fishnet mini dress cut out back
review page!