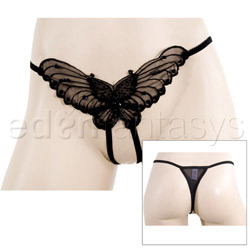 Butterfly crotchless panty
Crotchless panty by Leg Avenue
Just Don't Expect Quality
These sexy panties aren't high quality, but they sure are hot. If you're looking for something for a special occasion, these will be a great choice. If you're looking for something that'll last a long time...? Well.. I'd look elsewhere.

That said, for the price, these are worth a try.
Published:
Pros:
One size fits most will actually fit most, Comfortable, Sexy
Cons:
Quality is not great
I spent a long while looking at these before I finally decided to give them a try. The butterfly sure is cute, but will they be comfortable? Will they actually be functional? Will one size even fit me...? I had so many doubts about these panties, but I just knew that I had to take the chance. All in all, I'm glad I did, but I don't think I'll be buying these again.

The Basics:
These open crotch panties are made by Leg Avenue. I've had a lot of mixed experiences with Leg Avenue products, especially their one size fits most. Sometimes I get winner, other times I get duds; these were sort of in between for me.

Anyway, these are available in red, and in black. I own the black pair.

Material & Care:
These are made out of 100% Nylon.

The butterfly itself is slightly rough feeling on my fingertips, yet comfortable against my skin during wear. The butterfly is NOT stretchy, and if you try to stretch it, you will probably tear it.

Now, the straps. The straps are extremely stretchy, so these really accommodate many different sizes. The straps are also comfortable against my skin.

To care for these panties, you're going to want to hand wash them in cold water, and then allow them to drip dry. Ironing is not recommended (nor should it be needed). I frequently ignore the washing instructions on my lingerie, but in this case? I'm going to recommend that you wash them as the tag instructs. This is due to the fact that these panties feel very fragile, and I truly feel that one trip in the washing machine will kill them.

Sizing:
These panties are only available in one size fits most. One size fits most is said to fit someone with 34-40" hips.

My hips are 40", and these fit me fine. That said, I could see these fitting smaller individuals, as well as larger individuals. The stretch of these panties really enables them to fit most, as they're advertised to!

Here are some measurements that I took with the panties laying flat:
Across the waistband, unstretched: 13"
Across the waistband, stretched: 23"
Width of butterfly (across): 9"


Design:
These feature a sweet looking butterfly. The butterfly is sheer in nature, so it's not going to provide much coverage. If you're wearing these panties in the first place, coverage probably isn't a concern.

The butterfly features beads and sequins, which add a little bit of dazzle to these sexy panties. I love the looks of the beads and sequins, but I feel like they're probably going to fall off quickly.

The open crotch on these panties is wide enough that you can comfortably wear them during sex, which is always a nice bonus.

Packaging:
The packaging was simply a small ziplock bag. That's it. No detail, nothing. That said, the packaging was suitable.

Quality:
I wasn't impressed with the quality. I noticed multiple loose threads on the panties, and I feel like the beads are going to fall off quickly. All in all, though, these are nice enough if you're looking for something for a special occasion, just don't expect them to last a long time.
Follow-up commentary
3 months after original review
I am really surprised that these have held up. I have worn and washed them a few times, and they're still in decent shape. I'm still not sure that I would purchase another pair, but... I'm surprised that they've lasted.
This product was provided at a discounted price in exchange for an unbiased review. This review is in compliance with the FTC guidelines.

Thank you for viewing
Butterfly crotchless panty
review page!