Just to remind you I have legs.
These stockings scream "HEY! LOOK AT ME!", especially in the fantastic neon green color choice. The design is quite eye-catching no matter what color you choose. They're totally worth the price and even a little more than that. I was quite impressed with the quality of the material here. It's just so cozy and lovely. Yeah, and I'm totally getting these in black, too. They're that awesome.
Published:
Pros:
Deliciously neon green, unique diamond net design, good quality material
Cons:
Top band is pretty constricting even on smaller legs.
Summary
When you own 90% of the stockings on this side it's a rare thing to find things that get you all kinds of excited. I own more pairs of fishnets than anyone really should. (Wait, that's not true.) I have small net, big net, and ones with pretty designs. However, I saw these and I could not resist! Look at them! These are all the things I like! You mean you get big net, small net, and fancy designs? Sign me up and send me 50 pairs.
I had decided to snag a black pair and when I went to order them I got greeted with that lovely "Out of Stock" message I get with all of the cool things I like. Damn. But you know, I really want a pair right now. They come in fantastically neon green? The cyber goth girl in me is down for all of that. Now I have to have both!
Design/Material
When I pulled these out of the package I was immediately impressed by the amazing quality of them. All too often I'll find myself excitedly ripping open fishnet packaging and finding that what's inside looks like a hot mess and is all rough and blurry looking when I put them on. These are quite different. The material is much thicker and smoother than those other failnets. It's incredibly stretchy so it conforms to your legs without being too tight or unenthusiastic. Unlike the other materials that have rougher material, these are much more comfortable and less itchy.
The design of the stockings is quite impressive. They're quite eye-catching (especially in bright-ass neon green) because of how unique they are. You get the boldness of diamond net stockings, but the design is solid enough that it doesn't look like you've wrapped a couple of strings around your legs. The lines are crisp, clean, and smooth which makes for striking visual detail. The top of the stockings have a smaller almost honeycomb fishnet design which makes them even more fancy looking!
The band at the top is rather thin, which is the only thing that the failnets do right with their wider bands, and the toe isn't lined, but I didn't really have many issues with them sneaking between my toes. That's the most irritating feeling ever!
Another mentionable thing about these (in this color, at least) is that they're not as universal as other simpler styles of fishnets. They'd go best with a simple and neutral color outfit because they are pretty loud on their own.
Sizing/Fit
Now, this is where we have some technical difficulties. That little top band of them refuses to cooperate with your thigh in the way that most do. The failnets usually have a band that's over an inch which keeps them from digging in and denting up your legs. These, on the other hand, are rather slim, even for me with my rather slim thighs. I looked at them and said "Oh, come on. It's not even that serious. What the hell are you thinking?" I usually have to pull my stockings up to just below butt level to get them to stay up if they even will (I'm 5'4 with short legs). These stopped short of that and clung to my thighs for dear life. And I'm telling you, my thighs really are skinny. Now take another look at the model and you'll see how she's wearing hers rather low. This is why. It's not because they're short, it's because they're too clingy.
These "One Size Fits Most" sizes are usually a joke. These are meant to fit someone between 90-160lbs. I'm about 100 and they decided to leave me with awkward looking ditches in my legs. It's not the end of the world for me, but I see how it could cause problems for curvier ladies out there.
Here's what I mean. I promise I don't always stand that awkward. The stockings are just doing rather strange things right here: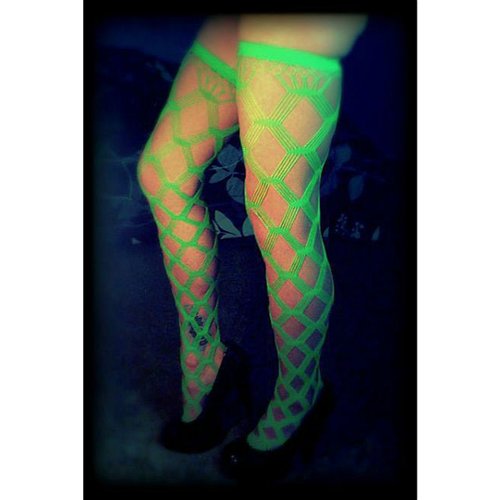 Experience
Care

As with all fishnets, these should be hand-washed in slightly warm water with minimal soap. Hang to dry. I don't see these as the type to get holes in them very easily, you know, because they're made of big holes.
This content is the opinion of the submitting contributor and is not endorsed by EdenFantasys.com

Thank you for viewing
Diamond net thigh high
– thigh highs review page!