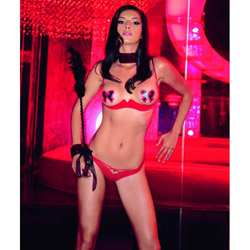 Bustless bra and panty
Shelf bra and panty set by Leg Avenue
Keeping abreast of the situation starts with this!
When I saw my girl walk into the room, my heart started racing. I'd never seen her wear this sort of thing before, and it was a nice jolt to the ticker. I've always thought the shelf bra was something I'd like. Her breasts were lifted and looked very hot!

The panties were cute - it featured a heart shaped metal piece that dangled in the front. My girl suggested that there could be another style such as a boy short, but I thought the thong was hot.
Published:
Pros:
This underwire bustless (shelf) bra is visually very sexy.
Cons:
Average feeling fabric, pasties are average stickers.
This bustless bra by Leg Avenue is comprised of two underwires, and does lift and support the breasts comfortably. Personally, I gotta say it looks hot. There are three clasps on the back for adjustment, and it was not hard to unhook with one hand. There are also adjustable shoulder straps to ensure comfort, and the fabric does have some give for added stretch. Both garments are composed of 80% Nylon and 20% Spandex. On a comfort level, my girl gave it a 7 out of 10, or just average. It felt soft to the touch - not in the least did the fabric feel scratchy or rough.

The panty garment is made of the same material. It features a criss-cross waistband design just above the dipped front of the crotch, and includes a heart shaped, silver colored, metal decoration. The fabric is a rather plain sheer red thong. Both garments are hand wash only; separately drip dry. Do not bleach these items. They are easy to clean, store, and would travel very well.

The packaging consists of cardboard approximately 6" by 8" by 1" thick. There is a picture of a model wearing the bra and panties with the bow shaped pasties over her nipples. The washing instructions are on the back of the packaging. The product was stuffed inside and at first I thought there was only one of the pasties in the box as one was stuck to the inside of the packaging. The pasties are really nothing more than a cheap sticker - and they don't adhere very well once the nipple has been stimulated and become erect. Those bow shaped stickers are an odd choice for a design, and they are definitely not waterproof.

I'd give this a 4 out of 5 stars because it's a hot and sexy look - it's just kinda plain and the bow ties look cheap and look more like butterflies.
Experience
She walks into the room with only the thought of getting her man to notice her presence. She's had a good day at work, she took a long bath, and is relaxed and ready to focus on their relationship. He's been sitting on the foot of the bed poring over documents from work, bringing work home and into the bedroom no less!

As she crosses the threshold into the bedroom, she sighs and says, "Please can't we have one night where work stays at work?". He looks up from his papers, his lips cracking into a grin and eyes begin to twinkle as he locks onto the gorgeous figure of his long time lover. He instantly makes the connection that work is going to wait. There is a hunt afoot, and he is the game with her scope sighted on him.

That's pretty much what happened to me when I first noticed my girl wearing the 3 piece Bustless Bra and Panty with Bow Pasties from Leg Avenue. My night got a whole lot better when I saw my girl walking towards me with her breasts lifted and exposed, with pasties and a matching red thong. I've never seen her wear anything like this, and it was an amazing surprise. I felt the added excitement simply because she was doing this for me.

I really love the look of pasties, but I thought they looked and felt cheap when they touched my skin. She also wore them together with red colored leg stockings and black heels. I'd suggest this outfit for those looking for a light BDSM outfit or something to grab your partners' attention!
This product was provided free of charge to the reviewer. This review is in compliance with the FTC guidelines.

Thank you for viewing
Bustless bra and panty
– shelf bra and panty set review page!