Lace Me Up....(Size 38)
Francesca is a versatile, beautiful and stylish corset for special dates, evenings at home or dressy functions where you want to look your best and feel your sexiest! It is a functional and sexy corset, made from quality materials and has a front privacy panel. Looks, quality and functional, what more can you ask for in a corset?
Published:
Pros:
Beautiful for public or private.
Great quality.
Can be reversible.
Cons:
Plastic boning.
No back privacy panel.
Long.
Francesca by DreamGirl is a very beautiful and sultry corset that is also versatile for more wearing options. It pairs up well with skinny, black jeans, skirts and dressy pants for three very different but classy and sexy looks. The corset has a couple unique features, lace up side shoulder accents and a full, long lace ruffle at the bottom. Both features add to the style and makes this a very desirable corset. And guess what? If you carefully remove the inside tags, it is also reversible!

The red satin base material on the outside is a very,deep, darker toned red. Think the outside petal of a red rose. The black lace over it is loose, but is sewn on very snug, there is not much if any gaping due to the dual layers. The plastic boning is covered with black satin.

The black lace on the top lays down smoothly, framing the amount of cleavage you have showing. The black lace ruffle at the bottom is very flattering and will hide your belly pooch if you have one. It hangs down 3 1/2". There are 16 hooks in the front, over a privacy panel made of soft, black felt. The longest of the boning is the one on the outside of your breast. It is 15" long.

The arm holes are fully adjustable with laces that are strung through two metal grommets. These will fit any arm size. There are two nylon ribbon lacings that thread through 26 metal grommets, 13 per side. The grommets are on a very sturdy black canvas style material.

The stitching is very well done, no loose threads, the lace matches up, the boning ends are covered with the top and bottom trim and the arm holes are lined in soft, black, satin trim.

The interior material is a nice, soft, black, matte satin material. The lace on the outside can be a bit itchy against your skin if you do reverse this corset. Just remember to reverse the lacings for the bows to be on the outside.

There are removable garter straps. The thong is reasonably decent sized, it still ends us as butt floss, however, so its appearance was minimal. It is very well sewn and has quality matte satin material and a panty liner.

The corset is made of 100% polyester. This is a hand wash or dry clean only. I wash it in Woolite in cool water, rinse and line dry the corset. I have presses the boning back to straighten it. I use a warm iron with a towel between the iron and the garment. Do this on the reverse side!! I am waiting for my metal boning to arrive in the mail and then I am replacing the plastic ones in this garment.

I am definitely going to pair this with my black jeans and some boots for special dates with my husband. I would pair this with some very dressy pants or a nice skirt for a more formal event. The black side looks great with jeans and will work nice for casual outings or clubbing.



Sizing:
My Measurements: 43D Breast - 30" Waist - 42" Hips - 28" Inseam - 22" Thighs - 5"2" Tall & 150 Lbs.
Corset Size: 38
DreamGirl Sizing: (Copied and pasted from the sizing charts.)
Cup Bust (in) Waist (in) Hip (in) Inseam (in) Rise (in) Weight (lb)
Small 2 - 6 A - B 32 - 34 24 - 26 34 - 36 34½ 7 - 7½ 90 - 120
Medium 6 - 10 B - C 34 - 36 26 - 28 36 - 38 35 7½ - 8 120 - 140
Large 10 - 14 C - D 36 - 38 28 - 32 38 - 40 35½ 8 - 8½ 140 - 150
Sm/Med 2 - 8 A - B 32 - 34 24 - 26 34 - 36 35 7½ - 8 90 - 130
Med/Lg 8 - 14 B - C 36 - 38 28 - 32 38 - 40 35½ 8 - 8½ 130 - 160
1X/2X 16 - 18 D - DD 40 - 48 36 - 40 42 - 48 36½ 9 - 9½ 165 - 225
3X/4X 18 - 20 DD 48 - 54 40 - 44 50 - 56 37 9½ - 10 225 - 275
One Size 2 - 14 B - C 32 - 38 24 - 32 34 - 40 35 7½ - 8 60 - 160
Queen One Size 16 - 20 D - DD 40 - 54 36 - 44 42 - 56 36½ 9 - 9½ 165 - 275
Experience
Here are pictures for sizing. The Size is 38.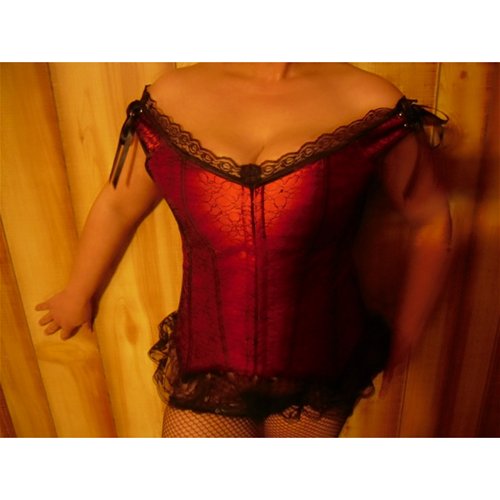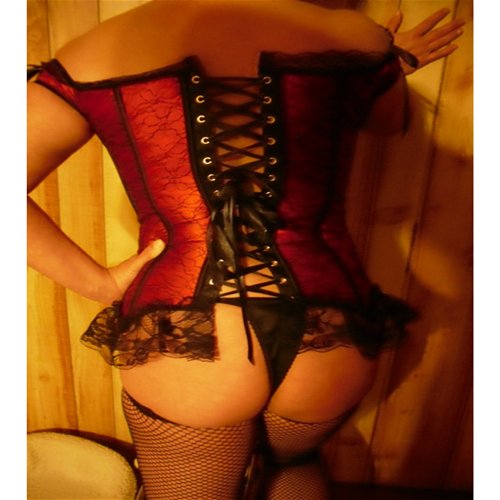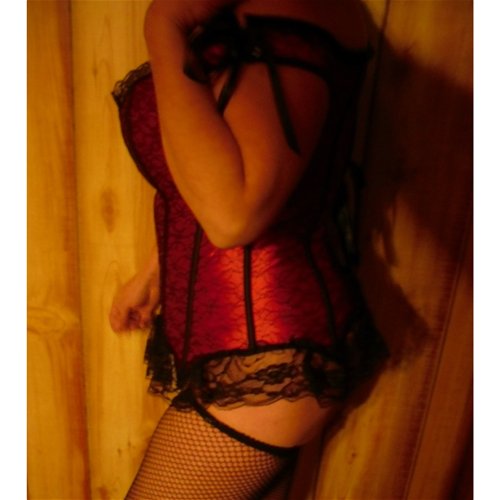 My husband's reaction to me in this corset was pretty exciting for me! I paired it with fishnet stockings and actually wore the thong for my appearance. Lets just say he rose to occasion and followed through to make our night pretty amazing.
Follow-up commentary
18 days after original review
I love this corset!! It has become one of my favorites since I replaced the boning! The color has not faded, the material has not been damaged and the seams are still very good. I had to trim off one thread from the back and that is all.

I definitely recommend this as a higher quality corset, the plastic boning is fine if you wear this occasionally, in public, or remove soon after putting it on; I like the metal boning and replace all my plastic bonings with these soon after receiving my items.

This definitely adds a unique touch to your lingerie collection, the sleeves are amazing and can add a bit of boost to your cleavage.
This product was provided at a discounted price in exchange for an unbiased review. This review is in compliance with the FTC guidelines.

Thank you for viewing
Francesca corset and thong
review page!