Lace & Mesh Bra And Garter G-String Set (ML) Review
I had such high hopes for this set, but unfortunately it did not live up to my expectations. The set was cheap, fragile, and a poor fit for my body. If you wear under a C cup, this might fit you well, but I really don't think it's worth it. The material is so fragile that I'd be surprised if it lasts for more than one or two wears.
Published:
Pros:
Sexy, Doesn't itch, Pretty pattern, Adjustable garters, Durable garter clasps
Cons:
Arrived damaged, Very thin fabric, Attached thong, Attached garters, No plus sizes
As large as my lingerie collection is, I find myself limited on items that can be worn underneath clothing. When I saw this sweet little set, I daydreamed of wearing it underneath my dresses. I imagined my lovers face as he pulled my dress over my head, revealing this little number. The truth is, this set would've been perfect for that -- if the bra fit me properly, and if the garter skirt wasn't ripped right out of the package.
Basics:
This two piece set features a lace/mesh bra, and a garter skirt with attached g-string. It was made in Vietnam, and it is brought to us by Rene Rofe.
Material and Care:
The lace portion of this set is made out of 92% Nylon and 8% Spandex.
The mesh is made out of 90% Nylon and 10% Spandex.
There is a floral lace pattern on the cups. That lace pattern is surrounded by plain black mesh, almost in a way that frames it. This makes for a very sexy and elegant look. The garter skirt features the same lace pattern on the waistband, matching the top perfectly.
The material on both pieces is completely sheer -- there's no hiding your nipples with this baby!
Sheer materials are usually very thin, and this item is no exception. The trouble with this item is that it's SO thin that it feels like it'll fall apart instantly. If you're just going to be wearing this for a photoshoot or something like that, it might be okay -- but I can't see this withstanding even the lightest of playtimes. THAT's how fragile this material feels.
As for comfort? The fabric is comfortable, and not itchy at all.
It's recommended that you hand wash this set in cold water, and then allow it to line dry. Do not bleach, iron, or dry clean.
Sizing:
This set is available in SM and ML. I purchased this in ML.
I was unable to find a size chart for Rene Rofe on Eden, but I was able to locate one on Rene Rofe's website.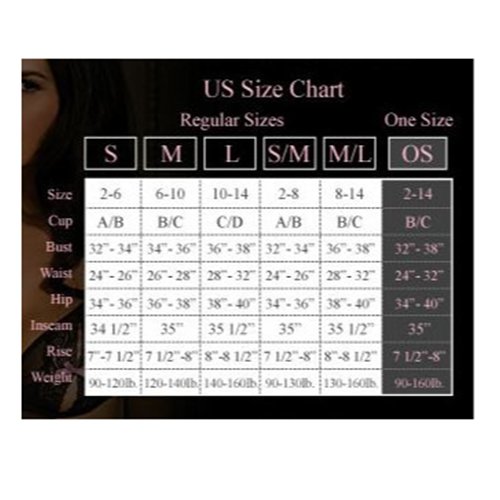 Looking at the size chart, I expected that my large C/small D cup breasts would be a bit snug in the bra. I even expected them to overflow a little. I did not, however, expect the bra to dig in so tightly that it was a bit painful (and completely unflattering).
As for the garter skirt? It did fit my 40" hips well, though I feel that anything larger would be pushing it. That said, it should fit slightly smaller hips, too.
All in all, I would only recommend this for individuals that wear under a C cup. A firm, small C might be able to fit in this top, but anything larger will spill over.
Design:
The bra is designed so that it ties, halter style. The bra band also ties.
There is no underwire, and no padding, in the bra. This means that any support that you get from this thing is going to be from the neck strap. For those of you with smaller breasts, that's not going to be a big problem. For those of us that are slightly more top heavy? The neck strap could potentially cause some neck pain due to having to support the girls.
The cups on the bra are triangle shaped, which is not at all friendly to full breasts. If your breasts are very firm, small, or...well, fake... you might be able to make it work. For me, however, I was bursting out the sides of the small triangle cups.
The bra features a little ruffle on the bottom of it. The ruffle is very sweet and playful in appearance.
Now, the garter skirt. The garter skirt has a g-string attached, which was a bit of a letdown. I don't like my g-strings attached to my garter belts -- having to remove them during sex is such a hassle.
Another letdown with the garter skirt was that the garters themselves are attached. They're adjustable, but it would've been nice to have the option to remove them completely. That's not really a huge issue, though -- the garter skirt is still cute, even if the thong and garters are both attached. The garter clasps also feel quite sturdy, despite the fact that they're made out of plastic.
As I mentioned the garters are adjustable. They are 5" at the shortest length, and nearly 9" at the longest.
The skirt itself is very short, measuring only 4.5" long, so your bum will certainly be revealed.
The thong portion of the garter skirt is very simple. It features a lace floral pattern on the front, and then the very thin g-string. The thong does not feature a pantyliner, which is unfortunate.
Experience
Packaging:
The packaging for this set is decent enough, though I certainly wouldn't consider it suitable for storage. Even if you're super gentle while opening the package, it's not really meant to be reusable. While it's not suitable for storage, the packaging is suitable for selling purposes. It's your basic cardboard envelope, featuring photos of the model. The photos of the model aren't exactly discreet, but they're not much worse than what you might see featured in a magazine.

Quality:
The quality for this set was disappointing at best. I find it hard to believe that the material will hold up to more than one or two uses, but I guess you can't really expect much from an item in this price range. Still, I had hoped for better.

The set that I received arrived with a hole in the garter skirt. The garter skirt was the only part of the set that I actually liked, so I really upset to see the hole.
Follow-up commentary
2 months after original review
As this product arrived damaged, I ended up returning it. I thought about ordering another one, but the quality is so low that I don't think it's worth it -- even at this price.
This product was provided at a discounted price in exchange for an unbiased review. This review is in compliance with the FTC guidelines.

Thank you for viewing
Lace and mesh bra and garter g-string set
– bra and panty set review page!