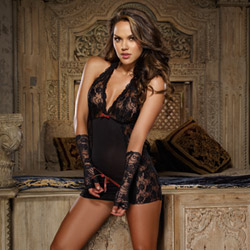 Chemise, thong and glove restraints
Chemise
by DreamGirl
Lacey Sexy Slip
This Chemise set is a great low-cost lingerie set for beginners. It's sexy but not too revealing, it's both pretty and sexy, and it's surprisingly comfortable. The material is soft and silky, and it really does look great. The lace halter top and sides balance the perfect amount of sexy skin visibility with a soft prettiness that makes this perfect for just about any occasion.
Published:
Pros
Feels very nice. Should find most sizes. Looks great without being too revealing.
Cons
Gloves won't fit everyone. Material isn't the best quality.
This Chemise set is simple, silky, and sexy. It's primarily patterned lace, with some black panels over the front and back, and a tiny red bow between the breasts. It's material is listed as Nylon/Spandex, and claims to be One-Size-Fits-Most. As someone who is usually Extra-Small to Small, I was really pleased to find that this fit me really well (except the gloves, which I'll talk about in a minute). The material stretches nicely, and I do think it would fit just about anyone within the XS through L sizes. For larger sizes, though, there is a Plus size option as well, which I think is kind of awesome. It is quite short, however, coming only to just a bit below my buttcheeks, and I imagine a good set of wider thighs might make it quite a bit shorter.

I love the flowery lace at the sides and the halter straps (the part over your breasts). It's pretty soft, and I didn't have any problems with it being scratchy or itchy. The black panels in the front and back were kind of nice, keeping me feeling sexy-- with the lacey parts-- withought feeling self-conscious about my tummy or anything. I also think it makes it look a little more normal, not as blatantly sexified. I really like that about it; I'm not a fan of things that are completely revealing. This was a nice in between: your nipples show through the lace, but not too much, and the black segments cover up the rest quite nicely.

The only thing that I wasn't at all impressed with was the pair of gloves. The thong is a basic black thong, silky and soft, but nothing special. The gloves, however, were the same slightly stretchy flowered lace, with red ribbons attached to each, to tie together in a sexy just-barely-bondage kind of look. This is nice in theory, but the gloves aren't as One-Size-Fits-Most as the dress is. They're a bit tight around the fingers (especially the thumb) but really loose around the wrists, so they kept slipping down my hands when my arms were down. Not very useful or sexy.
I will also say that this isn't the most expensive lingerie set, and you can kind of tell. After wearing it once I could already see a little hole developing in one side, and the material has that sort of costume-y feel to it that usually indicates lower quality. I definitely don't expect it to last forever, but it doesn't feel cheap, and certainly isn't falling apart any time soon. I'll definitely be handwashing it to keep it in good condition, and I'd recommend that to others as well.

Overall I found this comfortable enough that I'd love to wear it underneath my clothes on a night out. It's short enough to go under just about anything (although the halter style top does present more of a problem, since I don't have a dress with the same style top) and form-fitting enough that you don't have to worry about it bunching up much underneath something slightly loose.
I find it really comfortable and my boyfriend found it very sexy, so it was definitely a win-win and a great piece of lingerie to have.
Experience
I will go ahead and say that this is my first lingerie. It's just not something I generally think about, or feel like I can really spend money on. But after flouncing around in this number for a little while, it absolutely made me want more. It was fun to wear and made me feel pretty and pampered, and added a little specialness to sex. I'll be on the lookout for more sexy slips and frilly underthings.
Follow-up commentary
3 months after original review
So far this is still my favorite lingerie. I don't wear it often, unfortunately, because the halter-top means it doesn't go well under the majority of my clothes. But it's very pretty and has held up well. No tears or over-stretched places yet. Still glad I got it.
This product was provided free of charge to the reviewer. This review is in compliance with the FTC guidelines.
Thank you for viewing
Chemise, thong and glove restraints
review page!