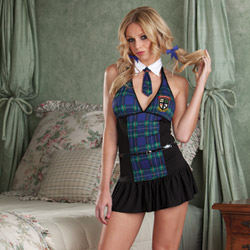 Sister felatio's school for girls
Costume by DreamGirl
Larger wearers will not be accepted.
This is mainly for the thinner wearers. Anyone that teeters around the size of "average American" or has breasts that exceed a C cup will find this difficult to wear. For those who can wear this, it's cute plaid and with some imagination, can be used in role play.
Published:
Pros:
It's a one-piece
Looks good
Cheap
Cons:
No support
Not for larger wearers.
Hard to clean
JUST WHAT IS THIS COSTUME?
First, here is what it looks like in the front.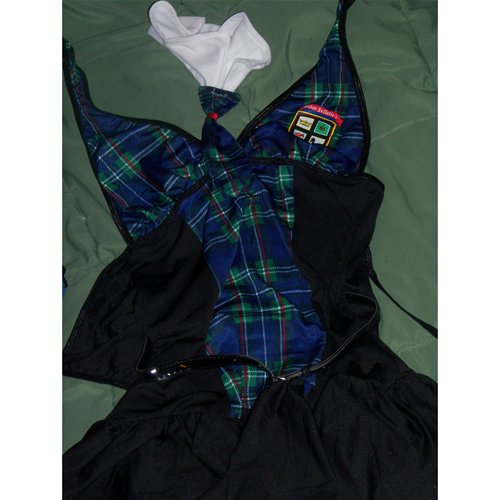 It's a plaid school girl's costume that comes in two parts, the necktie and the main part of the costume. The main part is a one piece top and skirt, with a thong included. It is put on by putting the costume over one's head and then tying the back, not dissimilar to an apron, assuming that it fits of course.
Here is the back.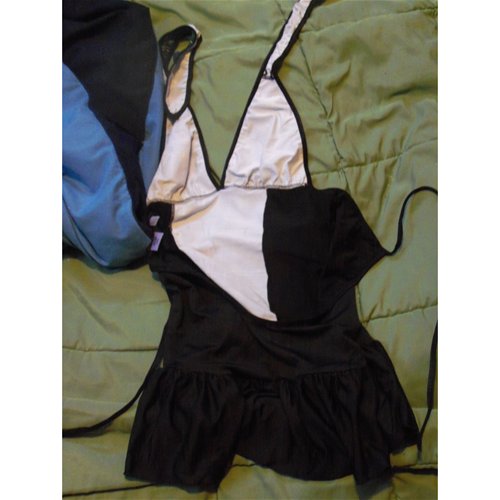 HOW DOES IT FIT?
It's hard to estimate just where the cutoff mark would be, but the size charts specifies that it should fit 2-14. Unfortunately, that is not "Most" as the average woman is in the size 12-16 territory. Sometimes costumes and lingerie run large or small, but because it did not come close to fitting, it cannot be determined.
WHAT ABOUT SUPPORT?
There is no underwire and there appears to be very little room for larger breasts. The size chart shows that it will fit cup sizes B-C size 32-38. It might be possible to wear a bra with this, but it looks as though it would bulge out of the costume, especially for D cup and larger.
WHAT ABOUT THE NECKTIE?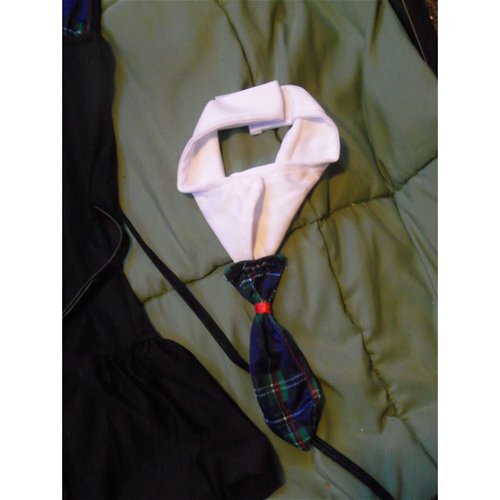 As you can see it's a necktie to wear. It is attached through Velcro, as seen here.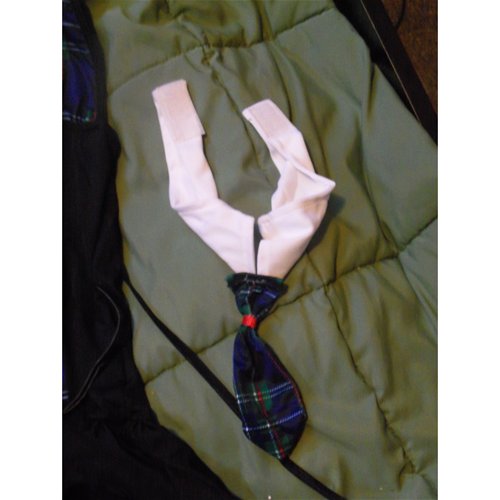 Again this has size issues, as those with larger necks will find this difficult to wear. It barely fit across my neck and it constrained my breathing when I wore it.
WAIT, AREN'T YOU A GUY?
Yeah… my girlfriend isn't back yet, so I had to try it on myself, which is why the review is so late.
THEN THE SIZE ISSUES AREN'T EXACTLY FAIR, ARE THEY?
Yes and no. I'm aware of the body differences between the genders and have not focused on the size too much. Plus the data regarding the fit comes from the academic material regarding the costume, rather than relying solely on first-hand experience. Plus the neck issues are probably the same for girls around my size, or those with body shapes that result in out of proportion necks.
…MOVING ON, WHAT ABOUT THE APPEARANCE?
It's a black top/skirt, with a greenish/blueish/red plaid towards the top. A little belt goes around the middle and there's an insignia on the left-hand side.
THAT INSIGNIA LOOKS LIKE THE HARRY POTTER LOGO.
That's not a question, but yes, yes it does. That was part of the reason it was selected and with a little imagination, it can be used for Harry Potter Role Play.
IS IT DISCREET?
Ha, ha, no. The aforementioned insignia includes the name "Sister Fellatio" which is rather obviously dirty. The rest of the insignia, a crown, star, high heeled schools and a lipstick are more discreet, but it's clearly not a real school girl's uniform. Although, in fairness a real school girl's uniform may be even less discreet.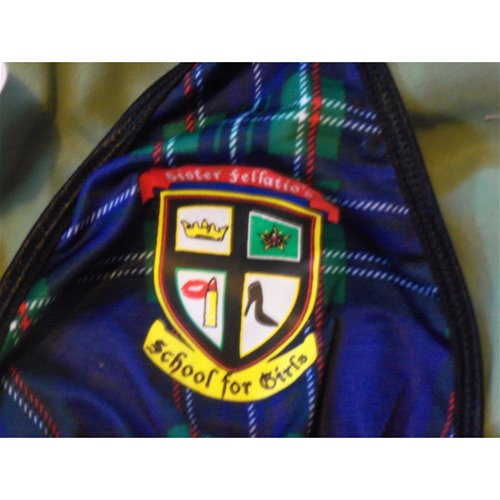 WhAT'S IT MADE OUT OF?
Tis polyester, the material wot, wot.
K… IS IT DIFFICULT TO CLEAN?
The tag says dry clean only. Hand washing with light detergent and then air drying might be possible, but I'm no expert in laundering. Personally, dry clean only to me means "will never be washed."
HOW DOES IT FEEL?
Slick and rather thin. Most of the costume can be seen through when held up to the light, but the actual texture is not unpleasant, soft and silky actually.
SO, OVERALL?
Again, this might not be a fair grade, but I'd say 3 stars. Between the difficulty in cleaning and the limitations in breast size, along with body size/type it is certainly not perfect. Still, it looks nice, is vaguely Harry Potter themed and for those it will fit, may find this to be a nifty costume.
This product was provided free of charge to the reviewer. This review is in compliance with the FTC guidelines.

Thank you for viewing
Sister felatio's school for girls
– costume review page!