Last time I checked, Blue is not "White".
This is a cute, but cheap nightie -- and does not match either the photo or color description. The quality reflects its less expensive price point (which is summed up by the word cheap). Overall, this was a very big disappointment for me. This "One Size Fits Most" top is on the smaller side and is very sheer, so if you have insecurities pertaining to your body, or very large breasts that need support, you will want to avoid this.
Published:
Pros:
Cute design
Stretchy
Good length
Cons:
Color not as advertised
On the small side
Had a tear and unraveling threads
The Ruffle Mesh Nightgown is a chemise made by Baci. This is a 1-piece, and does not include the thong as pictured on the model. It comes in Baci's typical glossy cardboard boxes which display the photos of their model, provide material information, care instructions, and size.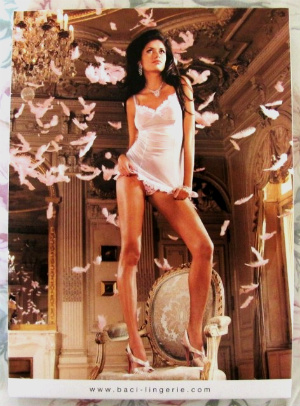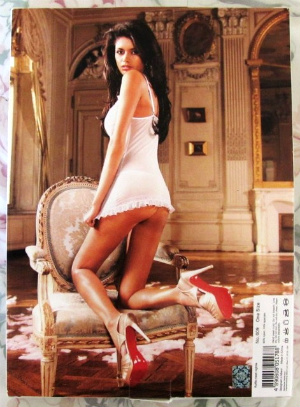 Material, Construction, & Care Instructions
This nightie is claims on its box to be made of 90% Nylon and 10% Spandex. If you look at the tag on the actual garment, it tells you that 90% is Polyester. The mesh fabric is very sheer, slightly stretchy, light and comfortable. Instead of being white as you can clearly see in the over-photoshopped model photo provided by Baci, and read in the product description, the main color of this piece is supposed to be white. In actuality, this piece is a slightly desaturated baby blue with baby pink accents. Baci just can't seem to get their information straight at all.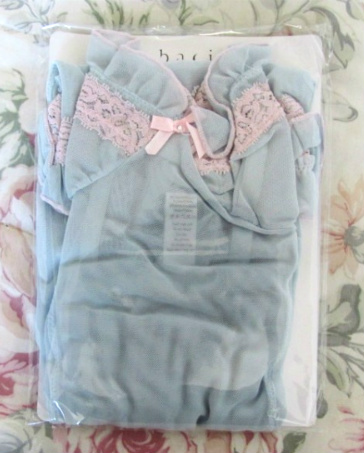 I find the craftmanship of this piece fair - definitely what I'd expect from the less expensive price. In fact, I'd say it was on par to pieces that are priced in the $20-30 range and are way too expensive than they are worth. One upside is that the straps are very comfy and sturdy, almost velvety to the touch. However, my piece actually came with a few defects - some rips and unraveling threads (see Experience section). This is not the first disappointing Baci product I have received, and I am very disappointed.
That aside, the color combination is pretty cute, just definitely not what was expected. This is a very delicate piece, so it is recommended that you hand wash this in cold water, separate from other colored pieces, and line dry. Do not use bleach, iron, or dry clean.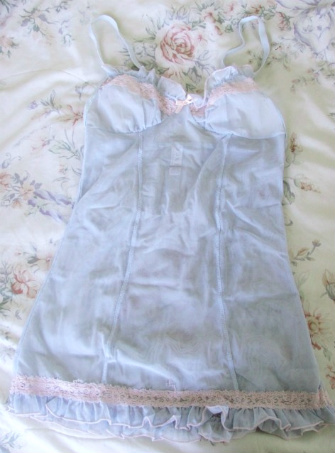 Sizing
This "One Size Fits Most" is very much on the small side. This will best fit those between X-Small and Medium, but will still stretch enough to fit those who are typically a size Large. I am of average height (5'5"), and the length of this top hit me where I expected it to - not long enough to be called a nightie, but not short enough to be a camisole. I am a usual size small with 32AA-A cups, and this fit me very comfortably.
Baci doesn't even give you a ballpark measurement on what size or weight person this will fit. The cups are small with no support. The best fit is for those between AA and B cups, though I feel a C cup could get away with this if they are not worried about the level of support provided (or lack there of).
Laid flat, I measured 12" under the bust, 12.25" at the waist, and 15.75" at the hips. From the topmost tip of the cups where the straps are secured to the bottom hem, it measures a total length of 20". The maximum stretch I could muster was as follows: 16.75" under the bust, 17" at the wast, and 20.5" at the hips.
Experience
I did not go into this with any expectations; I knew it wouldn't be top quality, but I figured it would at least be cute to sleep in. Upon arrival, and the second I took this piece out of its box, I had mixed feelings. After getting over my "What the heck?" initial reaction, I thought, "Hm. Actually, baby pink and blue are pretty cute together."

After laying it out to get a good look, I noticed the unraveling on the lace at the bottom of the nightie as well as at the seams in the front. Could just be snipped off -- no big deal, right? I put it on right away and found that it fit nicely. Despite the fact that it is very sheer, the fit wasn't unflattering or too tight for me. I was contemplating for a brief moment that I could get over the two small problems and keep this cute nightie. However, it was not until my inspection then that I noticed further defects: rips at the seams on both cups.

Needless to say, that was the deciding factor. I'm not even sure that I want a replacement at this point, because whether or not I get a new one without a rip in it, I'm fairly certain that it will develop one in no time at all. I am really disappointed so far with my experience with Baci products. I purchased one of their pantyhose in the past and it was ripped before I had even put it on.

In the end, I'm not going to tell you that this is a terrible piece and advise you to avoid it like the plague. If you like the baby blue/pink combination, and have no arguments concerning the price, then be my guest. I just hope that you don't get a damaged product like I have!

I am giving this product two stars due to the dishonest photos, poor quality, and the fact that they provide zero information about the very small fitting of this garment. I really wish for once that these lingerie companies would quit editing their photos so much that we could actually see what we are receiving.
This product was provided at a discounted price in exchange for an unbiased review. This review is in compliance with the FTC guidelines.

Thank you for viewing
Ruffle mesh nightgown
– chemise review page!