Layer it with lace, comfortable lace.
This lace panty and bra set is super comfortable and stretchy. The bra is not made for support, but more for visual appeal. The boy shorts are made really well and can be worn as an everyday panty. Together, this is a simply beautiful set to add to anyone's collection. WARNING: Bra is not made for people over a C cup, even if you purchase a larger set.
Published:
Pros:
-Super stretchy lace
-Extremely comfortable
-No wires
Cons:
-No support
-No adjustable straps
-Not made for boobs over a C
This lace bra and panty set is made by Espiral. This collection features 5 different colors: nude, pink, lavender, red, and turquoise. This collection also comes is sizes S-XL. This nude color I am reviewing only comes in XL, as of right now. What I love about this set is that it can be worn to bed and it can also be placed under a shirt, but over a bra, and gives you the look like you're wearing a lace camisole. This set is extremely comfortable for everyday wear.
Bra
The lace bra is pretty darn basic. I wouldn't even call this thing a bra, but more of a bra cover. The lace bra has no support at all. During wear the bra seems to constantly fall down. This issue could have been easily solved if they would have featured those rubber lines that help your bras stay in place. Being worn over a bra and under a shirt is a great way to add some detail to a plain shirt.
The bra has 2 seams, both located on the sides on the bra. When worn the seams are directly under your armpits, which can be annoying to some people. There is a tag placed on the inside of the bra on the right side. The tag should be removed because it is extremely irritating.
The bra is super stretchy, so it is super easy to pull over large breasts. Unfortunately, the lace isn't wide enough to fit any cup size over a C.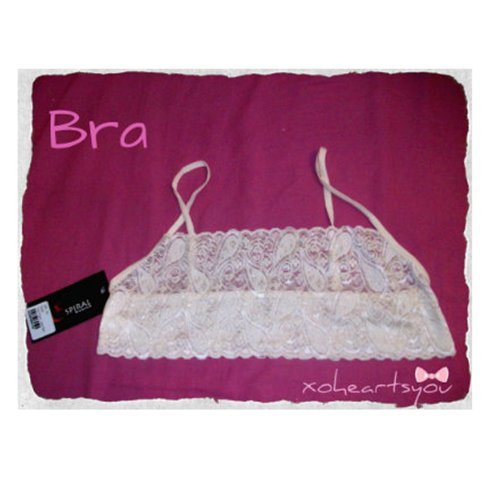 Bra Straps
The bra straps are made of nylon and feature 2 stitching rows. With the bra straps there is no way to adjust them. I absolutely can't stand bra straps that I can't adjust.
Boy Shorts
Whoo! These boy-shorts are the best part of this set. They are super comfortable and stretchy. They don't create a muffin top unless you get two sizes to small. For all day wear they are great. I have not had them rise up and create a wedgies or the dreaded camel toe.
There is one large seam that runs from the middle front to the back of the boy-shorts. There is a tag attached on the back of the boy-shorts that should be removed, because it can irritate some people.
In the crotch area there is a nylon square that helps prevent camel toes and wedgies. The nylon also protects your lips from the lace that can be irritating to many women.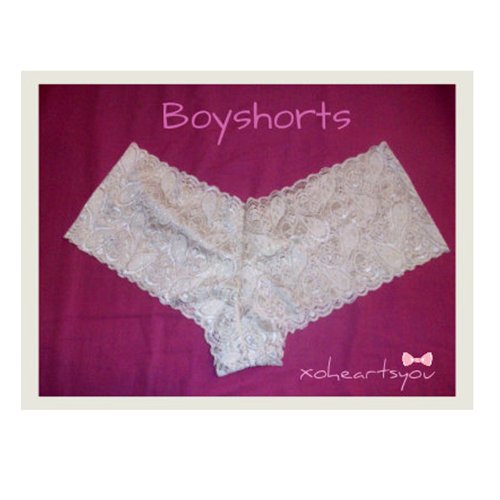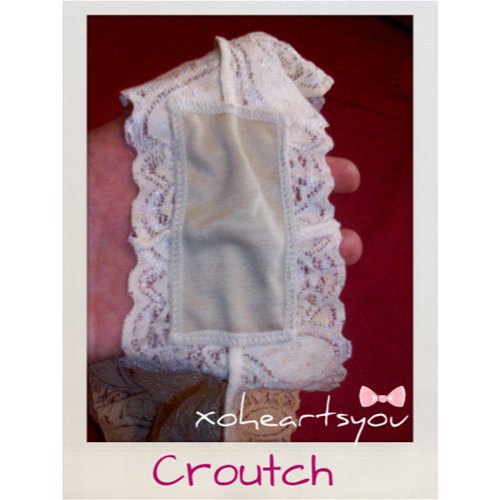 Care and Material
This lace bra and boy-short set is made of 96% Nylon and 4% Elastano. None of the materials used are known for any allergic reactions.
**I tried to look up elastano but all I am getting is the Spanish spelling for elastane, which is spandex.**
When it come to caring for your 2 piece lace set there are no instructions or warnings that come with the product, so I have came to the conclusion that you can wash them with all your other delicates or clothing.
Since the lace is a nude color you could bleach it, but you may ultimately turn it white.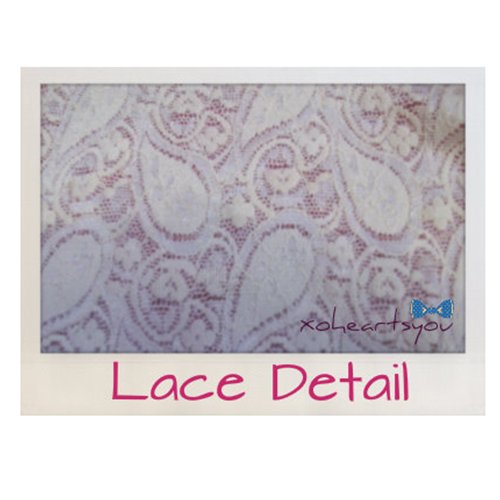 Storing
You can easily store this set with all other delicates. There is no special way to store the set.
Measurements
MY MEASUREMENTS
BUST: 36
WAIST: 27
HIPS: 38
DRESS: 11
CUP: D
Bust Waist Hip
Small 34 25 34
Medium 36 27 36
Large 38 29 38
XLarge 40 31 40
As you can see, I should have went with the large but they only had xlarge, which was okay with me. The measurements are correct because I defiantly could have fit in the large.
Packaging
When I received my set it came in a clear, ziploc type bag with a red strip on top. Inside the bag was my set. There were no care instructions included. Even on the tag that is attached to the bra there are is no information except for the brand, size, and color.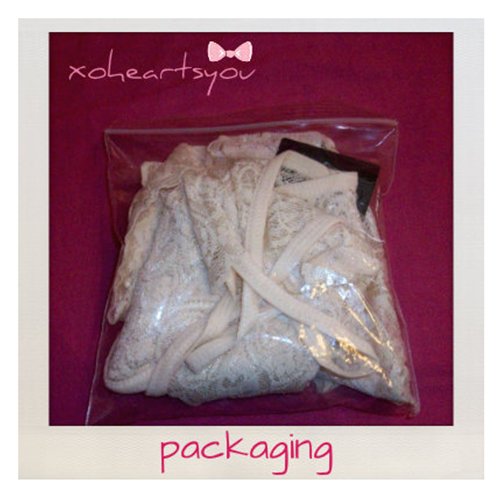 Experience
Wearing the bra I was not happy at all, because my boobs barely fit. I was also disappointed to see that the straps had no way to adjust them. What I do like about the bra is that I can easily place it over a bra and wear it as a camisole. The boy-shorts are so comfortable, I couldn't be more pleased with them.

I rated this set a 3 because it the average rating if I had rated the pieces separately. The boy-shorts are a 4 and the bra is a 2.
This product was provided free of charge to the reviewer. This review is in compliance with the FTC guidelines.

Thank you for viewing
Nude lace panty and bra set
– bra and panty set review page!