Let DreamGirl Off With a Written Warning
"I got stopped by a lady cop. She got me thinkin' I can date a cop." Put on a Lil Wayne's "Mrs. Officer," and pull out the cuffs. While this one size fits most costume definitely has its flaws (and shows yours), it's not a bad outfit for a few simple role playing nights as long as you don't intend to keep it on for extended periods of play.
Published:
Pros
Zips Up/Zips Down
Material is Comfortable
Meets the Right Marks
Cons
Hand Wash/Line Dry
Tiny Thong
No Breast Support
One Size Fits Most (or doesn't)
DreamGirl's Off Duty Booty Dress is fine for some light duty, but I understand why the word "off" was injected into the title. Foreplay is fine, but sex in this dress is a mess!
Packaging: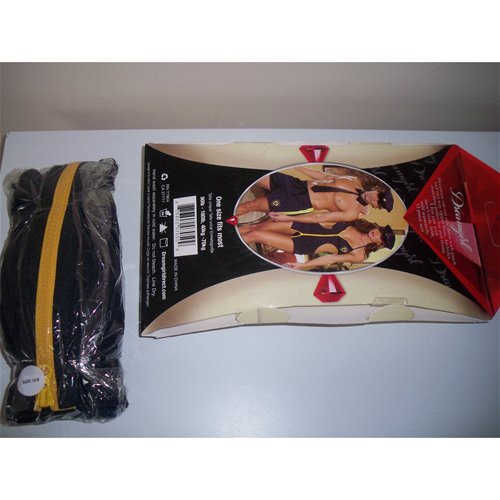 Some basic info:
This is a 100% polyester set except for the hat (dress, hat, and thong are included).
This costume only comes in one size fits most. According to DreamGirl, this means it is meant to fit
sizes 2 to 14, cup sizes B-C, bust sizes 32-38, waist sizes 24-32, and hip sizes 34-40. This is meant for women who weigh 60 to 160 lbs. All of the bust, waist, and hip measurements are in inches of course. Let's keep in mind that the average American woman is a size 14 and weighs just over 160 lbs. I surely wish that DreamGirl would keep this in mind.
The care instructions are to hand wash in cold water and line dry. Do not bleach.
There are 3 sets of ties on this dress: The top two sets are ties just like that of a bikini top (around the neck and at the back under the breasts), while the third set of ties is at waist level.
The dress zips up the front as well as tying and also zips down the front. The zipper is a two-way to allow for additional cleavage. It also allows you, in the case of this mini dress, to zip up from the bottom to show additional vagina.
The fit on me:
I am a size 10 to 12 depending on the brand, but I tend to run close to (or almost exactly at) the maximum measurements for DreamGirl's O/S. I wear a 34D bra-size, have a 32 inch waist, 40 inches for hip, and finally I weigh spot at 160 lbs.
While the dress most certainly fit me everywhere else, I found the lack of breast support as well as my larger than recommended bra size created some issues. I was kind of falling out of the breast section at the side cuts (hello, side-boob!). However, if the dress was zipped all the way up, I found that I could wiggle my breasts into a semi-appropriate location within the dress. The problem was that once I attempted to unzip the top slightly, I could no longer get it to zip entirely back up.
Then, there is the back of the dress (or rather lack thereof). The back is open just in case one decides that police officers do in fact wish to moon criminal offenders.
Overall, I was pleasantly surprised by the fit of the dress, and it was my own fault that my breasts did not fit as I didn't follow guidelines. It just irks me that the average bra size (and clothing size) has gone up, and yet it's impossible to find something that addresses all of my measurements.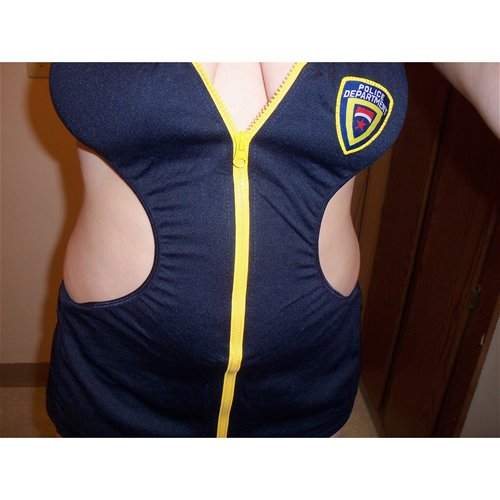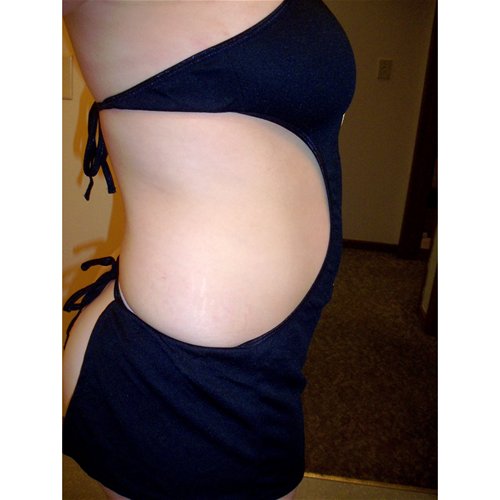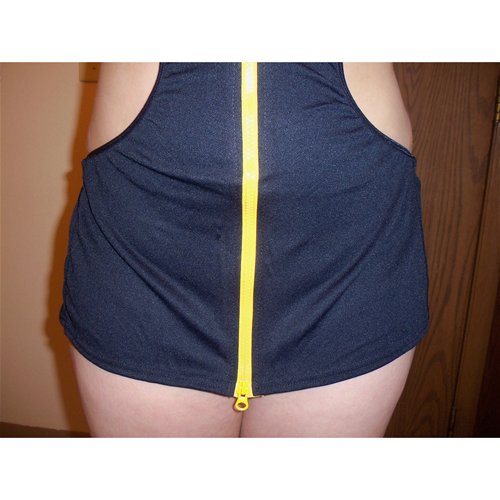 The hat and thong:
This is an easy section. The thong was tiny, and I couldn't even get it all the way up on me. I assure you that the sizing on this thong is small or maybe even extra small. There is no way that O/S panties can address all women sizes 2 to 14. I've been thinking that I would be very pleased to see a manufacturer that allowed you to choose your clothing and matching panty sizes separately. I will commend DreamGirl on the fact that my thong had no random strings or wonky seams and seemed to be well-made.
The hat is cheaply made. I'm not exactly sure what kind of material this is. It feels like those draw-string bags that are always given away for free, and it is folded within the packaging to fit. This means that the crease in the hat is never going to come out. In addition, there's room for 80s hair in the hat (very very roomy). It did provide for a good laugh.
Notice the g-string next to it that actually fits a size 10 or 12 person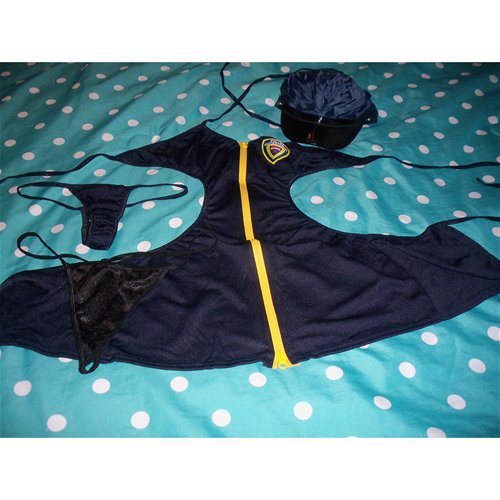 Who would I recommend this set for?
I personally believe that the ties make this dress suitable for someone as small as a size 2, but I would not recommend this to someone larger than a size 8 with a B-C cup and a max of 140 lbs. This would let the individual have some breathing room and perhaps allow for the outfit to stay on for a longer period of time.
Experience
This dress really does nothing to hide your body's flaws. I have a little bit of a belly, and I could definitely tell in this dress from the side but it is a little more difficult to tell from the front. My love handles were also apparent. Finally, I found the fact that my measurements matched the maximum measurements, the zipper, and the ties all made this outfit uncomfortable for me to wear for long periods of time (such as during sex).

I actually pinched myself in this zipper. Perhaps it's my clumsiness, but it is possible.
Follow-up commentary
4 days after original review
Originally, I was mostly apathetic about this outfit. It wasn't the worst thing I could think of, and it wasn't impressive. That hasn't really improved. Lingerie is all about what makes an individual feel sexy, and I feel like this dress just isn't comfortable or attractive on me. In general, I'm disappointed by the O/S as it barely even fits the average-sized girl. I'm also disappointed by the baby-sized panties and the lame hat. I loved the idea of this, and I even loved how the sides were cut, but there is clearly room for improvement. At the end of the day, I just packed it up in the original box and shoved it to the back of my closet.
This content is the opinion of the submitting contributor and is not endorsed by EdenFantasys.com
Thank you for viewing
Off duty booty dress
– costume review page!