Let's Get It On...Except I Can't.
Remember that time I thought I was going to accidentally hang myself and die just trying to get a dress on? Me too, it was ten minutes ago.
Published:
Pros:
Flattering design, soft black fabric.
Cons:
You have to be a contortionist to actually get it on.
I would love to write an awesome review of this dress here, complete with all kinds of helpful details of how it fits and who it will flatter and even a few photos to show how it fits a real live human being. I was all set to do just that tonight, but I can't, because I can't get this dress over my shoulders.
Espiral is a new brand to the site, so Eden doesn't have their size chart up yet, but I did some Googling before I ordered and found their site. Unfortunately, you have to be a wholesaler to see most of their site, but they do have the size chart available in the
About Us
section. For the XL, it lists measurements of 40" bust, 31" waist, 40" hips. I'm a size 11/12, 5'11", 38D, 33" waist, 39" hips, so from the chart this should have come pretty close to fitting, maybe being a bit tight in the waist.
Seriously though, you guys, I couldn't even get it on past my shoulders. The silver panel of the dress does not stretch AT ALL, and it only measures 14" across. Fourteen inches! That means that if you're more than 28" around anywhere in your upper body, you're out of luck. I would have to be some kind of contortionist to get it down over my shoulders, not to mention my even larger bust. In a desperate attempt I even tried stepping into the dress and pulling it up over my hips, but I couldn't get it past mid-thigh.
My mom happened to be at my house when this arrived, so I grabbed her to try it, too, because she is TINY (she's about 5'5" and around 100 pounds.) SHE couldn't get it on, either! And this is an XL!
The really stupid thing is that if the silver part WOULD just stretch a bit, this would probably fit me perfectly and be incredibly flattering. The rest of the dress is really nice black stretchy material, thick enough to hide some imperfections but still clingy enough to accent your curves. I *seriously* considered cutting off the silver part and making a cute panel of some other fabric for that area, because this would be so cute if I could wear it, but decided to just return it instead. (I still keep glancing over at it pondering some serious arts n' crafts action.)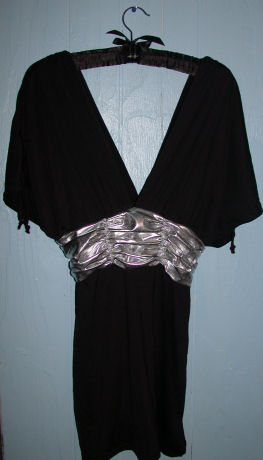 In case you do manage to get this on, it measures 31" long in total from the shoulder seams down, or 21" from the bottom of the V neck point to the hem. The drawstring sleeves/shoulders are actually really cool- you can either wear them normally, which makes them about a foot wide at the top, so they cover your upper arms, or you can adjust the drawstrings to bring them in for sleeves more like a tank top.
The fabric is a bit see-through, so you will probably have visible panty lines, and you may want to be careful with flash photography.
It's almost impossible to tell the front of the dress from the back- I'm still not sure which is which. The care tag is sewn into the side, and it says the dress is "93% pollester, 7% elastano". It's made in Colombia, so I am assuming this translates to 93% polyester, 7% spandex. Instead of care instructions, you get little symbols: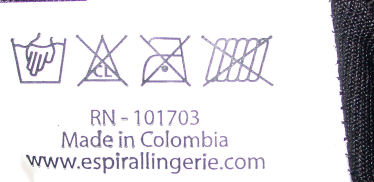 These obviously mean that you should get a manicure, avoid triangles, not put this dress in the toaster and avoid contact with ribbed condoms or ruffled potato chips.
Okay, maybe not, but I have no idea what they actually mean. I mean, the first one is probably "hand wash", the 2nd is no bleach, 3rd is no ironing and the last... don't wring out? I am really failing this game of Pictionary.
The poor dress is now smooshed back into the little plastic bag it came packaged in, which is very similar to what most stockings and thigh highs come in, with a tiny plastic hanger at the top, sticky flap at the bottom and cardboard insert with pictures of the product. I hope it had a nice vacation here and has a safe trip back to Atlanta. In the mean time, I'll be staring at the product photo, wondering how on earth they ever got the models into the dress to begin with. (I would bet an absurd amount of money that if you could see the back, it has been cut open and pinned/clipped shut around her.)
This content is the opinion of the submitting contributor and is not endorsed by EdenFantasys.com

Thank you for viewing
Black dress
– mini dress review page!