Let's Play Hide and Peek!
I am glad to see that this set is actually from DreamGirl who, from my experience, has always made their clothes a little on the smaller size. Ok, a lot on the smaller size. They did a good job with this one. The material of the lingerie doesn't feel cheap and it is functional. Aside from the accessories, this isn't one of those pieces where you can wear it once or twice before it falls apart---this is actually a solid set.
Published:
Pros:
Great fit! Comfy, functional, you get the whole set for an affordable price (including accessories).
Cons:
Ball gag and eye mask are chinsy... but it's worth it for the rest of the set.
*Overview*
It's finally here! Plus size lingerie that actually works! It's functional, sexy and
really will
fit
most! I can say--for the first time--that something is big on me! That, my friends, is a feat in itself.
When I first saw this in my assignment cart, I was excited to try it out. Normally I would have been nervous, but I know that Eden just got an amazing selection of "plus sized" lingerie in (per the many requests from myself and others... thanks Eden!). This set definitely didn't disappoint me.
The Peek-a-Boo bondage bra and panty set by DreamGirl consists of a peek a boo style bra and panties, wrist cuffs, eye mask and ball gag to make an awesome outfit for the perfect game of hide and "peek". The bra and panties are designed with a chain link type of enclosure that clasps to the slits on either side. This allows a little bit of peeking through to those oh so sexy areas, yet leaving enough room to let you tease your partner. The back of the bra piece clips with a plastic hook and is not adjustable, however you could tie the straps if you needed it to be tighter.
The wrist cuffs are a bit small and might not fit all but they are quite cute and functional for those who will wear them. The eye mask is also small and is more for show than anything. The ball gag is made of hard plastic so it's also for show; I doubt most people will want to bite down on a hard chunk of plastic. Then again, some may request it...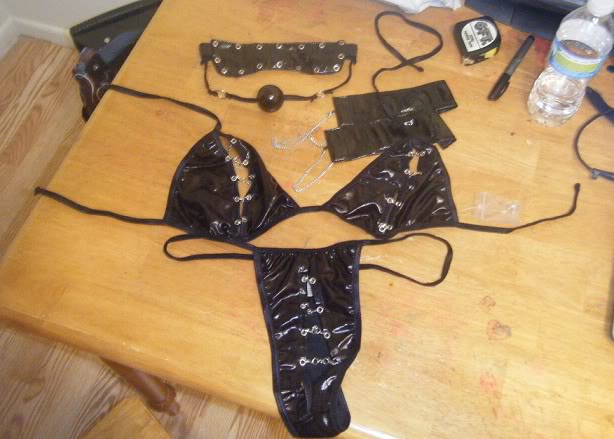 *Materials and Design*
The main materials used in this set are
Spandex
and
Nylon
, with the metal accentuating the pieces. The bra and panties have nylon interior with spandex overlaying the outside and giving them a leather-y look. Several metal clasped chains hold the bra together, the same kind you would find on a necklace or bracelet, and small chains link across the panties. These clasps can be taken out and replaced by other metal pieces or string if you want to switch up the design. There are a couple replacement parts along with the set as well, just in case you decide you want to keep the look the way it is.
The chains between the cups: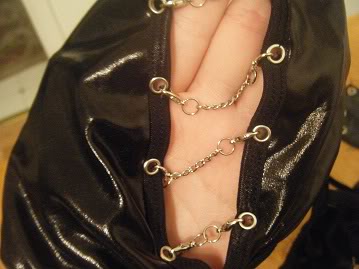 While Nylon can be washed in sudsy water, spandex cannot stand high temperatures so it needs to be hand washed in tepid water. The metal can be wiped down with a warm, wet cloth. Let the piece air dry to avoid destroying the spandex or metal.
Accessories
The wrist cuffs are made of the same materials as the bra and panties and require the same care and cleaning. They are small at only 8" long (no stretch or give to these) and 2" inches thick. They fit my wrist fine, but my wrists are on the smaller side.
The mask with ball gag isn't the same as the one pictured on the product page---the ball gag on the actual mask is attached by a nylon band like a traditional gag. This ball is made out of cheap plastic material and is manageable for the beginner with its small size of just over an inch in diameter. I don't recommend using it past one or two times though, because the plastic coating wears off very easily. To clean the plastic you can simply wipe it down with a soapy warm washrag.
The mask is spandex with several small grommets around the perimeter to add a sexy look. It's kind of small at 7 1/2" long and 2" inches wide from top to bottom (a little less on the nose area), but it works functionally and completely blacks out the wearer's vision.
Being made of the spandex and nylon, this set is super stretchy. It has plenty of room for comfort and it doesn't rub against your skin or cut into you like most lingerie pieces.
To sum it up, the accessories are cute but would work better for a costume party. They are functional but not durable.
Experience
*Size and Measurements*
It was challenging trying to measure this piece accurately because I had a hard time getting it to stay flat. The spaghetti straps are a pain in the butt to measure as well, so give or take an inch for your own measurements. I will say that this is stretchy and fits me well, so it will fit much more women than the generic skimpy outfits.
All measurements are taken with the piece un-stretched unless stated otherwise!
If I remember correctly, you can find out how a piece will fit you by doubling the measurements from it laying flat.
The top measures 30" long from strap end to strap end. The cups of the top are curvy so they dip in a little bit while measuring but I think they are supposed to be that way.
From the top of each strap to the bottom of each cup measures about 27" long, leaving plenty of room for adjustments to pull the girls up. The top isn't really intended for support and doesn't hold larger breasts up as well as it probably would perky ones, but it still keeps them up nonetheless and looks sexy as hell.
The cups themselves measure 6" wide and 7" long. I am a 40D and this fit me perfectly, in fact I had a little bit of room left. That is a rare occasion! If you are on the larger chested side, this will definitely fit you! Here is a visual in case my description is confusing: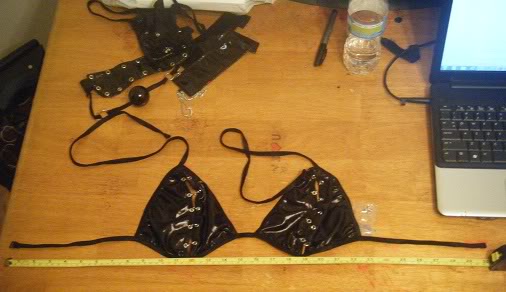 The thong is 9" long(tall?) from straps to bottom and about 14" long (wide?) around. This piece was also roomy on me; it won't cut into your skin and leave that tight, uncomfortable and oh so un sexy extra skin hanging over the edge. It is stretchy and will stretch quite far to fit all shapes and sizes!
Ladies, if you have been waiting patiently for good sized lingerie that will fit the average (the REAL average) woman, then this is for you! Cheers to DreamGirl for finally getting it right. Now if we can get them to call it average instead of queen...
This product was provided free of charge to the reviewer. This review is in compliance with the FTC guidelines.

Thank you for viewing
Peek a boo bondage bra and panty set
review page!