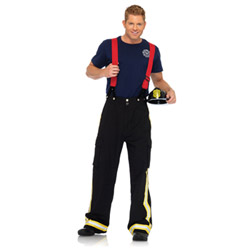 Fire captain
Costume
by Leg Avenue
Light My Fire!
The quality of all three pieces seems exceptional to me. The pants look totally real, as does the shirt. The suspenders are a bit oversized and more costumey looking. I also helped both of them try to adjust the suspenders and none of us could get them completely straight. I'm not sure if one side was sewn crooked or what.
Published:
Pros:
The pants and the shirt are of an impressive quality. Men love this costume.
Cons:
We couldn't get the suspenders straight. Limited sizes. Hat not included.
Note: I couldn't resist this title, I love The Doors!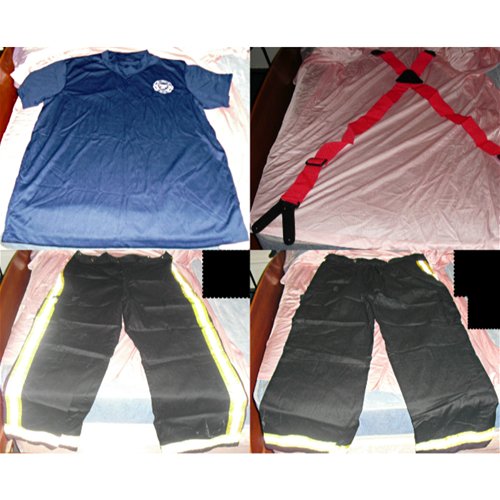 Deciding on the Purchase
After checking out the local department stores both solo and with my man and coming up empty handed I was jazzed to see this Fire Captain costume from Leg Avenue and the
Swat Commander costume
from Leg Avenue added to the site. I told him that I'd get one of these for him since they both looked pretty good. He chose the Fire Captain.
Packaging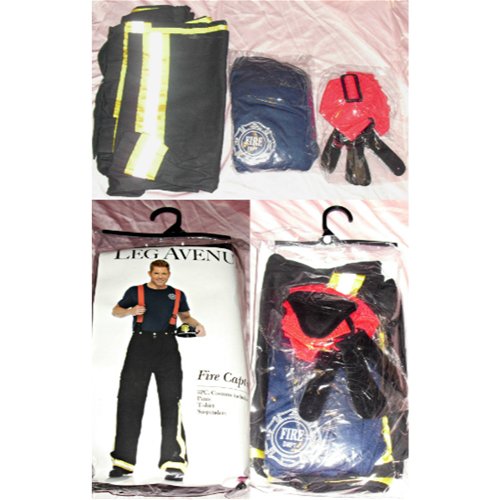 The Fire Captain costume includes 3 pieces: a navy blue shirt, black pants with yellow and white stripes down the side and along the ankles and red and black suspenders. The hat that the model is wearing on the package is not included. I knew this before purchasing it but it is slightly misleading since he is shown holding a hat. I figured that I could find a hat to go with the costume elsewhere.
It is packaged in the standard Leg Avenue plastic hanging package that you see at costume and novelty stores. Inside of the package you will find the pants and then the shirt and suspenders both packaged in their own small plastic bags. I normally store my Leg Avenue costumes in the packaging but the pants take up so much room that I'm storing it in a box instead.
Sizing
My first issue was sizing. I really wasn't sure what size to order for him. This costume comes in a medium/large or an extra large. As someone who has worn Leg Avenue costumes for women in the past I've always found the M/L to run closer to a medium than a large. Then I read a review of another men's costume on here in a size XL and the author made it sound huge. So I was really confused.
According to the Men's Size Chart on the official Leg Avenue site a M/L should fit a man with the following measurements: 43 1/4" chest, 33" waist, 42" hips and 36 1/2" inseam and the XL should fit a man with a 53" chest, 36" waist, 45" hips and a 39" inseam. My man is tall at 6'2" so I was mainly worried that if I got the M/L that it would be tight in the crotch. (I'm not fond of the camel toe I've suffered in the women's Leg Avenue costumes). I asked him what his waist measurement was and he said 32-34", which is closer to the M/L. But I still thought that I better go for the XL due to his height. He is about 165lbs.
When I received the costume I was worried that it was way too big for him. The nice navy blue shirt with embroidered emblem measures 49" around the chest unstretched and is 32" long. The pants measure 38" at the waist unstretched (however they have elastic in the back and are very stretchy). These pants feature pockets on both legs that are 8.5" long and 6.5" wide. The suspenders measure about 29" long on the two longer straps in the front without being adjusted (you can make them a few inches longer buy adjusting them like you would a bra strap) while the shorter part of the suspenders in the back measure 8" long.
Fabric and Washing Instructions
The pants are 20% cotton and 80% polyester. The shirt is 100% polyester. Both pieces are to be hand washed and then let drip dry. Do not bleach them. If you need to iron them do so at a low temperature.
The suspenders do not have a tag attached. The straps feel like a thick nylon and the black pieces that hook to the pants feel like felt.
Experience
Here's where things get weird. I had the idea that even if this was too big for my fiance that it looked like it would fit my father (he's 5'10" with a 40" waist and is over 200lbs). Then I thought maybe, just maybe, it would fit both of them since the pants have elastic in the back and it includes suspenders. If not I was thinking that I'd keep the XL for my elderly father (who I don't think has ever had a full costume, he usually just gets a mask) and then get the ML for my fiance.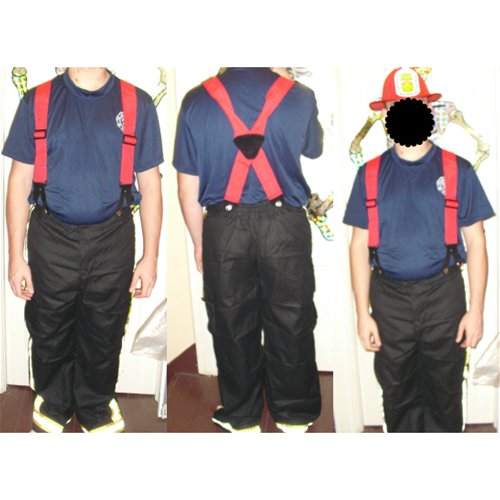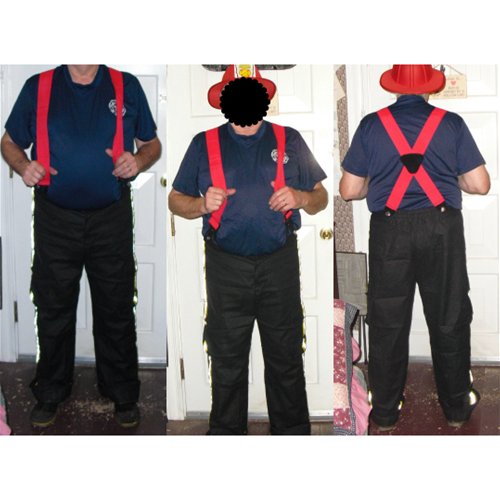 But luckily it fit them both! They just have to adjust the suspenders. Since I own it I told them both that they could wear it for different Halloween events. (my fiance is shown in the first picture and my father is in the second picture). Both of them are wearing it under their stomach, as men tend to do. My man was a bit reticent to pose and looks a little awkward but my dad's a ham, like me, so he really got into it.
We picked up a nice fireman's hat at Target for $10 to go with the outfit. I'm showing them wearing it for reference but it doesn't come with this costume.
Both of them really dug the costume, especially my dad.
Follow-up commentary
13 days after original review
My father wore this to a costume party. He was very excited when he won ugliest costume for $75. He paired it with a hideous mask. He also mentioned that a woman told him that she recognized him even with the mask because of his sexy walk. So I guess she found it sexy on him. By the way, he was able to get the suspenders straight for the party so they were sewn correctly.

I was going to have my man wear it to a Halloween party with me but we found out that no one had dressed up so we just skipped it. Plus due to the hurricane children in our neighborhood didn't trick or treat so he didn't get to wear it for that either. I have a feeling that I'll be having him wear it just for me though.

Plus it will come in hand for next Halloween.


This product was provided at a discounted price in exchange for an unbiased review. This review is in compliance with the FTC guidelines.
Thank you for viewing
Fire captain
– costume review page!