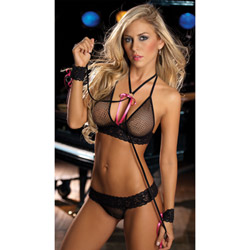 Nightwear with collar and wrist cuffs
Bra and panty set
by Espiral
Like a Bikini, Only Extra Sexy
If you're aroused by the idea of bondage, but not really into the whole "pain", (or actually being restrained), thing, this is PERFECT! It's an AWESOME piece of lingerie. Very comfy, (like wearing a bikini with no scratching or pulling or weirdness), and very sexy! The "cuffs" are absolutely only for the look; they do NOTHING for actual restraining.
Published:
Pros:
Very comfy; stretchy; wears like normal underwear, (but with butt-floss)
Cons:
"Restraints" NOT intended for any sort of restraining, they are for looks only
Are you into bondage, but not really into the whole pain thing, this is a great lingerie set for you! This set includes a halter-type bikini top with a mesh bra, a lacy g-string, and the cuff/neck things.

The "cups" are only made from mesh. It's very enticing how it seems to hide you, but doesn't really. The wide lace on the bottom of the bra runs the length of the bra and then trails off freely-- you use it to tie the top on, just like a string bikini.

The panties are topped with the same lace as the bra and it goes all the way around. The front of the thong is mesh, again hinting at what's underneath, while not being very subtle at all. There's a liner on the bottom of the front triangle, just like in normal underwear or a bikini bottom. The front triangle then turns into a string that attaches to the lace back triangle.

Neither the lace nor the mesh catches when you run it over your lips (unlike some lace) and has no scratching at all. It is supremely comfortable in a way that I have never experienced lace OR mesh to be.

The "cuffs" are held to the neck and each other by way of, basically, a piece of yarn. It isn't actual yarn, but I suspect it has similar strength. The string is the same stuff as the string on the panties. It doesn't scratch or catch on anything. There's no chafing unless you try swinging your arms a lot and pull on the neck piece. These are in no way, shape, or form, intended to actually restrain -- hamper or impede, MAYBE. They are clearly there for the look they create and they give the piece the whole "bondage" feel.

Besides the usual "new clothes fresh from the plastic bag" smell, (which goes away quite quickly), this has no smell. You can pitch it in the washing machine no problem. Basically, this is my go-to for lingerie.
Experience
I'd asked my boyfriend what sorts of lingerie he liked (because I had no idea what his preferences were) and sent him to Eden to browse. This was one of the ones he sent to me. When I saw that it had no reviews, I was all, "Oh my gosh, this must be remedied!" He's off in California, (while I'm in Kansas), both of us for school, and I want to keep this as a surprise for him. So he isn't seeing it, (not even on webcam), until we see each other in person again!

I'll do my follow-up once the two of us have had a chance to try it together; I'll include his opinion in here as well.
Follow-up commentary
18 months after original review
Honestly, I've had this for a while before I published the first review. I'd written down all my observations when I first got this lingerie set, but took a while to flesh everything out into a proper review.

Anyway, in the time that I've had this set (I call it my "sexy bikini" in reference to the title of the first review or my "fishnet bikini"), it's become my go-to for lingerie. I'm in a long-distance relationship, so Skype has been our friend. SB (sexy bikini) is still super comfortable and nice to wear. As mentioned before, SB is the same as wearing a regular bikini (or regular undergarments, if you wear this style).

I love it because it's comfortable and washable, my S.O. loves it because it's sexy, it's a wonderful win-win.
This product was provided free of charge to the reviewer. This review is in compliance with the FTC guidelines.
Thank you for viewing
Nightwear with collar and wrist cuffs
– bra and panty set review page!