Lipsticks and Kisses Oh My (Size Large)
This shelf bra and thong make for great bedroom play or if you are a cam girl and want a cute little bra and thong to wear this would work out well. I thought the design of this was wicked cute and had to snatch it up. I am glad I did now if only I had more time to enjoy it.
Published:
Pros:
Pretty, Adjustable
Cons:
Discontinued, Loose threads, Garters are not removable
This cute little bra set is made by Seven til Midnight. It is good to wear for bedroom play or while camming but not something I would wear out the house. The only piece I would wear out the house would be the thongs after I cut the garters off because they are not removable.

Both the bra and thongs are 90% Polyester and 10% Spandex. The tag says to hand wash cold water do not bleach and hang on the line to dry. It also says to not iron it.

This set was offered in three sizes they were Small, Medium and Large. I got the Large. On the Seven til Midnight size chart a large fits Size 10-14, Waist 28-30, Bust 36-38, and Hips 38-40. My sizes are size 9-10, Waist 40-41, Bust 38b, Hip 42. The panties were a little snug on me but nothing I could not handle. The bra was also a little tight but with adjusting the straps it made it comfortable to wear.

The bra is a shelf bra. It is made to give the ladies a little lift. I did not find it did that with mine, it just made them look like I had a normal bra on and no lift support at all. The bra is pretty but some might find it to childish for them. I like things that are different. The bra has lipsticks and kisses all over it. The main color of the bra is black and it has pink accents all over it. There are lipstick tubes that are white, while the lipstick is pink. The kisses are pink. There is black lace on top of the bra cup and it has a pink undertone with it. There is a pink ribbon in the middle of the bra cups. The straps are also black and have the pink undertone. It is made to look like two tone colors, this only goes half way up the strap and the part towards the back is all pink. The straps are also adjustable. There are 3 hook and eye closures. The bra is also see through in certain spots but not in the cup area. It does have under-wire in it.

Now for the garter thong. It has the same print as the bra does. Instead of there being only one bow there are two bows on each side of the hip area. It has the two tone pink and black lace going down it as well. The thongs are in a ruffle shape there are two layers on the sides and towards the back but in the front there is only one layer of ruffles. The thong does have a panty liner in them. There are four garters that are not removable. I wish they were though so I can wear them out of the house. I think I may end up cutting them if I want to wear this outside the house. If not I will just use it for camming or for bedroom play. The garters are all pink they have a plastic clip and a ribbon to hide them.

I had picked up this set because they had the One Million Kisses Bustier and I got it, the only issue I had was it was too small for the large and I had to return it. I don't remember if it came in a bigger size if it did I missed out on it. I was going to use the thongs from here even though that had came with g-strings but these panties would have went nice with it as well.

I am giving it three stars because I did not get too much of a lift and also because the garters are not removable. I also had some loose threads and a little rip in the lace on the top of the cup.
Experience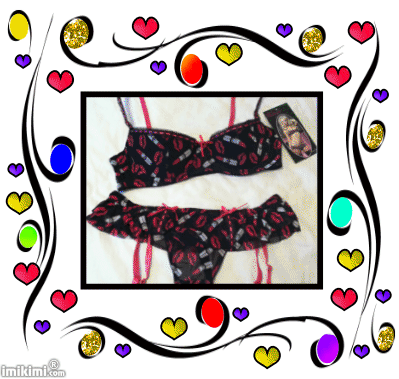 This content is the opinion of the submitting contributor and is not endorsed by EdenFantasys.com

Thank you for viewing
One million kisses bra and thong
– bra and panty set review page!