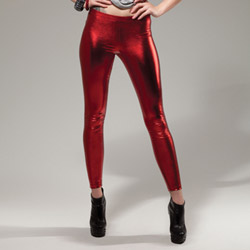 Menton red leggings
Leggings by Forplay Lingerie
Liquid fire makes my derrière look sexy
Even though this is a bit pricey, I will definitely order it again in an appropriate size because I can't survive without these in my wardrobe.
Published:
Pros:
Stretchy, bright
Cons:
Sizing is not forgivable, pockets stretch really wide, only 2 colors available
These metallic finish leggings from ForPlay are incredibly sexy. When I saw these a while ago, I hesitated to get it because it was quite pricey. I finally managed to get them and I must say, how did I ever live without these!

These leggings arrived in a box wrapped in red paper. Quite simple but I have no complaints. When I unwrapped it, I was surprised that it really was a bright foil finish. It is incredibly soft and light. I also didn't expect the back pockets to be functional; I thought it was just printed on. The details on the pockets are really nice, with stitching on the seams. Even though I got the red leggings, the inside is black because the outside is a foil overlay. The total length from top to bottom is 32 inches but it only rises 7 inches in the front. The information from ForPlay says that it rises 9" in the back but I had a rise of 10 inches.

Wearing these soft leggings were ah-mazing. Even though I ordered a size smaller than what I normally wear, I didn't feel restricted in these. Even when bending down or sitting, I didn't have these ride up. There are pretty much like jeggings, except more vibrant. I love that I can put things in the pocket and they aren't just for show. Although, the pockets stretch really wide which my boyfriend told me actually made my butt look bigger.

These are flattering for my overall flat body shape and average thighs, legs. They flatter my behind and suck everything up. One thing I did notice in pictures though was that it made my calves and look really small compared to my thighs. I found that awkward looking back at pictures but I think if you wear appropriate shoes like wedges or boots, that won't be a problem for photographs.

As for sizing, it gets a bit tricky. Since this is made from spandex, it is incredibly stretchy. I had been wanting these forever and when I finally made a new order, the only available size was XS. ForPlay's sizing chart states that XS is appropriate for :

♡ 0 - 2 size
♡ 80 - 95 pounds
♡ 22 - 24 inch waist
♡ 32 - 34 inch hip
♡ 31 inch inseam
♡ 6½ - 7 inch rise

I know most of the above measurements would not apply to me but I was impatient and I just got them in XS. I was shocked they fit like a snug glove and still have room to stretch when I first tried them. However, the second time I wore these, the seams were already giving out and after an hour, there was holes in the inseam and the foil finish was wearing off.

Both Menton leggings only come in sizes XS - L. I would highly recommend ordering according to their sizing chart.

ForPlay Bottom Measurements

XS ♡ 22 - 24 inch waist, 32 - 34 inch hip, 31 inch inseam, 6½ - 7 inch rise, 80 - 95 pounds

S ♡ 24 - 26 inch waist, 34 - 36 inch hip, 32 inch inseam, 7 - 7½ inch rise, 95 - 115 pounds

M ♡ 26 - 38 inch waist, 36 - 38 inch hip, 33 inch inseam, 7½ - 8 inch rise, 115 - 135 pounds

L ♡ 28 - 30 inch waist, 38 - 40 inch hip, 34 inch inseam, 8 - 8½ inch rise, 135 - 155 pounds

Even though they stretch, to prolong use of these pricey leggings, I would suggest getting the bigger size even if you can squeeze into the smaller size.

This is made from spandex and polyester, which allows for stretchability and lightness. Because of this, I always recommend hand-washing and air-drying. It does have a foil finish so you wouldn't want to ruin that by sticking it in a dryer.
Follow-up commentary
2 months after original review
Even though I wear this sparingly because I don't want the seams stretching, I still like these leggings because off the bright metallic effect. I'll definitely get this and the black version in a bigger size so that they wear better.
This product was provided free of charge to the reviewer. This review is in compliance with the FTC guidelines.

Thank you for viewing
Menton red leggings
review page!