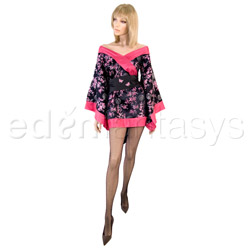 Geisha girl
Costume by Leg Avenue
Little Geisha Girl
You cannot go wrong when buying the Geisha Girl set. It's made of such comfortable, smooth fabrics and looks absolutely stunning on any body type (yes, any body type). If you're someone who loves kimonos and Japanese culture, this set will make a great addition to your wardrobe.
Published:
Pros:
Appearance, allure, obi is a perfect piece, looks great for any occasion, an overall beautiful set.
Cons:
Velcro strip might not be long enough to fit tinier waists, obi moves around because of this.
To begin, I will start with a quote made by my little girl: "The geisha outfit is beautiful beyond words, really." To sum up the alluring qualities of this set, that's all that needs to be said. It's sexy, cute, and will definitely make a statement when worn on any occasion: Halloween, a night out, a night in, an Asian-themed party—the possibilities are endless with the Geisha Girl set.

The dress, obi, and sash are all separate pieces that come together to make this one gorgeous set. The dress piece is not like a kimono where one side folds over the other, but rather a one piece, short dress with an off-the-shoulder neckline. Depending on your height, it should reach about mid-thigh or just below your bottom. It is designed with white and light pink flowers that accent the piece beautifully. On its left side, there is a zipper which is helpful when slipping it on and off. Overall, it's not very form fitting, but is tighter on the breasts and hips, so make sure that you get the correct size.

The part that really makes this set worth it is the obi. When first looking at its frontal images, my little girl and I thought that it was very cute, but not worth that much money. After looking at the pictures from the back, we saw that the obi was the addition that truly made this set. It's almost like a pillow, with a plush insert, and has a loop on the back where it meets the body for the sash to go through. The loop is black and is made of the same material as the sash, which bears and almost papery-like feel and sequined butterflies. If the sash doesn't hug your waist tightly, the obi will move around a lot and can become crooked.

To fit more waist sizes, the sash has a long velcro strip. Though on the smallest size it wasn't correctly fitting my little girl, it might be alright for you. If you have a much smaller waist, the sash will be too big. You can alter this if you're good at sewing fairly easily. If it doesn't fit, the dress itself is so lovely that it can be worn without the sash and obi or with something else cinching the waist, like a black corset or one with minimal detailing.

Made of a very authentic-looking brocade, this satin material perfects the set. The texture is very much like silk but is heavier and thicker, with more embellishment and designs (though every brocade is different). This one in particular has a very Japanese, floral style pattern that's very similar, if not exact, to silks that I own from Japan and China. Since it is so fragile, I would not recommend wearing it for long periods of time or even washing it at all. Though it can be hand washed in tepid water and hung out to dry, I think that it's best to just take it to the cleaner's. The set wrinkles very easily, posing a few problems with storage. I do not recommend putting it back in its original packaging or folding it on shelves, but instead making sure that it's hung up and not folded.

The packaging for the geisha set is quite standard for what you might find a Halloween costume or kink set in. It's a plastic bag with a cardboard insert, displaying the model as pictured on Edenfantasys' site, and a hook to hang it on store racks. There are no instructions telling how to put this set on, which are a bit needed because it's a slightly confusing set, with putting the sash through the loop on the obi, adjusting it to fit you correctly, and making sure that everything's in place properly. It's much easier to have someone put this set on you or help you with it—it's not something that is easily put on by yourself.

To finish off the look with some really authentic touches, add in a pair of Japanese wooden sandals (with or without the socks) and some geisha-inspired makeup. The Geisha Girl set also goes well with a soft, just-rolled-out-of-bed look with your hair done up in chopsticks and a few strands loose. However you wear it, it's bound to look absolutely striking.

For $50, the Geisha Girl set is well worth its price. With its obi, sash, and lovely materials, it will make a beautiful Halloween or formal outfit. Though it is a bit revealing, it's extremely gorgeous and well-made, and will make a stunning appearance on any body type.
Experience
This product was provided free of charge to the reviewer. This review is in compliance with the FTC guidelines.

Thank you for viewing
Geisha girl
– costume review page!