Little Red Dress of Disappointment
Although this 'dress' by Baci could be flattering on some bodies, this piece just isn't for most. If you have large breasts, any tummy flaws you'd rather cover or any curves, I'd save your money and take a pass on this one. Some cheap products may surprise you but this isn't one of them. You are going to get what you pay for with this dress. This is a One Size Fits Most dress that won't look good on most bodies and comes with an assortment of quality flaws.
Published:
Pros:
~Cost
~Stretchy
Cons:
~Quality Issues
~Halter Isn't Adjustable
~Lack of Breast Support
~Stomach Panel
~
Material/Design/Craftsmanship
According to the tag this red halter dress by Baci Lingerie was made in China and is made of 90% Nylon and 10% Spandex. The dress is made up of two distinct materials. The first is an ultra sheer, red, stretchy fabric. It's not itchy or irritating in anyway. The second is very similar but much more sheer and it features flower type pattern. If you move over this fabric too much it will be come irritating. There isn't really too much to this dress. It is sewn together alright, however it has multiple issues. I found that with the flower fabric, elastic strings began to pop out of everywhere. It's not a huge deal, the strings can easily be cut or pulled off but I feel like it's worth mentioning. Another problem I saw with this was parts of the bust and bottom began to fray fairly quickly. Also, I've noticed that the flower type material rips fairly easily. Overall for the price you pay the quality of this piece is to be expected. It's not bad enough to leave me running for the hills, but it's nothing stelar. I would call it a fair to poor quality piece.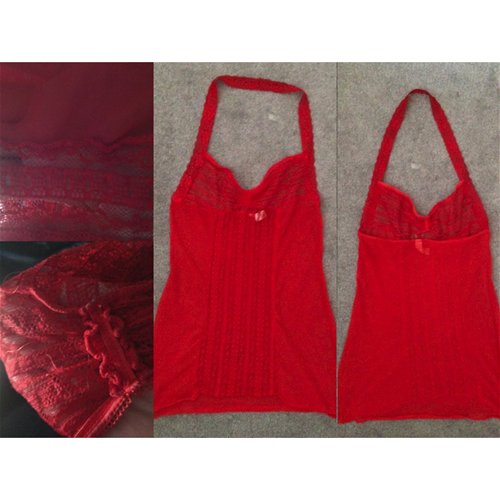 ~
The Dress
The majority of the dress is made of the first solid red fabric. It covers your back, rips and hip areas. The rest of the dress (the halter top, bust, and stomach panel) is made from the flower pattern material. As said on the Eden product page, the dress is 30" long (top to hem). So depending on your body type and height
this "dress" may end up looking more like a chemise.
Being a curvier girl, the stomach panel doesn't really do anything for me. Personally I dislike it because not only is it more sheer than the other red fabric, but it gives the illusion of having even more curves.
The bust has no underwire and absolutely no bust support whatsoever. Between the bust there is a small part of ruching or gathering. The neck band for the halter is made of the same flower fabric, it's right around 20" long. It's not adjustable which is really an inconvenience. I'm all for keeping ties to a minimum. But with the lack of breast support and no way to pull them up, ladies with larger breasts could be left looking a little saggy.
~
Sizing
I'd say that this is a pretty typical One Size Fits Most dress. I cannot complain too much when it comes to the way this dress fits me due to the fact I don't exactly fit into the size chart.But the material for this set is very stretchy so it was able fit my body. Baci's One Size measurements are as follows in inches (mine in parentheses).
Clothes:2-14 (16-18)
Cup:B-C (D)
Bust:32-38 (38)
Waist:24-32 (34)
Hips:34 - 40 (44-46)
I carry most of my weight in my hips/rear and my chest meaning I have more of a pear or hourglass shape. On my body this fits more like a chemise than a dress. I'm able to pull it down over my rear but only a few inches. Also because I'm over the cup limit on the dress, the cups fit me more like a demi or half cup bra. The rest of the dress is able to stretch to accommodate my measurements.
~
Care
The care instructions are one of the best things about this dress. The tag calls for machine wash on warm, using only non-chlorine bleach when needed. Tumble dry on low, do not dry clean and wash color separately. I don't thing it would be necessary to put it in a lingerie bag but it might be a good idea.
Experience
~
Overall
As a whole I don't dislike the dress. However the problems eventually stacked up against it in my mind. The quality of the piece at this price was to be expected, but it was still a let down do have so many issues. As said in the review, being a curvy girl I really dislike stomach panels (especially when the material is much more sheer). But my biggest problems with the dress where that the halter wasn't adjustable and the lack of breast support. I'm fairly young and don't require a lot of extra support, but because my breasts are a bit larger I tend to prefer it. So this piece was a pretty bit let down in that area. The set doesn't look very good with a bra on underneath either. Just as recommended on the size chart, this dress would only really work with women who have B-C cups. I would recommend this to a woman at or below my measurements. I wouldn't recommend this to a woman who is self-concious about her stomach or hip area due to the fact that this dress will not hide any of your lumps or flaws. Because of the stomach panel, I think that this dress would look great on a woman looking to gain some curves.
I'm giving this a 2 out of 5. There were just too many quality and design problems with this dress for me to like it. I don't think I look terrible in it but I do believe it would look better on a different body type. I would recommend this with reservations only to a skinny and small breasted woman who doesn't mind the crappy quality. Being that this is my first product from Baci, it's easy to tell I'm not impressed.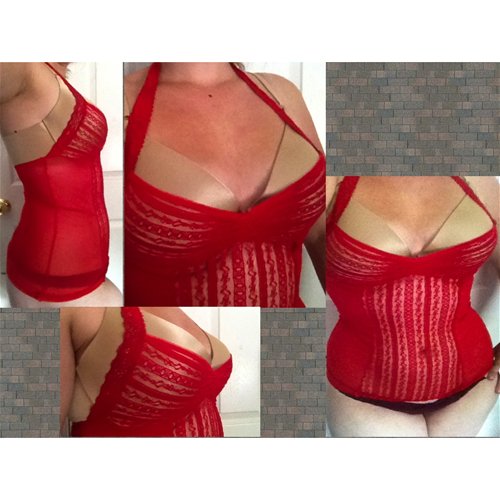 (Please ignore my tan bra and dark panties!)
Follow-up commentary
5 months after original review
I still really dislike this little dress. I thought about passing it on to a friend but decided that it could be seen as cruel considering it seems to be falling apart.
Aside from the quality issues, as stated before, it's simply not flattering to many body types. Which leads me to believe that either this piece was simply not designed well or that the manufacture only makes lingerie for one type of woman. Both options are pretty terrible. But I haven't decided which one it is quite yet because I have yet to get another piece by Baci. Most likely due to the bad taste this dress has left me with.
It's not a complete failure, I have some hope that this could work for someone, somewhere. But I'll be sticking with my original rating of 2 out of 5 sadly.
This content is the opinion of the submitting contributor and is not endorsed by EdenFantasys.com

Thank you for viewing
Red lace halter dress
– mini dress review page!