Live and Let Die... Or just let go..
What a complete sizing nightmare. My large item could only fit those who have a C cup, 28-32" underbust, waist 28-30", and hips around 22-26". I have no idea what went on when manufacturing this bustier, but it totally sucks. I've never been so disappointed with sizing, and I am glad to know that this time... it's most definitely not me trying to go a size smaller. And on top of it, they messed up the garters so one of them is permanently ruined and won't snap into the clasp.
Published:
Pros:
absolutely none.
Cons:
22" hip on a size large, non-functional garters, a bow center-chest that isn't detachable
Presentation
Inspired by the Bond-girl theme, I took a risk and impulse-bought this bustier. I knew it wasn't made to slim or shape me. Without boning, it still looked like a sexy piece.
This bustier came to me in a plastic costume bag, complete with a plastic snap button closure. There is a picture of the model on an insert, with the color and style of the garment. The set came to me rather wrinkly and barely folded in the bag. Not a great first impression.
The thong was attached to the bustier with a plastic tag.
Materials and Craftsmanship
Well, as I said, first impressions showed me this was a badly wrinkled, nearly balled up piece of lingerie. For 25 bucks, though, it was sort of expected.
This bustier is made out of 92% Polyester, 8% Spandex.
As far as craftsmanship goes, it's nothing special. No extra effort went into making it, since the materials are pretty thin and cheap. There are a few screwy threads along the bust area. However, when I went to examine the detachable bra straps and garters, I saw the true fail of quality. There was a weird white chip off the bra strap clasp. Absolutely all of the garters have poorly sewn threads mis-looped and hanging off the garter itself. One of the garters was somehow twisted oddly during the manufacturing/shipping and is completely nonfunctional due to this. The cheap plastic is permanently malformed.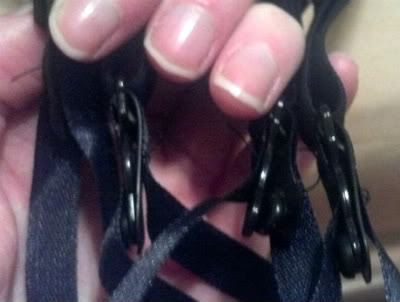 All four garters. As you can see, all of them have threads flying off them.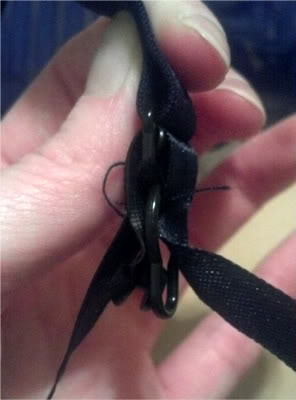 Permanently messed up garter.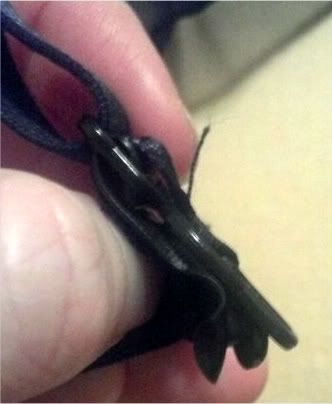 But at least there there is a liner in the g-string.
The fabric is rather sheer, the center panel looks solid but the fabric is cheap enough that if you hold it up to light, you can see through it. It's soft and I didn't experience itching from it. There are
three
bows, permanently sewn onto the bustier. Product photos are misleading- one is centered on the bust, the other two at the bottoms of the center panel on the front. They are sewn permanently and not made to remove.
One of my ribbons has a very badly frayed end.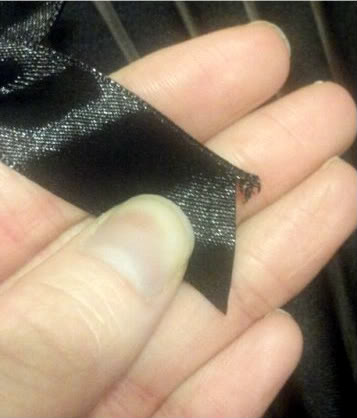 Poorly done permanent bow. Frayed.
The tags for this are hot pink, long, and skinny. They annoy me for how long and out of place they seem on this black garment, so I'd probably just cut them off.
Care
Seven til Midnight tells you how to care for this in plain print on the tags (no fancy symbols). "Hand wash cold, do not bleach, do not iron, line dry."
They also let you know that the set is made in China.
Experience
Sizing
EF has yet to post a sizing guideline for this lingerie company. Before I purchased, I went onto Seven Til Midnight's website to see their size chart.
Their size chart
The Large is supposed to fit sizes 8-12, a bust of 36-38", C-cups, waist 28-30", and hips 38-40".
Now, this is small for a large (in my opinion). But, I figured, if it's accurate, this should fit me rather nicely. I wear a 36C, my under bust is 32" and my bust is 39", my waist is 30", and my hips are 39".
This should fit me.
Well?
It doesn't. Not even CLOSE.
The hooks and eyes are so cheap that they constantly fall back open. This was annoying enough, but my boyfriend jumped in to help me put this on (there is no zip to help you put it on and it is not easy to twist into place sine the fabric is so thin/cheap).
It perfectly fits to my chest, and the hooks continued to snap into place (and fall out repeatedly) down my waist.
Right at the slope of my hips? Nope. No way this would fit me. And we couldn't even tug it tighter to have it stretch closer together. That simply made the rest of the hooks and eyes pop riiight back open again.
With resentment, we gave up. There is ABSOLUTELY no way this will fit as the chart suggests.
I tried on the g-string. It nearly broke. It was incredibly too small.
Suspicious and upset, I took my measurements again. Nope, all the same. I turned to the bustier.
Cups, 8" across the fullest. These fit me well.
Under the bust, 25" at the tightest hook/eye, 27" at the widest hook and eye.
Waist, just about the same.
Hips... Well.
The hip portion of this garment is 22" small clasp, 24" largest hook/eye clasp.
SERIOUSLY?
How the hell am I supposed to even have a chance at fitting into this? How the hell is ANYONE? Small sized people out there, could you fit into a garment 22" at the HIP? I mean... what?!
The gstring is just as helpless, being 22" around. Stretching it, I can only get it to barely 36". Meaning, I squeezed it on and then, well, no more g-string. The seams started to rip.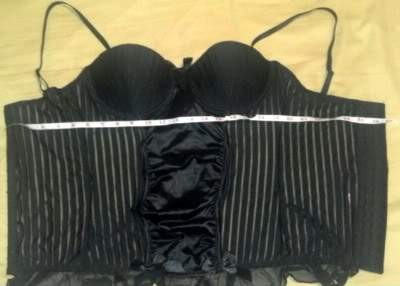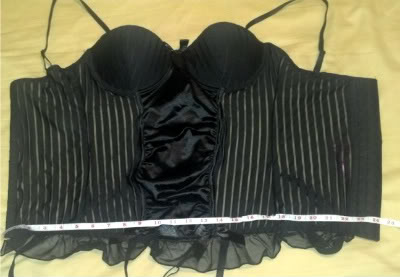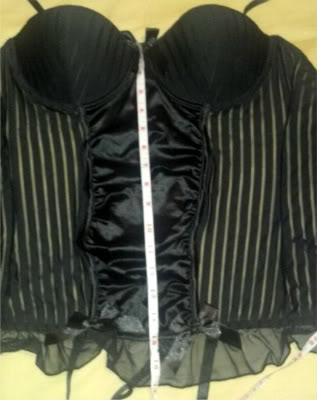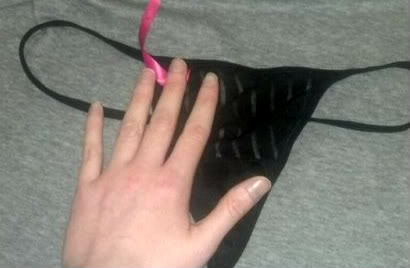 My hand. About 7" long. Seems huge next to this tiny thing!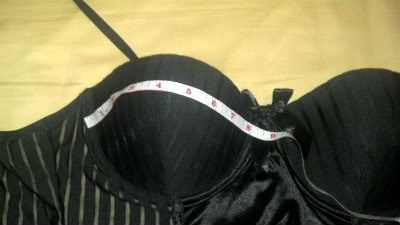 Now, I was confused when I first got this from Seven Til Midnight. I was thinking, hey, maybe they're all sized 15" inches too small at the hip... But I had another item from them on the way-
the black temptation chemise
. This was great, if not short, the gstring fit perfectly and room for more, but of course I discovered the total OPPOSITE problem of this purchase: the cups on THIS large garment were barely A-cups.
I will not sent this back for a shot at another size. Why? Because Seven Til Midnight has demonstrated vast fuck-upped-ness when it comes to sizing their garments.
It's like spinning a wheel and seeing what type of sizing I will get. I'm not willing to waste my time or money, and I don't think many of you out there are either.
This product was provided at a discounted price in exchange for an unbiased review. This review is in compliance with the FTC guidelines.

Thank you for viewing
Solitaire bustier set
review page!