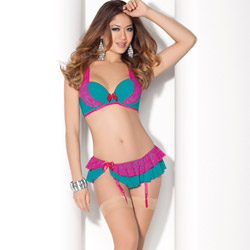 Wild nights bra set
Bra and panty set by Escante
Look Like a Bird of Paradise
If you love bright colors and flirty ruffles, then the Wild Nights bra and panties set was made for you. Though not perfect by any means—the sizing is confusing and the garters can be troublesome—it's a cute, unique set that's definitely worth having.
Published:
Pros:
Fun & unique colors, pretty design, comfortable, good quality
Cons:
Garters difficult to fasten, confusing size charts, nude thigh highs
Escante's "Wild Nights" bra and panty set is undeniably unique. Turquoise and hot pink is a pretty bold color combination, and will likely put some people off. I've been on a bit of a bright colors kick lately, though, so the set instantly appealed to me.
The packaging for Escante's "Wild Nights" set may be a little disappointing—it consists of a plastic bag and a plastic hanger—but the set itself is obviously high quality. I suppose if I wanted to be terribly nitpicky I could complain that the band of the bra is just ever so slightly uneven in the back—if you look carefully at pictures of the bra's closure, you'll notice that the lower edges don't quite line up—but you'd never see it if you weren't looking for it. The stockings it comes with are a little flimsy, especially since there's no reinforcement around the toes or heels, but they're no worse than the average pair of thigh highs.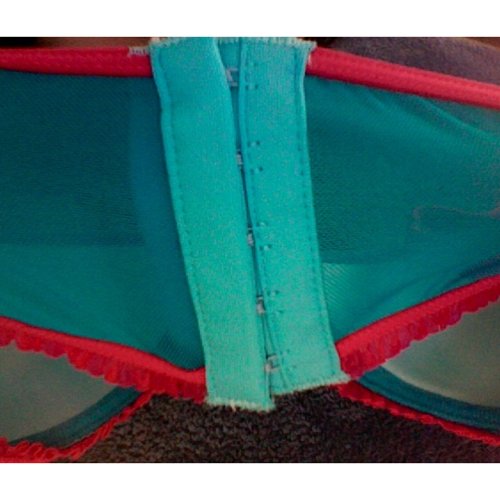 Closure
This set should be hand washed and air-dried. According to the tag, the garment is 91% nylon and 9% elastane, which, according to most websites, is essentially another word for spandex. In any case, I was pleasantly surprised by the quality of the material; cheap lace often feels scratchy and rough to me, but so far I haven't experienced any itchiness. The material is also considerably more lightweight (and sheer) than it looks on the product page. Personally, I consider this a good thing, because I like lingerie that's airy enough to move with me; besides, while I generally like to leave a little to the imagination, it's not particularly sheer anywhere that counts (i.e. cups or crotch). What's more, the mesh-like turquoise fabric at times seems to almost shimmer—I noticed this mainly in the cups, so I'm thinking it's an effect of the white lining. It's much more interesting than the matte, overly-photoshopped colors in the official photos.
From the front, the bra straps look both pretty and potentially flimsy, but the backs of the straps are made of the usual ribbon/elastic material and are adjustable like any other bra, so I'm not too worried. The cups are very lightly padded, have an underwire, and provide fairly good coverage—in fact, they cover my A cups entirely—so I don't foresee more amply-endowed women having a problem with this set, unless, as I said, the straps prove too delicate to offer enough support. The closure consists of five (!) sets of hooks and eyes. It takes a little more effort to put on, but once I'd gotten used to it, I really liked the look. Unfortunately, there are only two options in terms of band width, although the stretchiness of the material may help a bit in this regard.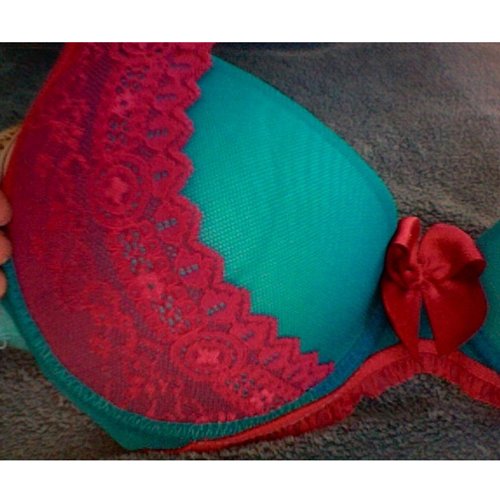 Bra cup
The lower half of the garment is a skirted G-string equipped with adjustable pink garters. These garters are a little problematic. They're made of a sort of squishy plastic, which makes them harder to fasten and leads me to worry that they could pop open at any moment. I haven't had mine come loose yet, though, so maybe it's just my neurotic tendencies talking. However, I do wish that the garter straps were longer. I am not the curviest girl around, and I have to wear the back straps at their longest (10" from top to clip, both in front and back). Even then, I could only ever wear these panties with very "high" thigh highs. I dream of the day when clothing companies will realize that some women are taller than 5'7".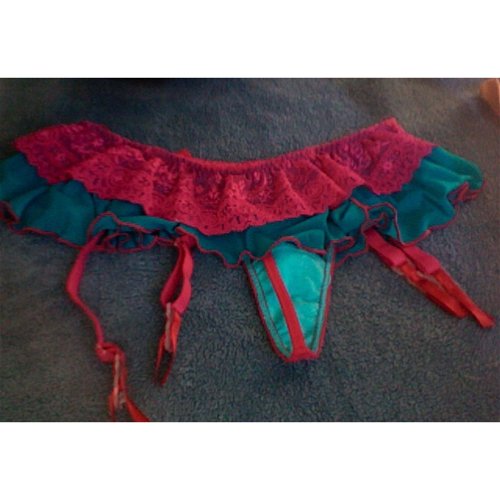 Panties/skirt from behind
And now for a rant about the "nude" thigh highs. I just don't get them. If the stockings match your skin tone, why bother wearing thigh highs at all? Stockings are sexy because they flash skin without showing the whole leg; the effect is ruined if they blend in seamlessly. If, on the other hand, you are not among the extremely small minority of people whose skin these stockings will match, you'll just look like you're trying to disguise your real skin tone. To top it all off, the tan color clashes with the bra and panties. Black thigh highs would have been acceptable and are, in fact, what I'm wearing in the pictures below. White ones would have been excellent. Why did Escante choose nude?
Thigh highs, looking about ten times more orange than my hands—and my legs are even paler!
Experience
I am going to try really hard to be objective here, because the truth is, despite its shortcomings, I love the Wild Nights set (admittedly, a tiny bit of my love for it may be due to the name and its resemblance to a favorite poem of mine—Emily Dickinson's "Wild Nights." Go read it—it's hot). I do truly like the way it makes me look and feel, though. Turquoise is a good color on me, and I love the fun, contrasting lace. I do, however, feel obligated to point out that the sizing is a bit of a problem.

To be fair, this has less to do with this particular set than it does with Escante's size chart. Here are my measurements:

Dress size: 4-6
Cup size: A
Bust: 34"
Waist: 27"
Hips: 37"
Height: 5'9"
Weight: 128 lbs.

And here is Escante's idea of a "Medium":

Dress Size: 6-10
Cup Size: B-C
Bust: 34-36"
Waist: 28-30"
Hip: 32-34"
Weight: 120-140 lbs.

I just flat out don't understand these measurements. What woman's hips are (potentially) only 2" wider than her waist? Who wears a C cup but has 32" hips, unless maybe someone very short? I could go on, but you get the gist. My measurements are a total mishmash of Small and Medium (and, in the case of my hips, Large/XLarge—what?).

I got lucky in that the Medium mostly fits, but I do think the size chart is misleading. The cups have a little extra room in them, but they're workable. Given that I would normally be swimming in B/C cups, I'm guessing the bra runs a little small.

I honestly can't tell whether the panties run small or large. They fit my hips and could easily stretch more, so Escante's size chart seems way off the mark, but I'm so generally baffled that I hesitate to say they actually run large. The crotch, unfortunately, is a little baggy. I suppose I could fix this by wearing the panties higher on my hips, but then the garter straps wouldn't be long enough, and the set just wouldn't look as good. As it is, the skirt hides the fact that the panties don't fit perfectly, so I'm happy enough. Maybe the Small would have fit better, but my hip measurements are so laughably far off from those given in the size chart that I didn't want to risk it.

The bottom line is, you'll have to cross your fingers and hope when it comes to the sizing, since the chart doesn't seem particularly accurate or useful. It's such a cute set, though, that I recommend taking a chance on it anyway—if it seriously doesn't fit, you can always exchange it. Just be sure to invest in some different thigh highs!
This product was provided free of charge to the reviewer. This review is in compliance with the FTC guidelines.

Thank you for viewing
Wild nights bra set
– bra and panty set review page!