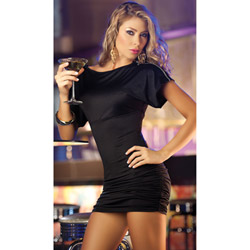 Black billow top dress
Mini dress
by Espiral
Look Like The Model...Finally
"Looks just like it does on the model!" Yeah, right. How often have you actually been able to say that when you receive a piece of clothing you've ordered online? But, the Espiral Billow Top Dress drew these words from me as natural as you please. The flattering ruching, the sexy slinky material, and the customizable peak-a-boo zippers make this one gorgeous dress. Hell, YOU might even look better in it than that air-brushed model!
Published:
Pros
5 Vrooms of sexiness, customizable zippers, versatile, comfortable, easy to accessorize with
Cons
A bit translucent, so it may not be appropriate for all occasions without a slip underneath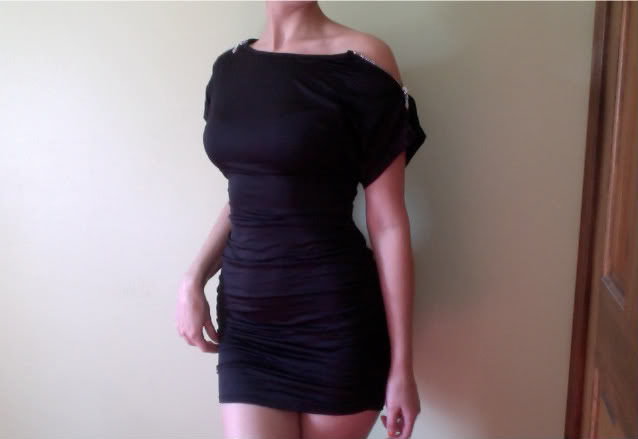 Look like the model? Well, actually, you can. For once, a piece of lingerie that will look just as fantastic on you as it does the woman wearing it in the promo shots. The Billow Top Dress from Espiral is not only a tremendously flattering cut and design, but true to advertised fit and sizing. Now, I hear the grumbles of my curvaceous sisters in the audience; what do
I know
about lingerie not fitting if I'm thin? Isn't lingerie made for gals my size? Well, surprisingly, not really. Truth be told, I don't know who the hell these companies are making lingerie for, but I don't think they're making them for humans. I'm a pretty standard "medium" - 36C, 28" waist, 40" hips. And even though many women would roll their eyes when I say a lot of lingerie and clothing doesn't fit me, it's true. I have smaller breasts, but I assure you they don't rest cheerfully under my chin like those of many mannequins. I have smaller hips, but I still can't shimmy into panties that have a waistband about the width of a wedding garter! Fact is, a lot of linger doesn't just look bad on curvy women; it looks bad on slim women, too!
That's why this dress from Espiral is so fantastic. It really is made to look good on actually flesh and blood
people
. The dress is made from a polyester/spandex blend, so you should expect it to be a little on the clingy side. While the sheer white is a little daring even for me, the sheer black is a safer bet if you're self-conscious about the dress clinging to your silhouette. The ruching in the lower half of the dress is great for breaking up the kind of smooth, uninterrupted lines that may highlight rolls and dips in the abdomen. The ruching not only adds some flair to an otherwise simple black dress, but can also be kind to areas of your body that you may be self-conscious of.
Additionally, the loose-fitting "billow top" of the dress creates the illusion of more top area. For this reason, it can also minimize the appearance of your lower half. If you have more of a pear shape and are on the hunt for outfits to balance out your figure? This dress may give you the appearance of more equal proportions. However, if you have narrow hips and prefer dresses to bulk you up on bottom, you may not care for the minimizing effect this dress has on the hips. Ladies with a bigger bust shouldn't fear that this dress will not flatter their figures. The higher collar and loose fit to the top will not cling or reveal your breasts to excess. In my opinion, the slightly baggy look is incredibly sexy in combination with the zipper shoulders. The off-the-shoulder, skin-bearing looking of the open zippers invites the eye to look beneath, but the baggy top halts the gaze at the top of the bust. It creates desire and curiosity in the eyes of the admirer, leaving just enough to the imagination. My only caveat is that if you have especially small breasts, you may feel that they are "lost" in this dress. However, I think any body type can pull this dress off with a little confidence and some simple, well chosen accessories!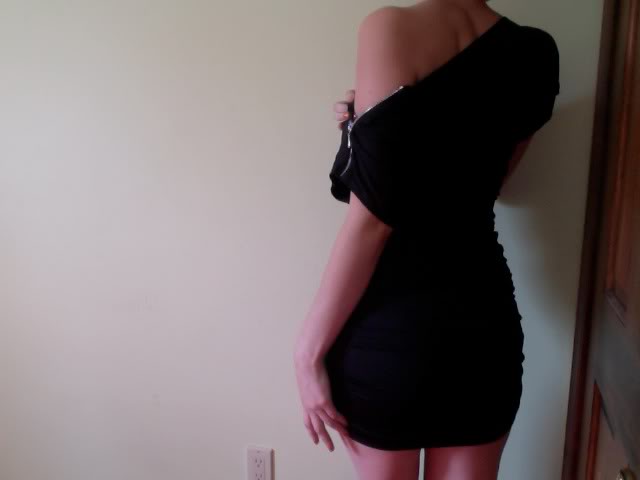 The zippers of this dress are made of grey plastic, and do feel a bit flimsy. Plastic zippers can snag easily, so just be careful not to yank on the pulls too hard or fast. The grey plastic is given a glossy, silver finish that gives the appearance of metal from a distance. Each zipper is fitted with a teardrop shaped pull that is securely attached. What is really interesting about the zippers is that they can be fully unzipped the to far outer edges of the sleeves. This is a fairly impractical use in terms of wearing out in public, but a sexy feature for when a partner is undressing you in private. (Gently!) unzipping the sleeves to their edges allows the top to slip down to your waist effortlessly, exposing your breasts for your partner to stimulate. when wearing out, you can adjust one zipper or both to reveal as much or little skin as you'd like.
Experience
My dimensions (listed above) are toward the upper reaches of the Espiral Medium range - and my hips are a few inches larger than the maximum for the M range. However, this dress fits like a glove. I would say, though, that Espiral's measurements seem pretty true to fit. Their items do seem to run just a tiny bit large, so if you're at the smaller end of a size, I would recommend ordering down. Overall, most of the Espiral items on Edenfantasys seem to be made in part from Spandex. For this reason, I think if you order according to the size chart, you'll have a little wiggle room if you're on the upper end of a size or a bit over it.

I loved the feel of this dress. Soft, smooth polyester that moves and stretches well, though we all know polyester doesn't breathe well. In a hot, sweaty club, you'll be glad this dress is so thin and tiny, because it can get hot under synthetics! I would recommend a slip underneath this if you wear it to a more formal occasion. However, as long as it covers your booty adequately? I'd say this is just fine for more black-tie events if you keep the zippers up and pair the outfit with opaque stockings and sensible shoes and jewelry. If you have long hair, I would recommend wearing it up with this outfit because the neckline is so high. Keeping your hair down means the lines of your neck will likely be swallowed up, and I think we can all agree that a neckless lady is a little creepy and not very sexy.

All in all, this is one of the best lingerie items I've tried at Eden. It's versatile, comfortable, fits wonderfully and actually flatters a wide variety of real bodies. It's also available in in sizes S - XL, so more folks can enjoy it! It's simple enough to clean; the packaging says to wash separately, which I take to mean hand wash. You could probably get away with putting this in a cold, delicates load with other black delicates. DO NOT put this in a drier; hang to dry on a clothes line or the side of a bath or shower.
This product was provided free of charge to the reviewer. This review is in compliance with the FTC guidelines.
Thank you for viewing
Black billow top dress
– mini dress review page!