Looking at them might make you dizzy, but they sure are sexy!
The Crisscross panty hose are indeed sexy and perfectly unique. However, if I didn't love the design running up the backs of my legs, these would not be worth the trouble. Taking care not to rip the crisscrosses while putting them on and adjusting them requires spending extra time getting ready. The way they show off my legs and look so great with heels makes me happy enough to deal. If you're the kind of girl who likes showing leg, you'll probably like these!
Published:
Pros:
Sexy.
Looks great with skirts and dresses.
Thick panty hose won't run easily.
Cons:
High maintenance.
Hard to get on and adjusting takes time.
Feet have crisscross on bottom.
These hose are unique, sexy and a pain in the rear. The unique crisscross back design give these a sexy, unique look when worn under a skirt, dress or as part of your lingerie. I bought these to wear with a dress and while they do add something special to an otherwise dull outfit, they can't be worn with every skirt or dress. I would avoid wearing something too short with this pair of panty hose.
The crisscross design runs up the back of the hose while the front are solid black like your everyday hose. I've also seen these hose called "corset backs" due to the way the back of them look. The criss cross begins right under the butt of the hose. You can wear them lower on the hip to make the criss cross cover a bigger area, but they will sag in the crotch.
These are opaque, but due to them running small, some areas are pulled tight like on my knees and they are a bit transparent there. I'll try to explain how the crisscross works, but seeing my photo will probably explain better. The crisscross is basically crisscross cut outs all up the back of the hose. This leaves your skin exposed every inch or so, depending on how tight they fit.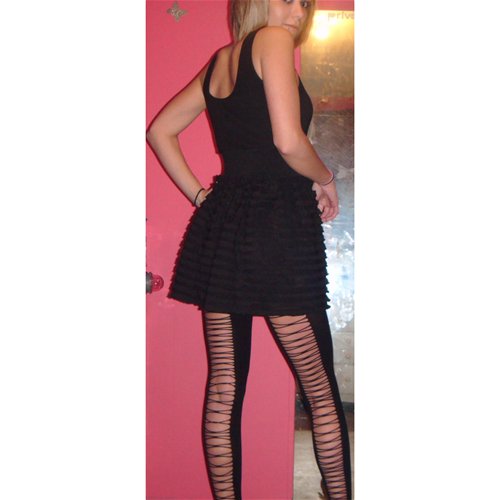 Compared to most panty hose, these do run a bit small. I'm usually a size small in all lingerie including any type of panty hose or body stocking. I've never had a pair not fit. The one size in these fit me OK, but they seem to run shorter than most. I'm 5"2 and usually have a bit of hose left over at the foot, but these have no room left. If you're taller than 5"2 or bigger than a size small, this size may not fit. You may be able to stretch the panty hose to fit an inch or two taller than 5"2, but it will put more strain on the fragile criss crosses. Think if you cut the back of regular panty hose and stretched them. You don't have much room for a lot of stretching. In the thigh area, which is the widest part of my legs, they fit well without unecessary stretching of the criss crosses. They are more durable than they look or sound though. These are just some things you should take into account.
My Measurements:
5"2 tall.
16 7/8" around the widest part of my thighs.
28" waist.
Panty hose are 30" long while on.
These hose have those darker colored bands around the thighs. I'm not sure if they have a purpose, but incase that's important to some, it's there.
The waist isn't tight or uncomfortable, but like a lot of panty hose, they do create a tiny bit of extra bulge around my love handles. These are not low-rise. Looking at the product photos, you might get the impression that they are, but they actually come all the way up to my belly button! I suppose you could roll them down if you need to.
As for comfort, these are decent. They're more comfortable than most store bought panty hose, but they're certainly not the most comfortable that I own. These have a few flaws about them.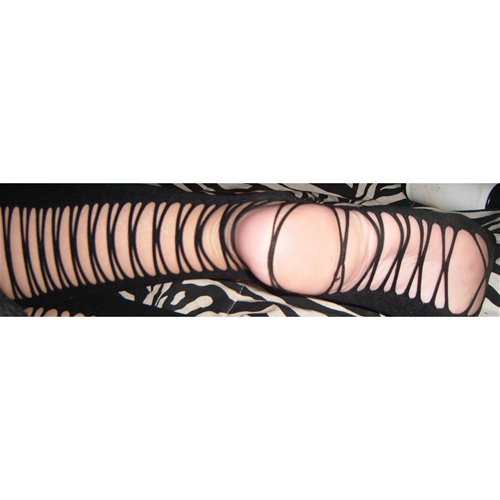 As shown in the picture, you can see that the criss cross even runs under the foot of the hose. This wasn't a very bright idea for hose for a couple of reasons. It's a major pain to pull these on without catching your heel and toes in the little holes and since the criss cross is on the bottom of the foot, it makes them less durable and is terribly uncomfortable. You know that feeling when you have a few holes in your panty hose or sock? Wearing these feels like have a whole bunch of holes in your hose! These would hold up to much more wear and tear had the feet been made like normal hose or instead, making these footless all together. I really can't figure out where the hell the idea to have the feet done that way came from. It's frustrating. When the rest of the panty hose are made so durable, why on earth have the feet so non-durable?
These are only slightly thicker than most panty hose, but they are noticeably thicker. You're not going to see these run as easily or as quickly as most. They're also warmer than most.
MATERIALS:
These are made of spandex.
Experience
CONTINUED...

CARE:
These should be handwashed only! I have a washing and drying cycle that's safe for most of even the most fragile lingerie, but I wouldn't even chance these. Those little strips of crisscross are too easy to tear.

Like I said, these are pretty opaque for panty hose, but you can still see through them. These cannot be worn as pants without something over them. You can't see most of my leg through these, but my crotch and rear shine right through. They were made to be worn under clothing. Judging by the product photo alone, you might think these would work as leggings with a top or alone as lingerie and that, however, is not the case. I've not worn these just for lingerie purposes, but you could if you wanted. It's all about what *you* want. There's really no limit if you choose to use them as lingerie because being exposed in the bedroom won't get you thrown out of public. I just wasn't able to make these work as lingerie. With them coming up to my belly button, they really wouldn't look so sexy alone, but they certainly are fun for wearing with dresses!

Besides those few things though, there's no other flaws. They do require a little extra adjusting where the crisscross runs. Those little strands of hose that make up the criss crossing design tend to tangle and be uneven when you first put them on. I have to label these as high maintenance. I own several body stockings and a wide variety of leggings and panty hose with funky designs and still these are far more complicated than any I've owned. They require extra time and care. I would not recommend making plans to wear these if you're going to be in a hurry!

EXPERIENCE:

I got these with plans to wear under my dresses and skirts. I have one funky collection of leggings and hosiery so these desperately needed to join my others. I expected them to need a bit of extra care and assumed the criss crosses would need to be adjusted so they don't gather when you put them on. I didn't expect them to be this much of a pain though. I actually have to limit my wearing these for the days when I have extra time and I wear my funky leggings regularly so I am a little disappointed about that. I planned to be able to wear these with most of my dresses and they do work with most. I would prefer actual sizes to choose from though since the one size fits all are short. I got lucky that I'm a short person.

I've had these for a couple of weeks and have worn them three times. By now I'm pretty certain that these are going to cause me to yell "son of a b****" every time I put them on, but they're the best for drawing the eye to your legs! Since they are durable besides the bottom of the feet, I have to admit, I'd more than likely purchase them again.
This content is the opinion of the submitting contributor and is not endorsed by EdenFantasys.com

Thank you for viewing
Crisscross net back pantyhose
– hosiery review page!