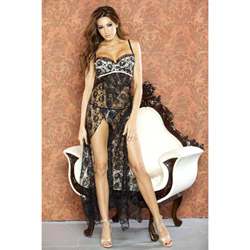 Nude affair lace long gown
Gown by Fantasy Lingerie
Lots of Lace
This is a very lovely gown that will be sure to drive your partner wild. It covers just enough to tease your partner. It's very light and comfortable and even while lying down it doesn't pull, all though if your going to wear this while having sex it can be a little tricky because of all the slits and because of it being so long. When you go to pull it up if you don't grab all the sides with will just spill out of your hands.
Published:
Pros:
soft
lightweight
Cons:
big for size
stray strings
This gown is very, very pretty. It has a lot of lace to it, but it's not tacky looking or anything like that. When it says "long gown" it's not lying because it's a very long gown. I'm 5'6 and it hangs on the floor when I'm standing up, if you are a shorter person you might step on the gown. It's kind of awkward to put on at first. I had to hold it up in the air before I figured out how to get it on, because it's like it has 3 parts to it even though there is only one, but there is the overlap on the front, then there is 2 slits on the sides and then there's the back where it's low-cut with a bra type of strap going across the back. It makes it a little challenging to get on, but once you got it on, you're good to go. It also has adjustable straps, like a bra does. The back part of the gown, where the hooks are, will slide up your back due to the weight of your breasts. The straps felt like they were too far apart to stay on my shoulders. I had to keep pulling them up. There are ruffles lining the top of the breasts.

There is also a g-string included.

The only thing I didn't like about this gown is the breast area. It has underwire, which isn't the bad part, but I've a large bust so it makes it look like I have Madonna boobs. They are pointy and the fabric is too loose on the skin. If you bend over, you're more than likely going to spill out of the top. Maybe I just got a size that is too big or something, but the breast area just doesn't fit right. I even had the hooks on the back on the last setting and it was still too big. And being big breasted, the back doesn't stay down if you try to tighten the straps.

The fabric, for being lace, is very soft. It's not itchy at all. The breast area is lacy, but with a nude color fabric underneath. From the bust area down the fabric is see through lace with a flower pattern. The materials are lace, satin and nylon. The satin is on the breast area and on the thong, the lace is everywhere else, and the nylon is basically on the back.

The tag on both the g-string and gown say 100% nylon.

I would recommend trying to get close as you can to the size you wear, if not maybe a size smaller because this gown is a little on the big side. But overall, it is a very comfortable & pretty gown and g-string.

The tag on the gown says to machine wash warm, gentle and tumble dry low. I would wash it in one of those bags that are made for lingerie because to me, it feels like its more delicate than it looks. When I got this and took it out of the box it was on a hanger and wrapped in plastic. When I took it out I did notice that there was a lot of stray strings hanging all over the place, so to stop it from fraying I cut all the strays. Other than that, I think this is worth the money but I wish I would of just gotten a smaller size.
Experience
I had a little trouble getting this on the first time because it has all them slits and it's like putting on a puzzle almost. But once I got it held up and seen how it went I got it right on.
Follow-up commentary
25 days after original review
Once you get it figured out it's really comfortable on the skin and feels soft. I've been trying to figure out something still for the breast area.
This product was provided free of charge to the reviewer. This review is in compliance with the FTC guidelines.

Thank you for viewing
Nude affair lace long gown
review page!