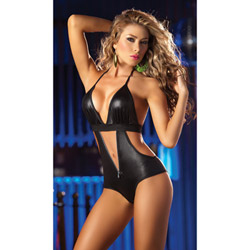 Wetlook romper bodysuit
Teddy
by Espiral
Love the Idea, Not the Fit
The Wetlook Romper Bodysuit made this curvy girl feel good about herself. Unfortunately the cons are outweighing the pros on this one. The stretchy swim suit like material is see through thin, and the black fuzz balls it leaves behind can not be overlooked, because of this I don't think this will last for a long period of time. It seems with each wash it'll wear down a little more until there is nothing left.
Published:
Pros:
looks good with curves
Cons:
lots of fuzz balls, poor fit around the boobs
This was a very hard product for me to evaluate. I'm a little on the chubby side. When I find something that looks good on, especially lingerie, I think it's awesome. I find myself tending to overlook all the imperfections, because I look good, and it's not very often I can say that. I had planned on writing a rave review on the wetlook romper bodysuit, but sitting down to write about the fabric, and construction of the item my views have been skewed by my own personal body image.


I knew when I took it out of the packaging that it would be a once in a while get up, and not made to be worn for long periods of time. I wouldn't say the fabric is horrible, but if you are rough in the bedroom I can see the fabric tearing, and the zipper coming off. I didn't even think about it before I bought it, but the zipper going down the belly is kind of a pain. My stomach is a little pudgy and I can just see myself trying to adjust the zipper while wearing it, or having the zipper slip and zipping up my skin. EEK! The zipper isn't just boring old silver either. It's got a metallic/rainbow look to it. The romper is made from polyester and Spandex. It feels like you are wearing a very, very thin swim suit with no padding. It leaves little black fuzzies everywhere! Just as I was sitting on my bed, hardly moving it's covered! It's extremely stretchy, and I mean stretchy. It ties as a halter in the back, and the strings are very long after being tied they hit right below the middle of my back. It is also see through, the more it stretches the more you can see through. I bought an extra large, I'm 5'4'', and I weigh 155lbs. My boobs are a 40B. I am not tall by any means, my boobs are big, but not that big. The romper fit me great, I was completely happy with it, except the placement is off. the band that runs around underneath your boobs is extremely low- which by the way also ties in the back. I don't think the top bikini part is by any means extra large. I was sitting down while I pulled the bra part up and tied it. It fit fine, my boobs fit into it as a bikini would. As soon as I stood up, I realized the band underneath my boobs was a lot lower, and my nipples were in the tippy top of the bikini triangle, It didn't look bad, but you can't move without falling out of it. I had a constant feeling of wanting to hike up the band to make my boobs fit in it the right way, like I was too tall for it. I think that is a sizing issue, because I'm short, and i could only imagine what a 5'9'' girl would look like in it. The edges of the romper are all double stitched. There is no extra elastic band around the legs or waist, which means no red marks from the elastic sinking into your skin.


Wash separately and drip dry are the cleaning instructions. I washed it by hand. I know it's extreme for some people to wash things by hand, but I was a TON of stuff by hand, just one more thing to add to the list, I am worried about the material getting hard and cracking in the washer, or just coming apart, given all the fuzzies that were coming off of it. If you do use a washer, I would highly recommend a delicate setting, and a mesh bag. If you are anti laundry, or don't want the extra work I'd reconsider this one. It's an item that will actually get ruined over time if you don't listen to the instructions. Drying didn't take too long, quicker than a swimsuit since it doesn't have all the material.


Overall, it's a great piece and it looks good, but you can't have much fun in it. The poor fit and the fact you'll be swimming in fuzz balls kind of takes away from anything romantic. I'm a curvy girl, and I love the way it looks on me, and I hardly say that about anything so revealing. I normally stick to corsets or low cut tops for fun, I'm not generally the belly showing kind (even if it is in the bedroom) I think it deserves some stars for the self confidence booster alone. It's nice to feel great and look great, and this romper definitely has that covered!
This product was provided free of charge to the reviewer. This review is in compliance with the FTC guidelines.
Thank you for viewing
Wetlook romper bodysuit
– teddy review page!