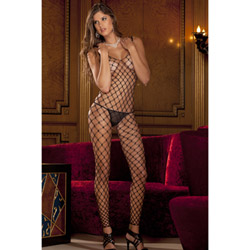 Diamond net footless bodystocking
Crotchless bodystocking
by Rene Rofe
Love this body stocking!
This sexy body stocking is great to wear underneath dresses, yet it also looks amazing on its own. It is a one size fits most item, which can be a little scary. Have no fear, though, this item is a great one size fits most! It's true that it won't fit everyone, but it should fit a wide variety of people, due to how stretchy the material is. Be careful, though! The fabric is fragile.
Published:
Pros:
Comfortable, Super stretchy, Good to wear under clothing, Affordable
Cons:
Very fragile
This is the second body stocking that I've tried. The other one was kind of a flop for me, but this one... this one has served its purpose very well.

Basics:
The diamond net footless body stocking is made by Rene Rofe. The body stocking was made in Taiwan.

It is available only in black, and sadly, it's only for sale in one size fits most. The stock photo features the model wearing a g-string, but the g-string does not come with the body stocking.

I purchased this body stocking to wear underneath dresses, and it works very well for that purpose. You could also wear it just as lingerie, with nothing over it, if you like.

Material & Care:
This item made out of 85% Nylon and 15% Spandex. The material is extremely stretchy due to the amount of spandex, but you should still take care when stretching this item over your curves. It's just a very fragile, and thin, material.

Comfort wise, this piece is incredibly comfortable. The netting is very, very soft; it almost feels like I'm wearing nothing at all when I wear this. My skin is very, very sensitive, and I wasn't irritated at all by this piece, even after wearing it for about 5 hours.

It also goes without saying that this piece is see through... it's netting, so... yeah, it's not going to hide anything that you might want it to.

To care for this piece, you're definitely going to want to avoid the washing machine and the dryer. Instead, you should hand wash it in cold water, and then allow it to drip dry. Do not iron it, or dry clean it. Also, do not use bleach on this.

Sizing:
The body stocking is only available in one size fits most. At the time of purchasing this, I couldn't find a size chart on the website, so I was a bit scared that this wouldn't fit me. When it arrived, I noted that the packaging also did not list a size chart, as well. So, I looked to the internet...

According to Rene Rofe's own website, the one size fits most should fit someone with the following measurements:
Cup: B-C
Bust: 32-38"
Waist: 24-32"
Hips: 34-40"

I wear a 34d bra, and have a 32" waist. My hips measure 40". I am also 5'6" tall. This piece fits me perfectly. In fact, you could even stretch this to fit someone a bit larger than I am. Surprisingly, however, this piece could also fit someone smaller. All in all, this is a fantastic one size fits most item!

The great thing about this piece is that it's footless, so height is not really going to be an issue. I mean, if you're really tall, you can just wear it so that it's like a capri style body stocking. Honestly though, this piece is so stretchy that it should fit even the tallest of individuals well.

Design:
Getting into this body stocking can be a challenge. It has the habit of sort of rolling up on itself, and getting tangled. Just go slow, and step into it. Take your time, and you should be okay.

This body stocking features a large diamond net pattern. The diamond net covers all of the body stocking. The holes are large, so your nipples will most certainly poke through them.

The top of the body stocking features tank-top like shoulder straps, which are not adjustable. Both the front and back of the body stocking feature a scoop neckline. The body stocking has long legs with open feet. The open feet design is great, and enables you to wear the body stocking with any style of shoe that you like.

The main selling point of this stocking, for me, was that it's crotchless. The crotch on this body stocking is quite large, but it does line up with my crotch well. It's so large, however, that it also makes it sort of ass-less, too. I don't mind it being ass-less, but some people might. Being crotchless, this piece is suitable to wear during sex.
Experience
Packaging:
This item arrived packaged in a little cardboard envelope. The cardboard features photographs of the model on both the front and back, so it's not super discreet. The packaging also listed plenty of information, although it does not say much about the sizing.

Inside of the envelope, the body stocking has a piece of cardboard inside of it. Be very careful removing that piece of cardboard, as the fabric is fragile. The body stocking (and piece of cardboard) are then wrapped in plastic, to protect them.

Quality:
This body stocking is not going to last as well as some others might. The material is very thin, and you really need to handle it with absolute care. Even with handling it with absolute care, I still don't feel that it'll last for more than maybe five or six wears -- less if you're rough with it. Now, I know that might not sound like a lot, but when you factor in the fact the incredibly expensive price, this piece really is a bargain. Considering the price, I can't complain about the quality at all.
This product was provided at a discounted price in exchange for an unbiased review. This review is in compliance with the FTC guidelines.
Thank you for viewing
Diamond net footless bodystocking
– crotchless bodystocking review page!