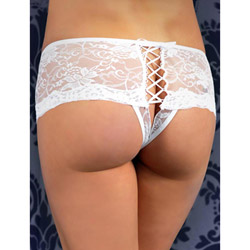 Lovely lace crotchless panty
Crotchless panty by Charm Wear
Lovely lace crotchless panty.
I was very happy with the quality and price of the Lovely lace crotchless panty. They are super sexy and my wife and I really enjoyed them. Keep in mind that with many other "one size fits most," there may be a possibly that they do not fit correctly if you have somewhat of a larger build.
Published:
Pros:
Quality material, price.
Cons:
Size runs small.
Who does not love a sexy pair of crotchless panties? Whether you are the one wearing them, or the partner that gets to enjoy the view, crotchless panties can most definitely bring a little spice to your life! This is the exact reason why my wife and I wanted to give this lovely lace crotchless panty a try.
The panty is a bikini style, with a floral/lace design pattern. They are made of a stretchy material that consists of 88% nylon and 12% spandex, which is supposed to fit most sizes (which we will get to that a little later.) You have the option of selecting either white or black, which we personally chose to get the white pair. The panty arrived in a small ziploc bag.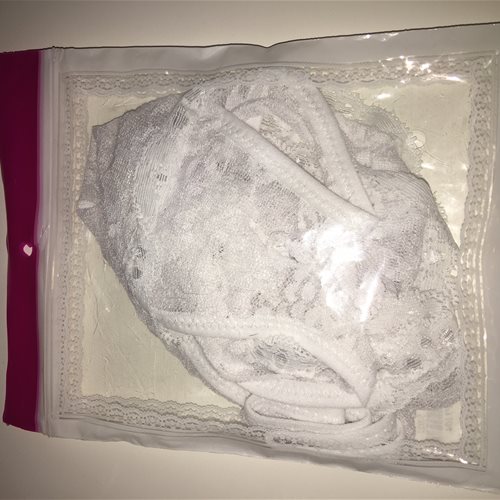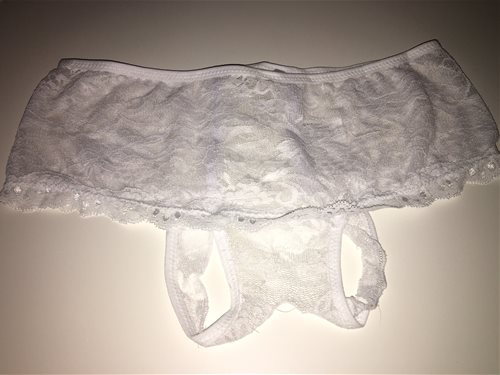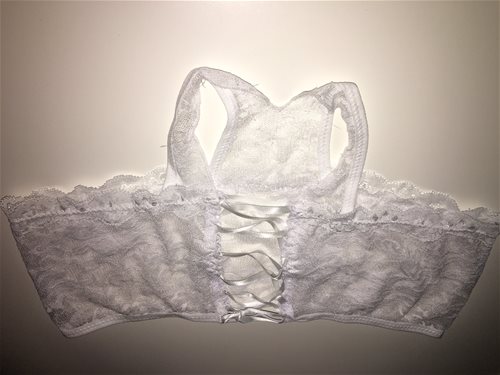 Upon first impression, both my wife and I were very happy with our decision to pick up this lovely lace crotches panty. The material is very smooth to the touch and it does have a nice stretch to it. Unlike some other cheaper panties that we have tried in the past, the quality of the material is quite nice and does not feel like it is going to rip. For me personally, I absolutely love looking at my wife from the back when she has this on. The crossed ribbon that runs along the back is very sensual and sexy. For quality and price, this product gets high marks in my book!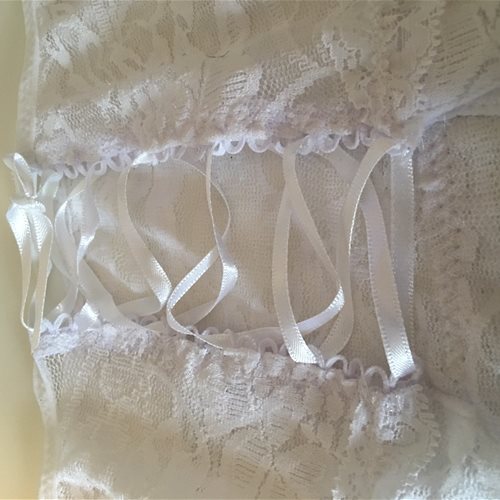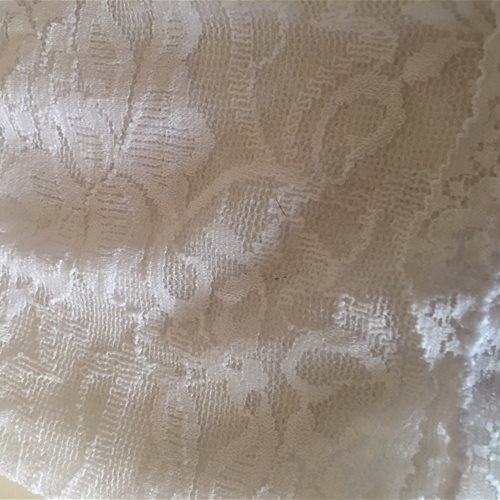 As great as this panty is for the remarkably low price, there are a few negatives that we have found. My wife is of very average build. Majority of her underwear is size medium or smaller. On the tag located within the seam of the panty, is a size XL (which again this product is stated to fit most sizes.) While my wife was able to get them on and wear them around, the material felt a little tight going on, particularly around the stitching at the bottom. For some reason, this stitching is not as giving as the rest of the garment. Truthfully, if it had been, the fit would have been much better for her.
The panty is somewhat high wasted, where from the front, one really cannot tell that they are crotchless. The ribbon in the back is also not just for looks; the knot can actually be adjusted. We also noticed that the slit it the front, appeared to be a little too far back. This might just be our preference, but the clit was completely covered, which we would have preferred the opening to allow for easy clit stimulation. Overall, if you are of average or smaller build, I do recommend that you give them a try. However, if you have sexy curves, I would maybe look for another option.
This product was provided free of charge to the reviewer. This review is in compliance with the FTC guidelines.

Thank you for viewing
Lovely lace crotchless panty
review page!