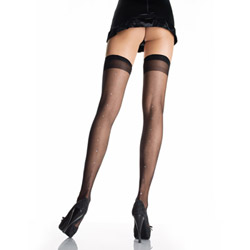 Rhinestone backseam stockings
Stockings
by Leg Avenue
Low quality, but pretty
These are pretty, and dont cost much, but they are only good for one or at most, two times wearing them. Only buy these if you dont want stocking you can use many times.
Published:
Pros:
Low cost, nice sparkles and soft feeling.
Cons:
Doesn't stand up well to wear. Only good for one time only.
Because of the price I knew that these stockings would not be the best quality, but I was surprised at how cheaply made they felt putting them on. It felt like they would rip at any second, even before I had them on. Once I had them on they felt more durable, but not by much. The rough part of the bottoms of my feet did cause them to snag some, but there were no rips. And I can run my nails along them without a problem. Still I can't see them lasting for more than one or two wears. It is a shame because they have a soft texture and I loved the rhinestones.

The rhinestones are nice and shinny and a good size. They are noticeable, but not in your face; just as much shine as needed to draw the eye. I think they could have been a little closer together and a few more of them, but I was still happy with the amount. I did have a problem when I first got the stockings out of the package. The rhinestones were causing the two sides of the stockings to stick together. I had to carefully pull them apart, it was like the glue to hold on the rhinestones wasn't completely dry when the stockings were packaged. And some of the rhinestones are a little loose. On a few, only half of one side is sticking to the stocking and I don't know if I just cant get the stocking straight or what, but I cant seem to get the rhinestones to line up straight. There will be 3 in a straight row, then one will be a little off to the side, them 3 more in a straight row.

The worst part was the fit. I am 5'5" and around 130 pounds, pretty average. The tops felt too tight and the bottom felt baggy. The tops were tight and narrow. This caused flesh to bulge from both the top and bottom. It was uncomfortable and not pretty. This was made worse because the tops constantly rolled down. It didn't matter if I was completely still or moving around, the tops always rolled down. The more I moved the faster they rolled. The tops also left red indentions on my thighs after wearing them for an hour.

Even as they felt too tight on top, they felt like they were bagging around my ankles. No matter how I tried the stockings stayed noticeably darker at the feet than the tops. Once they have been stretched out some, they don't go back. After sitting for a half hour, when I stood up I had wrinkles on my knees. After wearing them for an hour, I had snags, baggy parts, and red marks on my legs.
This product was provided free of charge to the reviewer. This review is in compliance with the FTC guidelines.

Thank you for viewing
Rhinestone backseam stockings
review page!