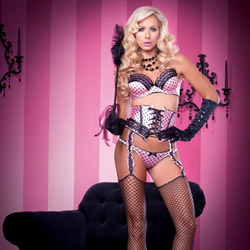 Alluring set
Bra and panty set
by Leg Avenue
Lured Him In
I love this set, and so did my guy- especially the waist cincher. It doesn't work well for actual cinching, but we enjoyed being able to take off my bra and panties and still leave something on. It fits me fairly well, but is not accurate to the size chart.
Published:
Pros:
Adorable and unique looking, well-constructed, fairly high quality materials, push up bra.
Cons:
Bra and cincher run large, panties run small.
The Alluring set features a bra, waist cincher, and panties. It is made from pale pink satin with black polka dots, and trimmed with black lace ruffles and black satin bows.

When I unwrapped my package I found 3 adjustable, ruffled straps and assumed they were garters and that a fourth must be hiding somewhere. After a minute, I realized they were actually bra straps and I must have been sent an extra. I'm not sure why they bothered putting removable straps on this bra. It's not cut to be a strapless bra and you really can't wear it that way. The top edge comes to a point and it looks funny if there's no strap attached. The bra has underwire and is padded. I would say it has an average amount of padding compared to pushup bras from Victoria's Secret or La Senza.

The waist cincher has 3 rows of 7 hooks. The row of hooks is pretty wide and not very attractive, so I suggest using the tightest setting to hide the hooks, and using the laces to adjust the size. Adjusted as tightly as possible, the waist cincher measures 25" around, unstretched. Loosening the lacing adds up to 3", the hooks add up to 2", and it stretches about 2". The cincher is 7 1/2" long at the front, and 4 1/2" long at the narrowest part at the side. There are 8 pieces of plastic boning, but I found that this wasn't very functional for cinching me in. It was able to suck my waist in a tiny bit when I tightened it as much as possible, but that just gave me a roll since the bottom of the cincher ends right in the love handle area.

The garters aren't removable from the cincher. They have plastic clasps. The ones on the front are ruffled and aren't adjustable. They are 7 1/2" long, stretch to 9 1/2" and hit about halfway down my thigh. I would have preferred them slightly shorter. The back garters are plain black, and luckily they are adjustable to accomodate for different booty sizes while keeping your stockings level. They can adjust from 6 to 11", and can stretch up to 16".

The panties are described as rhumba panties. In my opinion they don't have enough ruffles to justify that name, but the small strip of 3 ruffles on the back is very cute. The panties are cut halfway between a thong and a bikini. I wish that the back was either larger or smaller (preferably smaller), because this style of panty tends to get eaten by my butt. They are low rise, but have just enough material to cover everything I need covered. There is no lining in the crotch.

Fit:
Leg Avenue gives these measurements for their sizing:
Small: Size 5-7, A or B cup, 32-34" bust, 23-25" waist, 34-36" hips
Medium: Size 8-11, B or C cup, 34-36" bust, 25-27" waist, 36-38" hips
Large: Size 12-14, C cup, 36-38" bust, 27-29" waist, 38-40" hips

I wear a size 6, 34B bra, and have a 35" bust, 29" underbust, 28" waist, and 37" hips. I went with a size medium.

Bra: The bra is a bit large on me. I manage to fill the cups with no gaping, and a little cleavage, but it doesn't give me as much cleavage as I would like, and would be able to accomodate larger breasts than mine. The band is pretty loose, even on the tightest setting, and I have to fully tighten the shoulder straps. A small bra would have fit me better.

Waist Cincher: Since I am an inch larger in the waist than is recommended, I was surprised to find the waist cincher fits me when hooked on the tightest hook, and laced almost as tight as possible. A 25" waist would leave no gap between the laces. It covers most of my torso, with about 2" of skin showing beneath the bra and above the panties.

Panties: The panties run a little small. The size chart says they will fit someone up to an inch larger than me, but they fit me quite snugly and I would prefer them a tiny bit bigger.

I would recommend a size medium for:
Bra size: 36-38 band, B or C cup
Waist: 26-30"
Hips: 35-37"
 
 
Material and Care:
The fabric is 80% Nylon and 20% Spandex. It is soft and stretchy, and doesn't feel cheap. The lace trim is a little rough, but doesn't come into contact with my skin during wear. It should be hand washed and drip dried, and shouldn't be ironed or bleached. Instructions are included on a cardboard tag attached to the set, and on a plasticky tag inside the panties that needs to be removed.
Follow-up commentary
6 months after original review
I've gained some weight since I wrote the original review, so the set fits me differently now.

I'm currently a size 8, and wear a 34 C. I have a 36" bust, 30" underbust, 29" waist, and 40" hips.

The bra cups had been a little large on me, but now fit perfectly. The waist cincher still fits, and just has a slightly wider opening in the center and less extra ribbon for the bow. The panties were already a little on the snug side, so with 3 more inches on my hips they're too small. I paired the bra and waist cincher with a black thong instead, but it wasn't quite as cute. I also re-laced the waist cincher so that the bow is at the bottom rather than the top. I found that made it easier for me to have the cincher tighter at the top and looser at the bottom so that it fit the curve of my waist and hips.

Now that I have a bit more perspective on the sizing, I still stand by the chart I orginally created.
This product was provided at a discounted price in exchange for an unbiased review. This review is in compliance with the FTC guidelines.
Thank you for viewing
Alluring set
– bra and panty set review page!