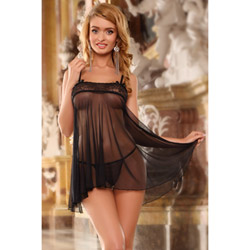 Pure lust
Babydoll and panty set by Spice Lingerie
Lust for Sure, Not so Pure
As someone who usually doesn't like babydolls, this was totally worth the price. It looks cute, the g-string is cute all on its own, and the fabric is softer than I would have expected from nylon. Overall it's a great, affordable price for a fun piece of lingerie.
Published:
Pros:
Fits great
Looks great
G-String Surprisingly flattering
Cons:
Cheap-ish fabric
I'm not, as a rule, super excited by babydoll chemises. At least not in pictures. They're not tight to the body, they're not fetish-wear, and they're not particularly trashy. My partner has expressed a lot of interest in them over the years, and I just could not muster any enthusiasm for the product. As a result, I was not expecting to be a huge fan of the Pure Lust babydoll and panty set. When she put it on, she got me to say the sexiest three words a man can say to a woman:

I was wrong.

Now my partner is about 5'4", size 8, and she's very particular about the types of panties she thinks look good on her butt. Both of us have lost our enthusiasm for thongs and g-strings since college, but for whatever reason, this particular g-string looks GREAT in front and in back. Even she, the harshest critic of her own bottom and sometimes eager to divert my attention from it, admits that it complements her shape very nicely.

The top came down on her just about where it does in the product photo and was, as pictured, somewhere between transparent and translucent. Whereas I find that the shape of babydolls in pictures can often mask the shape of a woman's body (which I believe to be the worst sin an item of clothing can commit), it actually let her shape show through and created a very cute look for her in person.

Admittedly, the nylon fabric did not feel especially "fine" or expensive, and I had expected it to feel a bit plastic, rough, and unpleasant. In fact, it is actually quite soft and pleasant to the touch. My concerns about chafed nipples were totally unfounded. It's not La Perla, but who really wants to worry about getting semen out of $300 lingerie anyway?

To that end, the fabric was fairly easy to clean, and frankly it was worth the price of admission even for one wear.

Now I'm a good sport and I like to test the bejeezus out of stuff, so I gave it a try myself to see how "one size fits all" it really is. I have no idea how much this will help my dear readers, but for those of you who might be into cross-dressing or just have a larger bust: I have a 36 inch chest with very little give, and I wash pushing about maximum capacity in this thing. If you have a broader chest than about 38 inches, it might be a little small on you. I will spare you all the pictures of me with this on. It was not my best look.
This product was provided free of charge to the reviewer. This review is in compliance with the FTC guidelines.

Thank you for viewing
Pure lust
– babydoll and panty set review page!