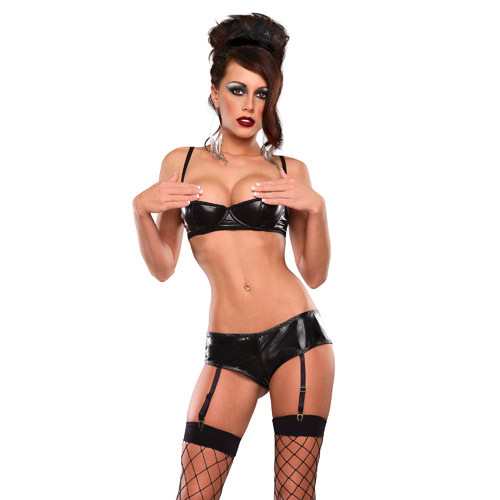 Underwire demi bra and boy short
Bra and panty set discontinued
by Magic Silk
(LXL) Put the Girls On Display!
I'm thrilled with this outfit. It's kinky, fun, and well made. My favourite part is the bra - I love the way it supports and displays my breasts. The shorts are more comfortable than I expected, and actually fit my big bottom, however snugly. The only con is trying to work out the sizing, since the chart doesn't clearly identify the LXL and Plus sizes that are being sold on Eden. I'm pleased with my first experience with Magic Silk, and I expect to collect more of their pieces in time.
Published:
Pros
Great look
Comfortable
Value for money
What it is … how to wear it
This hot little number is a two piece wet-look ensemble consisting of an underwire demi-bra and matching hot pants with removable garters. Stockings are not included, but this would go well with fence-net, sheer, or opaque stockings in black. This is bedroom wear only, unless you go to kinky play parties with relaxed dress codes. The nipples and the lower part of the butt is on display when wearing this garment.
Packaging
The packaging is a thin pink and black cardboard box with a photo of the model on the front, and on the back, some pictures of the back views of 5 different outfits in the same line.
Material & Care
92% Polyester
8% Spandex
Machine wash cold, no bleach, dry flat
Design
The demi-bra is designed to provide support for your breasts while leaving the fun bits exposed. If you have a chemise that disappoints you because of its lack of support, this might be the bra you could wear under it. The cups are lightly padded. The entire piece has the wet-look finish on the outside. The bra straps are standard adjustable style, placed towards the shoulder. The back is a two hook bra connection with two placements.
The hot pants are the same fabric, with four detachable garters, and a small crotch liner. These shorts don't provide full coverage to the bum, but I find it a great look.
Sizing & Fit
I am pear-shaped, with a rather large belly and hips compared to my bust. Since this was my first purchase from Magic Silk, and their sizing chart doesn't use measurements, I was somewhat pessimistic. I expected that either the bra would be too large or the bottoms too small.
My measurements:
5'3" height
150 lbs weight
40B cups
41" bust
38" waist
44" hips
Eden doesn't have a sizing chart yet for Magic Silk, but Beck found one on the web.

I'm not sure how LXL and Plus Size fits in the above chart, unfortunately. I took a guess, and decided that Plus was equivalent to Queen size, and since those measurements looked too large for me in the bust, I went for the LXL instead. Happily, it was the right choice.
For this piece, I recommend going by the hip and bust measurement to choose your size, with more emphasis put on the hip. Since the top of the cup is open, and there are two hooks, the bra fitting is more flexible. The waist measurement is not relevant at all.
If your bust is smaller than a B cup, you may find the cups too large. I think they would support C and D cups fairly well, but I don't have the experience to guess how larger breasts might work.
Specific Measurements
(unstretched)
Bra:
center front to hem
3.5"
underbust
29.5" - 30"
width of & length of bra cup
6.5" & 3.25"
bra strap
12" - 22.5"
Shorts:
hip
30"
leg width
22.5"
center front to crotch length
7.25"
center back to crotch length
9.25"
center side to hem length
3.75"
crotch width
2"
garter length
6" - 10.5"
If you would like any additional measurements, please let me know and I will try to provide them.
Comfort and Wearability
Let's face it: This is not a set that's going to be in your regular bra and panties rotation. This is a set specifically for the bedroom. That said, it's surprisingly comfortable for something that has the look of fetish wear. Hard core latex or leather enthusiasts won't be impressed, but for most of us, wet-look is kinky enough to be fun while still being comfortable and convenient enough to be wearable.
I chose this garment specifically so that I could wear the bra with my RodeoH strap-on. The gender-play combination of tits on display while wearing my own cock is something we both find hot as hell. Of course, when the harness isn't being used, the shorts are a great look as well. I especially like it with opaque stockings and knee-high boots.
Quality
For the price, I am pleased with the quality of this garment. I found no flaws in the bra at all. The shorts had one place with a loose thread, and two places where the seams were not perfectly matched.
Final Thoughts and Rating
Unfortunately, my camera is misbehaving, so no photos in this review. In this case, however, the product pictures are fully representative of the product I received.
I love the wet-look, I love the breast support, I love the fit and comfort. Overall, I'm thrilled. Five stars.
This product was provided free of charge to the reviewer. This review is in compliance with the FTC guidelines.
Thank you for viewing
Underwire demi bra and boy short
– bra and panty set discontinued review page!