Magenta Paradise!
I wish more lingerie came in magenta! This babydoll is a great piece, wear the shoulders up or down! If you are a more endowed lady, just beware! It'll limit you some, but I still think it's worth it.
Published:
Pros:
Versatile
Colors
Flattering
Cons:
Be careful not to rip material
Not off the shoulder for more endowed ladies
A bit short
Magenta! Now there's a color you don't see every day!
My thoughts exactly! The Off the Shoulder Babydoll by Dream Girl is absolutely lovely in the color magenta. And while it's called "off the shoulder," this baby doll can be worn on or off the shoulder, depending on your body type and desire. The design and style will flatter a variety fo body types, so long as you're aware of the limits of the fabric. Still, it's a great, affordable piece to add to one's lingerie collection.
Okay. First, tell me how this little number looks!
Certainly! This babydoll is sheer. The lace covers some places and the pattern leaves some open to view. Still, it's fairly transparent. It does have rose/floral shapes right where the nipples go, which is a nice, peek-a-boo touch. The top of the babydoll is a peasant top. It has a frill around the top, framing the neckline, back, and tops of the shoulders. Between the breasts is lace that can be tied into a bow. There are also little bow on the sides of the shoulders, but these are sealed in the center, so the don't come undone.
The entire babydoll is stretchy, which helps with the "one size fits most" idea. This will hug your body. The material isn't the softest, but it doesn't bother my skin, and I have sensitive skin. The lace isn't super delicate, but be careful with rough nails when putting this babydoll on. The underwear is quite nice, given that underwear for such sets are almost like "throwaway thongs." They are not a g-string and actually has some substance to it. The fabric is made of the same material and design of the babydoll. The waist part is a satin like magenta material. it stretches as well.
Here's a picture of the babydoll and thong out splayed out.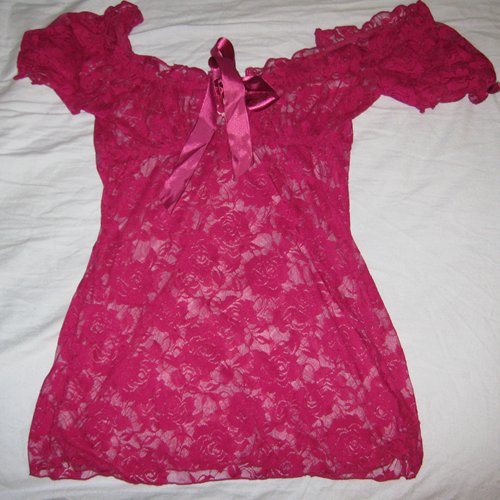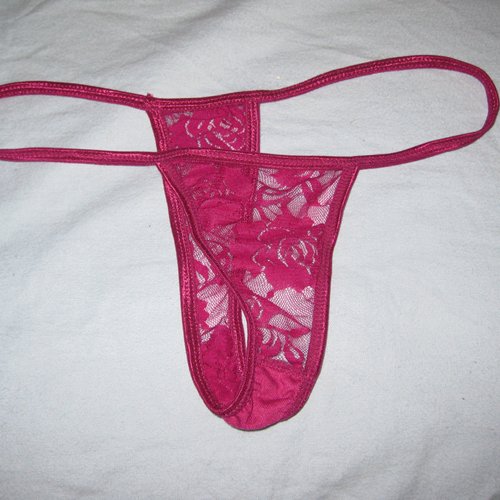 All right, so how did it fit?
The babydoll is labeled as one size fits most, which covers weights of 90-160 pounds. There is some wiggle room for this one, depending on your body shape. I come in at 138 pounds and am 5' 4". I got on the babydoll easy enough, but did have a couple of issues. The back rides up on me, so much that almost all of my butt is out. I am a pear shape with a latina behind, so this could very well be due to my shape. Still, while I don't mind some of my bum peeking out, I don't like the hemline to be setting completely above my butt.
The other issue, was around the bust. I was looking forward to wearing this babydoll off the shoulder, but it won't keep by boobs secure. The Babydoll is designed for a smaller chest on average, probably a B or C cup. As a 34D, I could not wear the babydoll off the shoulder without slipping out. I fixed this by setting it on my shoulders, which was much better. The empire line below the boobs adds some support, so you shouldn't be all over the place. Being a bit bigger on top won't necessarily exclude you from this lingerie, it just limits your options.
So, here's how it looked. For modesty purposes, I have on a bra to cover the bits, but you can still get the idea from this picture.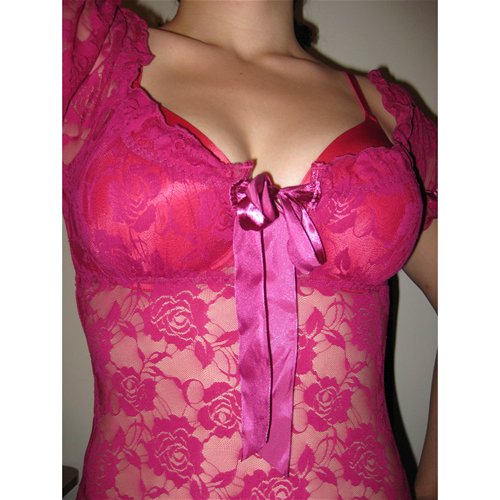 Nice! So, how do I take care of this thing?
The Babydoll is made out of 92 percent Nylon and 8 Percent Spandex. The directions say to hand wash with cold water and line dry. I have cheated washing my babydoll in a pillowcase on cold water and it has worked wonderfully. I still leave it out to dry though.
Experience
Anything else you'd like to say, Mwar?
The color is what made me choose this babydoll. That, and I liked the peasant top shape. I tried it one in front of my partner and he wasn't a big fan. He said that I looked great in it, but once the babydoll rode up past my butt, I went from "rawr" or "awww!" I wasn't going for the cute look, and this babydoll can do this to me. So this is a piece I wear more for myself than to tease my partner.
Still, it's a cute set for the price.
Oh! Here's a picture of the packaging.
This product was provided at a discounted price in exchange for an unbiased review. This review is in compliance with the FTC guidelines.

Thank you for viewing
Off the shoulder babydoll
– babydoll and panty set review page!