Maternity shirt?
This shirt is a flop for me - for now, at least. If I can get it a size down, maybe it would fit me better, but it is definitely not true to size. If I can alter it somehow to make it look nice on me, then I would really like it...until that happens, this will be at the back of my closet.
Published:
Pros:
Interesting concept, mesh sides, black goes with everything
Cons:
Oversized, some people may not be comfortable with showing skin
This shirt comes packaged in a plastic sleeve, folded with no hanger.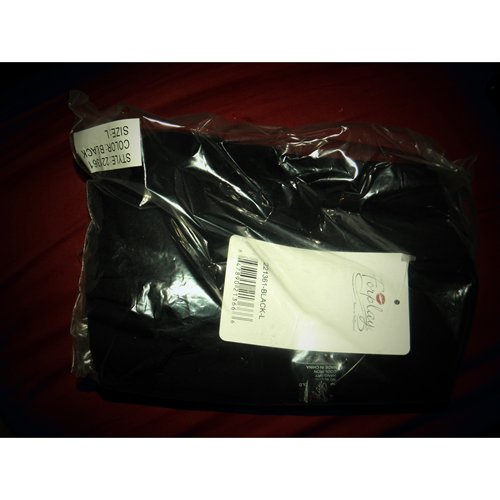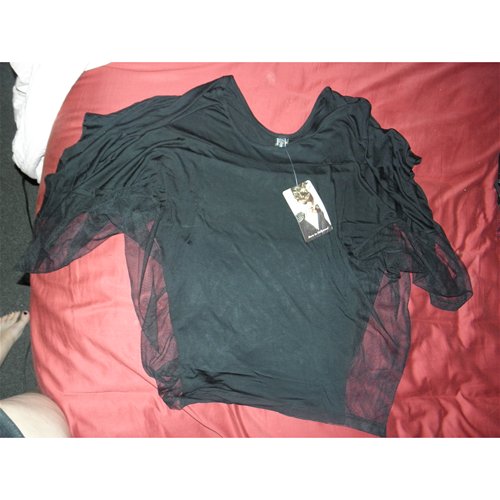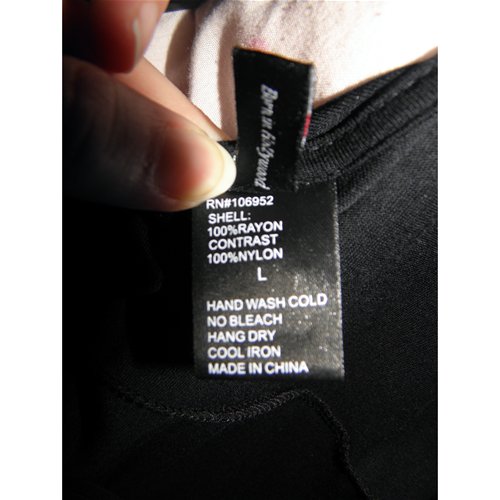 I got this in a large, being that I wear a large in shirts, pants, skirts and everything else I wear. My measurements are about 38-30-38, and I have a D cup. I had expected this to be loose, as it was on the model in the product picture, but it's nothing like that. I considered ordering a medium in this shirt, to avoid it being potentially unflatteringly baggy - but it was only in stock in large anyway. It doesn't looked fitted anywhere, or baggy in a retro cute way. I thought that, worst case scenario, it might look like an 80s Flashdance type of shirt, and I would have been fine with that. It doesn't. It's just unappealingly loose and not well-fitted.
After turning and adjusting it, and staring at myself in the mirror from all angles to try to decide if this is something I could ever wear out, I went to my friend and asked how it looked. She stared at me, looking confused herself, like she couldn't decide either. "Well...honestly, I'm liking it. I'm liking the...concept. But...." "But it makes me look about 50 pounds heavier than I am?" "YES." And that was the same issue I was having with it. She didn't understand this shirt, and told me maybe if I take it in somehow, somewhere, it will look better. She kept looking at it, saying that she liked it and it COULD look good on me, but it just didn't quite work as it was, but she wasn't sure what to do with it. Adding that, she knows I am skinny, and she knows I have a shapely body, but looking at me in that shirt you would never guess, especially from the front. She said that the problem might be that it is too big, but I told her this was in my size and it was supposed to be big. Perhaps ordering a size down would be best with this shirt? I'm not sure how a medium would fit me, maybe better than this, I doubt I'll find the time to exchange this though or to return it, so I figure I'll be stuck with it. I'm hoping that I can have my friend who is a seamstress figure out something that would be a quick easy fix for it, though I almost never see her.
I would be fine with wearing something baggy, or something that doesn't show off my curvy shape, but this is a whole 'nother story. Here's the thing about this shirt, and I pointed it out to my friend: The sides are all meshy fabric, so when I try to the side, or lift up my arms, you can see my ribs and all of my side and it is clearly visible that I am skinny and have a shape to my waist. However, from the back, or the front...not cute. Skinny from the side, pregnant from the front. Seriously, she and I both agreed that this looked exactly like a maternity shirt and that somehow when I put it on it made me look like I could honestly be a few months pregnant. I don't have a belly, I have a flat stomach, and an hourglass shape, so this makes my torso appear completely different than it actually is. When I wear this, unless you are at my side and can see through the mesh sides, you would think I am built entirely differently than I am, and it just looks very awkward. Even my friend thought that was strange. She said maybe if I try it with a belt, but I did that and it only cinches it to make it look even stranger somehow. Also, the belt covering up part of the mesh sides looks so awkward.
I am fine with showing some skin, I am fine with the areas on me that this shows. If you are uncomfortable with showing your sides, then this would not be something you would be comfortable with, in any size or fit. Personally, I love the mesh sides. That isn't the type of thing I usually go for, but I am totally comfortable with the way that that aspect of this shirt looks on me - in fact, that is the most flattering part! Also, if you are not comfortable with low-cut tops, this is not something you would want to wear. The fabric itself is light and airy, you shouldn't wear this expecting it to keep you warm. This is totally a casual top, or nightclub shirt.
Experience
If this were to come in stock in a medium, I might want to exchange it to see if that would be a better fit. But I'm not sure that it will be coming back in stock, and I have a few packages I have been meaning to return all month, but I have been far too busy to find the time to take care of them. I would definitely recommend ordering a size down in this shirt from whatever you usually wear. This is my first Forplay clothing item, so I guess their sizing runs a bit large. I really, really want to like this shirt. Very close, could be wonderful, but it's just that it's too baggy; beyond my expectation of what I had expected, to the point that it looks ill-fitted. It almost looks good on me, and it it did, I would wear it all the time. If I could get a size smaller, or get it taken in just a little bit, that would be great and I would end up wearing this every week. Hopefully, by the time I write my follow-up review, I will be able to find a way to love this shirt. It's sooo close, but just...a little bit too big looking. If it were a little bit smaller, a better fit, I would give it 5 stars.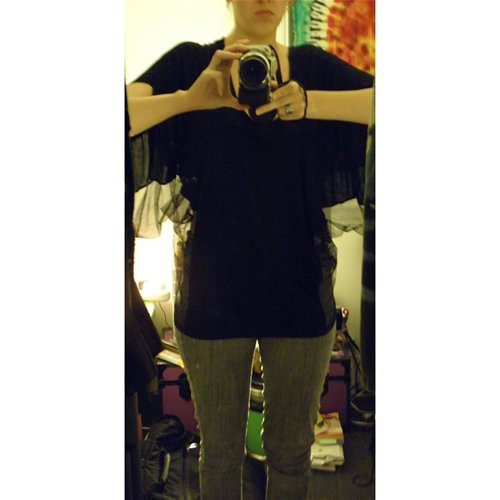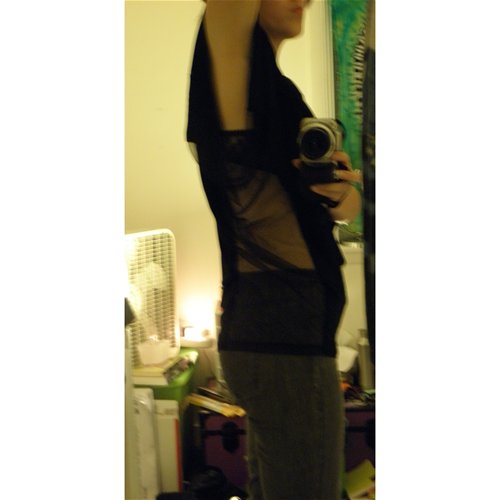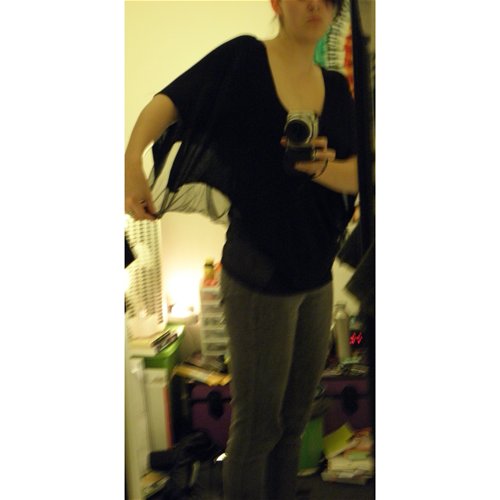 Follow-up commentary
3 months after original review
It's hard for me to rate this. I say that I still like it because my feelings on it are about the same. It looks very baggy on me in person. I still think it could be taken in a bit, but who knows when or if I'll ever get a chance to have that done. I have worn this shirt around though, once or twice so far. I got told by one of my friends that it looked classy and nice, and my partner said that it looked strange somehow. I've gotten to like it more, in that I'm willing to wear it around, but I DO still think that it looks too loose, to the point of adding on weight - and I am not the only one who thought this.
This content is the opinion of the submitting contributor and is not endorsed by EdenFantasys.com

Thank you for viewing
Stanley oversized top
– blouse review page!