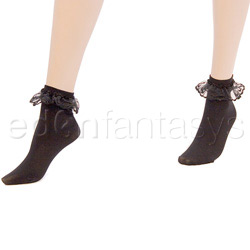 Fashion socks
Socks by Leg Avenue
Maybe Not The Most Fashionable, But Very Comfortable
These probably won't top your list of 'sexy,' but these ruffly ankle socks are surprisingly comfortable and can play well with heels and flats alike, lending themselves particularly well to any kind of schoolgirl play.
Published:
Pros:
Comfortable, Sock portion will last you a long time
Cons:
Ruffles aren't held on very well
I really can't say why I bought these in the first place. I do like ankle socks, but not with any kind of frills on them. However for the price, I had to give these a shot, and you know what? I'm happy I did.

These came in your typical Leg Avenue packaging, black with the plastic wrap. Nothing fancy, but not trashy either.

What you get in your package is one pair of black nylon fashion socks, complete with lacy ruffle around the ankles. The nylon is opaque, and no amount of stretching seems to change that. Since these are nylon you should hand wash them, however you can put them in a pillow case and wash them on cold, but you should still let them air dry.

I would normally start talking about sizing here, what sizes this is supposed to fit, what other sizes are offered, how it fit me, but this is a pair of socks. So there's really not much I can say. I can tell you that laid flat they measure just about 9", but stretch up to 16". But that really doesn't do you too much good. I think what's going to be the most useful is telling you that the circumference of the ankle hole is about 14". My ankles are about 8" around (yes, I'm tiny), but I really think that there aren't many people who wouldn't be able to wear these comfortably. If your ankle is more than 13" around, I might suggest passing on these.

They seem to be made really well, for the most part. The sock itself isn't going to get damaged unless you intentionally damage it. The ruffles on the other hand, not sewn on the greatest. I mean they're on pretty well if you tug on anything but the edge where it meets back up with itself, I tore mine when doing the tug test.

They work well paired with heels or flats, and lend themselves particularly well to just about any schoolgirl fantasy you'd like to play out. They are comfortable for longer term wear, and in warmer months can be nicer than regular socks since they're thin.

If you're not one for the ruffles, you can easily remove them with a seam ripper and you're left with a lovely black, or red since they're available in that color too, nylon sock to be worn at your discretion.

You can store these in your sock drawer, or wherever you keep your lingerie or other delicates.
Experience
Ok, I must admit, I felt rather silly the first time I wore these. I mean seriously, frilly ankle socks? Not since I was like, 6, thank you very much. But they were very comfortable and can add just the right touch of cute to the right outfit. I haven't found that outfit of my own yet, but I really like the fact that the ruffles keep the socks from falling into shoes that are just barely too small to wear comfortably with socks, since that's where these come in the most handy for me.

Overall, I'm pretty happy. My fiance thinks they're adorable; they're really comfortable too. Only negative thing I can find about them is that the lacy ruffles aren't sewn on that well, but if you're determined, it wouldn't be hard to fix that either.
This content is the opinion of the submitting contributor and is not endorsed by EdenFantasys.com

Thank you for viewing
Fashion socks
review page!