Medusa Turned Him To Stone
While I absolutely love the way this lingerie looks I can't say I'm happy at all with the quality. It's just too cheaply made to justify even the fairly low price of this fetish wear. It looks very sexy on me and my partner loved how my fun bits were accessible to him during our lovemaking but it's already began falling apart without engaging in any real rough play. Be wary of buying also if you're looking for any support for your body whatsoever.
Published:
Pros:
Very sexy naughty girl look. Easy access to all your private parts. Leather look for low price.
Cons:
Very cheaply constructed. Nylone material develops pulls easy. Studs tend to fall off easily.
When it comes to sexy lingerie quite often minimalistic is the way to go for the ultimate in a sexy look. The Medusa outfit is exactly that consisting of barely enough fabric to justify it's price. But that's what I was looking for when this piece caught my devilish eye!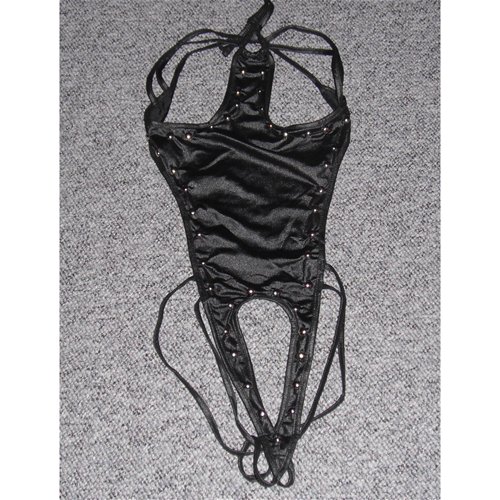 Made from a combination of nylon and spandex it's designed to have a leather-like look to it and the black shimmering/shine adds to the overall bad girl feel. This could be a great piece for the dominatrix on a budget except for the fact that it doesn't hold up very well due to it's shoddy construction quality. Even taking it out of the packaging caused one of the nickel plated studs to fall from the material. Talk about an early disappointment but a pair of needle-nosed pliers and my husbands expert hands quickly fixed that early issue.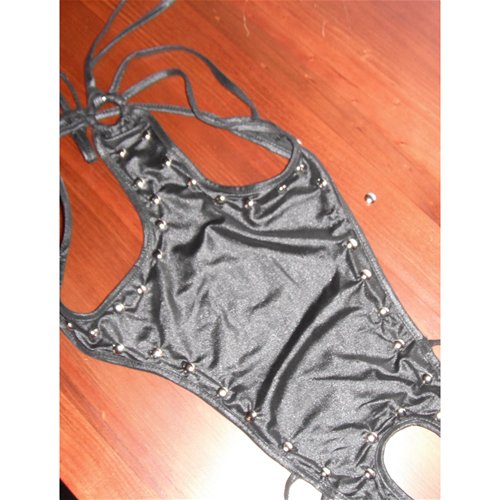 There really isn't much to this fetish wear with only a small panel that covers the mid-section leaving the breasts and vagina exposed for easy stimulation. Like I said, it's naughty and hot looking but remember that there is no support provided to the wearer whatsoever because of the lack of fabric and the absence of any firmness from boning or underwire. I'm in my 40s and have had a couple kids so things aren't as perky as they once were but I'm still in pretty good shape at 5' 11" and 150 pounds. I did find parts of me could have used some extra help to stay put but overall I'm comfortable with my body image and the encouragement I get from my lover and the appreciation I see from his rock hard erection when I wear this piece makes me happy!
I've mentioned my body proportions and the large/XL size we ordered fits quite nicely (USA 12-18). There are also small/med (USA 4-10) and queen (USA 20-24) sizes. Donning the Medusa is simple as well by just stepping into the strings that surround the back of the lingerie, slipping the attached g-string as comfortably as possible between your cheeks and adjusting the strings and ties around your boobs, hips and shoulders. The only adjustable parts are the strings that go around the neck and the middle of the back. They are basically ties that can be left done up after the first fitting but it helps to have an extra hand that initial time to get them tied just right. Be careful to watch your fingernails because the nylon/spandex fabric develops pulls very easily. Already I've made a few runs in this lingerie or maybe my hubby is guilty from pawing away too roughly. Either way, gentle is the name of the game which doesn't seem right for a piece that beckons you into some fetish play. Hand washing in cold water is a must as well and be sure to let hang dry because nylon doesn't tend to like high heat.
Packaging is a prism-shaped mostly black cardboard box with the lingerie in a small plastic bag within. The Medusa is very tiny inside and my first thought was that something was missing. I did mention that it's minimalistic but I can almost fit the entire thing into my two closed hands. The model on the box is a sexy brunette holding a paddle and accessorized with thigh high boots which gives me some fashion hints for the future.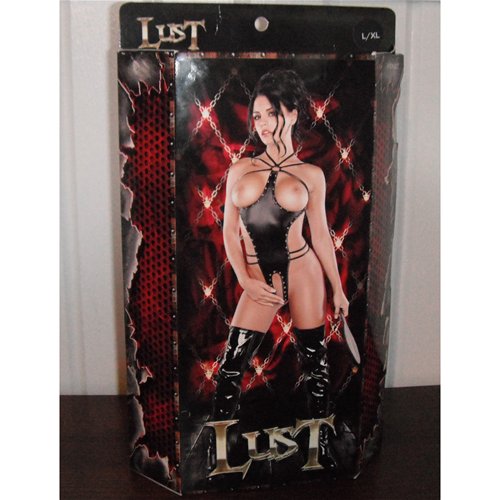 Experience
I've worn this 3 times now and already the Medusa is showing premature signs of wear. I've got a couple small runs in the fabric and some minor 'fuzzing' around the pubic area material due to rubbing from one of my harnesses that I thought would be sexy coupled with this fetish wear. While it was fun in hindsight it probably isn't a great idea to let leather chafe away over the nylon/spandex cloth. The metal studs around the outside of the piece insist on falling off and quite often it's after I've folded the Medusa into my lingerie drawer. It seems that this scrunches the fabric enough to disengage the little claws on the back of the studs. One day I'll just take them all off and reattach with the claws bent into the fabric better than what was done at the factory. I shouldn't let my dissatisfaction with the construction quality of the Medusa take away from the hot times I've had wearing it as it's one of the naughtiest looking and functional pieces I own. I love nipple stimulation and I love how my man can suck/pinch/twist my nipples easily while I wear this and the open access to my pussy means his cock isn't rubbing against clothing uncomfortably during stroking. I truly hope the Medusa outlasts my expectations because I'm a naughty bitch when I'm wearing it and that is something I've grown to like!
This product was provided free of charge to the reviewer. This review is in compliance with the FTC guidelines.

Thank you for viewing
Medusa
– teddy review page!