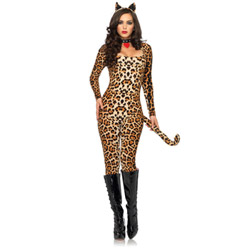 Cougar catsuit
Costume by Leg Avenue
Meee-yow!
I really do like this costume, it is just such great material and so comfy. I just wish I looked better in it. But at least it will still be useful, and maybe someday I will be confident enough to wear it in public. If you don't mind showing off every curve, this costume is perfect.
Published:
Pros:
-costume is well made
-soft, cofortable, and stretchy
-great tail
Cons:
-accesories are poorly made
-material snags easily
With Halloween fast approaching I decided to start looking at costumes. I want something kind of sexy this year for adult only parties since I lost 45lbs over the past year and a half. Although I am not at my goal weight yet, I thought that I might be able to pull off this this 3 piece Cougar catsuit costume by Leg Avenue.
Three pieces included in this set are the one piece cat suit with tail, an ear headband, and a collar. I received it in size M/L. Now for starters, the pattern on this catsuit is not a cougar pattern, its more of a leopard or cheetah. Cougar was my highschool mascot, and they are pretty much just plain tan/brownish color. But the pattern is awesome looking, so that does not really matter, but you might not want to go around refering to yourself as a cougar if ya know what I mean.
The costume comes packaged like most costumes from party stores. It is in a plastic bag that has a snap closure and a hanger to hang the bag. The catsuit is loose inside and the headband and collar were wrapped together in plastic, each piece also being individually wrapped in plastic.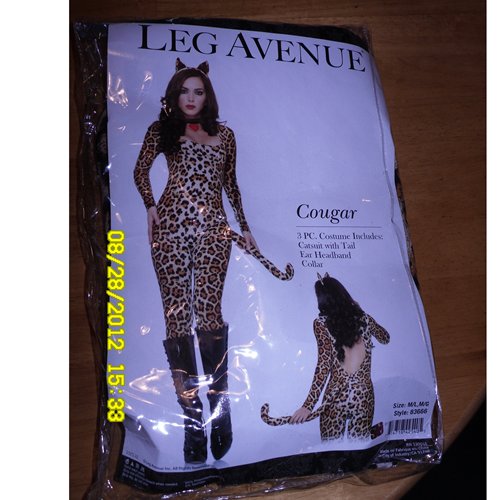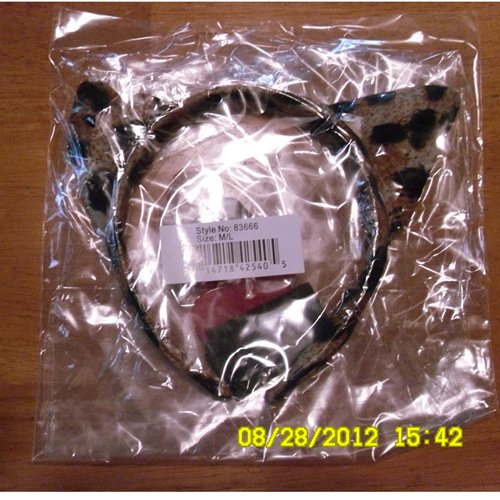 The collar is pretty poorly made, but of course you could simply choose not to wear it, or use a different one. It is a black ribbon with a velcro closure. There is a fairly large plastic red heart that dangles from the middle. The velcro and heart are very poorly attached (or at least on mine it was). The little red ribbon that is used to attach the heart is only sewn on with a few threads and the velcro comes up at the edges and there is a lot of threads sticking all about and coming loose. So if you want the velcro to last, just make sure to attach and detach it carefully. The collar does fit well though with some room to spare.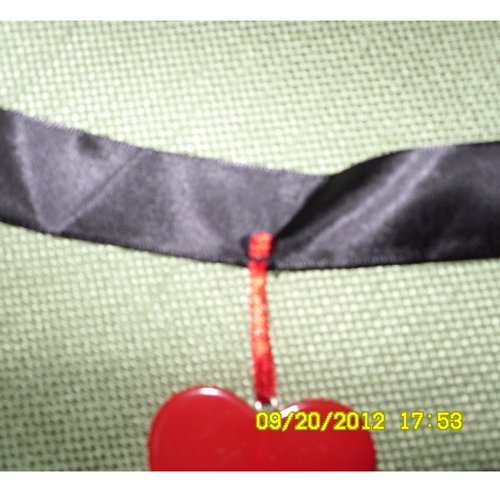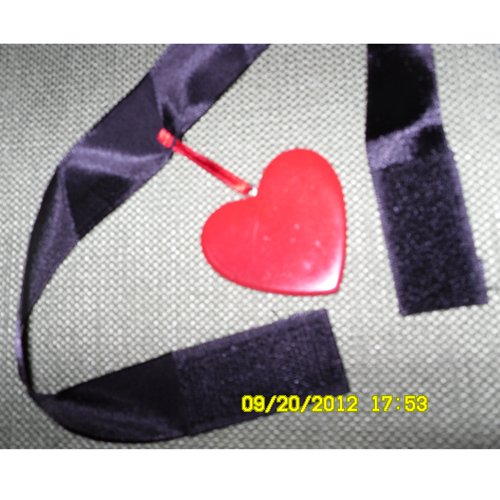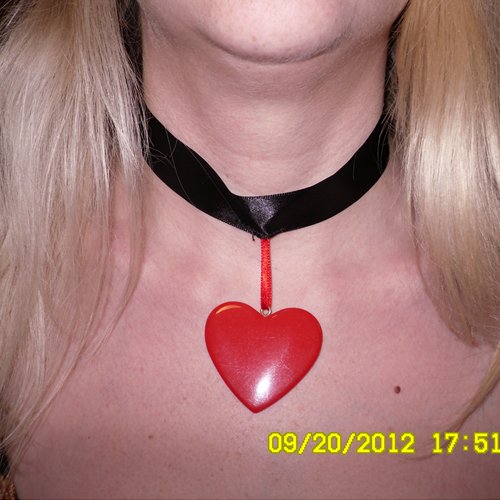 My headband was packaged weirdly resulting in a bent ear. The ears have some material in them (like a cardboard or something thin) that helps to shape them, so I was able to bend it back for the most part, but it still seems kind of crinkled. When I look at them closer though, they also look a little messed up because one ear appears to be a little bigger than the other. It is made of a plastic headband covered in the same patterned fabric as the suit itself. The ears have black centers in the front part. So overall these are not made too well either, but they are just an accessory, and they still make the outfit more adorable.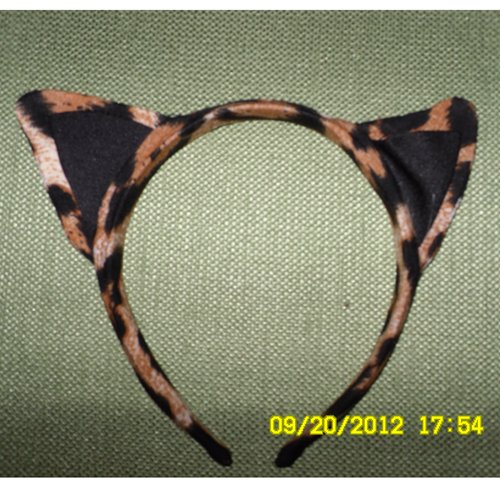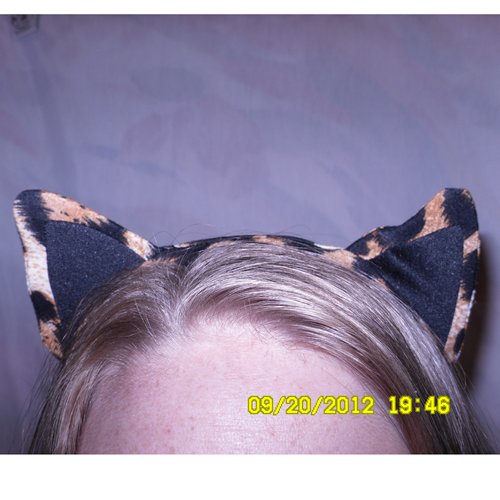 Thankfully the catsuit itself is well made. It is all one piece, but I found it to be easy to put on since the back is open and it velcros in back around the neck at the top. It is very soft and comfortable. The material is stretchy but also form fitting. It is also a very good thickness, not too thin. I love the way the material feels, but it is prone to snagging, so be careful not to catch it with the velcro that is on the neck like I did. Now mine has a little area that is snagged with a little thread hanging out where I accidentally caught it.
I am fairly tall, 5'8", and the arms and legs are plenty long enough. I do find that the torso area isn't long enough for me, it seems to pull my neckline down, and the neckline is already pretty low. I like the open back on it, but it makes this not the type of thing you can wear a bra with, which poses a huge problem for me since I have small saggy boobs. I tried to use the sticky bra things, but those were a huge failure for me!
The tail is very nice also, it is thick and and foamy and has a rod it it to hold its shape. It is flexible so you can shape it how you like. And since it is positioned well, it is comfortable to sit in. It also swings seductively as you walk and dangles cutely when your just standing around. I don't know how long it will be easily bendable, but seems like it will last. You shouldn't have a problem with it falling off either, mine is attached very well.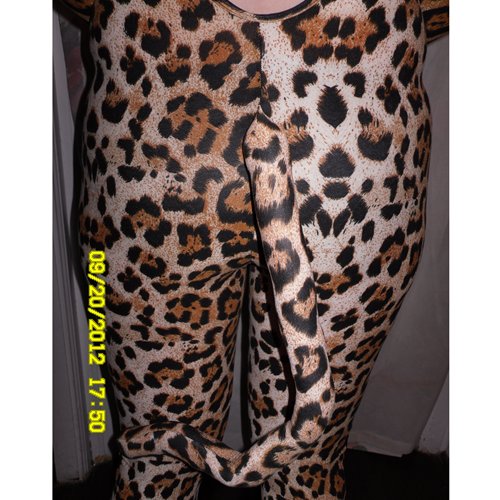 tail attachement: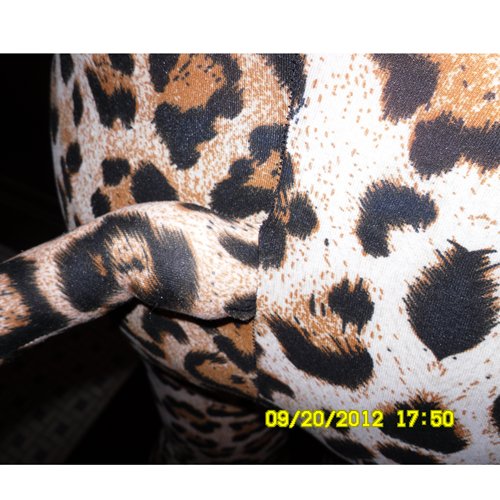 This catsuit costume is made of 95% polyester and 5% spandex and is made in China. Wash instructions are to hand wash warm, with only non-chlorine bleach when needed. Let it drip dry, and do not iron.
Experience
Unfortunately for me I don't think I look good enough in it to wear in public, it holds and reveals every curve (and roll!) and I can't get over how small and awful my boobs look in it. I did reluctantly include some pics on here, but only because I like people to be able to see things on a real person and not just some supermodel. At least that is what I like to see when I am picking things out. Also I feel comfortable here in the Eden community, even though I don't really know most of you. I am happy that even though I am not comfortable enough to wear it around friends, I can still use it in the privacy of our home. My husband can be my tamer hehe.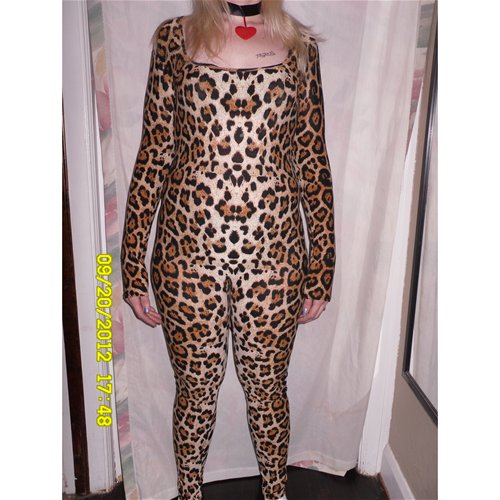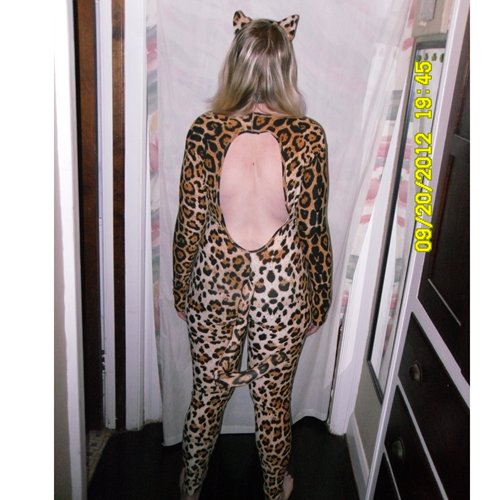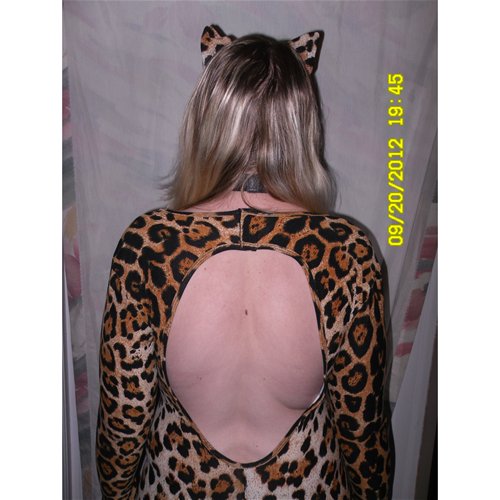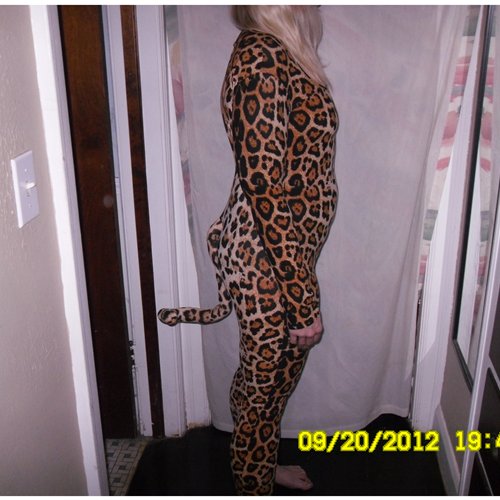 Follow-up commentary
6 months after original review
It obviously isn't something that I wear often, but I do like it a lot still. The snagging issue is bad, but as long as you are careful it isn't that much of a problem.
This product was provided free of charge to the reviewer. This review is in compliance with the FTC guidelines.

Thank you for viewing
Cougar catsuit
– costume review page!