Meeee-yow! (32B)
Baci's Cheetah Four Way Convertible Bra is a beautiful piece of practical lingerie. It's sexy enough for bedroom use and comfortable enough to throw on under a t-shirt. While it may contain a fair amount of loose threads, the quality is still largely impressive. If your bra size is available, I would highly recommend giving this sexy little number a shot.
Published:
Pros:
Lovely design, accurate fit, comfortable, creates a flattering shape under shirts, straps stay put
Cons:
Stray threads
Packaging

Given that this was my first ordered bra, I was curious as to how the manufacturer would keep the cups from warping in transit. I was absolutely impressed with how Baci went about this. The bra came in a sturdy box featuring the pictures on its product page. There is also a bar code on the back, so I'm assuming Baci also sells these in shops.

Materials, Design, & Craftsmanship

The bra is made of 90% polyester and 10% spandex. The cheetah print on the cups is achieved by layering a velvety tan (a darker tan than shown in the product pictures) fabric over over a mesh-like black fabric. The bra's band has the same effect, but the black mesh is more sheer here. This sheer cheetah pattern is also found between the cups. There is a strip of black fabric at the tops of cups and around the underwire. The fabric is incredibly silky and adds a beautiful touch of class to the cheetah print. The underwire itself it thin yet firm. The insides of the cups are lined with a soft black fabric that is similar to that which is in most molded cups. There is no push up padding inside the bra, but the lining is slightly thicker than is required to hide nipples. There is a tiny black bow between the cups that is made of your typical ribbon. It tends to go crooked, but could easily be removed with a seam ripper.

The bra's materials are incredibly comfortable and feel like they're worth more than the price tag. I wish I could say the same of the stitching itself. While the majority of the bra is held together with sturdy sewing, there are a fair amount of loose threads. Fortunately, most of them are along the band and do not look like they are causing anything but a cosmetic problem. However, the bra I received did have a loose stitch or two underneath the underwire. It may be problematic in the future, but hasn't resulted in any damage yet.

Since this is one of Baci's four way convertible bras, the straps are each adjustable at both ends. The hooks at the end of the straps are gold and quite narrow. That is, they don't have a lot of room for slippage. This is excellent for those who plan to wear the bra during the day as you are not likely to have any rogue straps popping out of place. The straps are fully adjustable and can be switched out for other straps if desired. Making them tighter does provide some lift. Along with the normal style, you are able to wear the bra with one long strap attached to both of the front loops (halter style), with the straps crisscrossed in the back (as shown on the product page), or with no straps at all. Though you could wear this as a strapless bra, it's not entirely practical given the shape of of the cups.
Experience
Sizing & Fit
I'm sure many potential buyers can relate to my online bra buying anxiety. While I usually end up buying 32B bras, I am technically a 30B or 30C. That said, I still got a decently good fit out of this bra. The band has three columns of two hook-and-eye closures, and I find that it fits comfortably on the tightest setting. The cups hug pretty snugly against my breasts, but there is a definite gap in the fit. It can only be seen when you are looking directly down at my chest. I attribute this to the band being slightly too loose and think that a true 32B will not experience the gap. I have a wider set chest and was happy to see that the cups wrapped around the sides of my breasts. Though there is no push-up padding in the bra, I did find that it gave me just a tiny bit of cleavage when I lifted and placed my breasts in the cups.
If you are between band sizes, I'd recommend buying the smaller of the two since the band is adjustable and bras tend to loosen up with wear. I believe the cups could accommodates a smaller C cup, but full to large C cups should order accordingly. I would not recommend the 32B size to smaller cup sizes, and ladies with small Bs might consider ordering an A cup.
As far as everyday wear goes, I was very impressed. The molded cups give the breast a round, shapely appearance under even the tightest tops. They seam between the black strip and the cheetah cups does tend to show through thin, light colored tops, but isn't an issue with darker tops. I did not have any problem with the pattern showing through. I found that the bra was very comfortable when worn for an extended period of time. It offered excellent support on both the standard and crisscross settings. The halter style didn't give me quite as good support.
Care
As far as care goes, this bra should be hand washed in cold water and then line dried. Bleaching, ironing, and dry cleaning are all a no go if you want to keep the bra in good shape. I think it could do okay in the washing machine if a lingerie bag is used, but I can't say for certain. Due to the loose stitching, I would recommend hand washing over the lingerie bag.
All in all...
Well, what can I say? I'm in love with Baci's Cheetah Four Way Convertible Bra. I'm ecstatic to have found a sexy bra that still manages to make my breasts look good under everyday clothes. I'm not quite so happy about the stitching flaws, but I think some careful washing will preserve the bra's integrity.
Pictures
I ended up taking quite a few pictures. I've posted one of me wearing the bra, and links to the rest for those who are curious. As you can see, the actual product is a bit less bright than the one shown in the product pictures.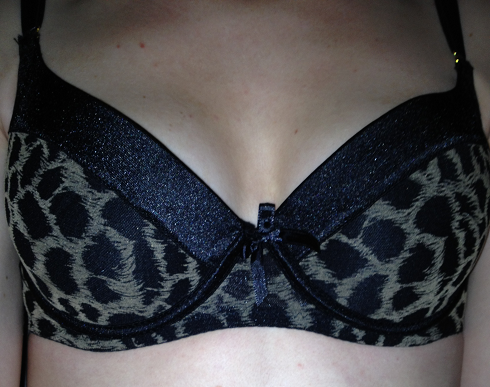 Gap in cups
Bra compared to a Victoria's Secret 32B
Strap hook and some loose threads
Packaging
This product was provided at a discounted price in exchange for an unbiased review. This review is in compliance with the FTC guidelines.

Thank you for viewing
Cheetah four way convertible bra
review page!