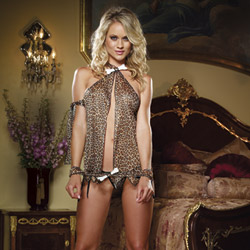 Jungle jane
Babydoll and panty set
by DreamGirl
Meet the Flintstones
Jungle jane looks more like the Flintstones, though their clothing fit better. This piece is not for large busted individuals, or even those who fall towards the top of the size range. All of the pieces are made of the same soft shear polyester material, which is fine for everything but the blindfold. You can see right through it. There is no breast support at all in this piece. The only thing this is good for is a good laugh.
Published:
Pros:
Soft material.
Comical.
Cons:
Fit.
Shear blindfold.
No support.
My first thought when I saw this was the Flintstones, so this could be used for some interesting role-playing. I don't plan on using it for that, my thoughts were more for a laugh sometime we watch a parody porn.

As mentioned in the product description this is a halter top, which I hadn't noticed when I ordered it, so not expecting, it was a challenge figuring out how to put this one. The set contains the top, a thong, a blindfold, and cuffs. I did not see any lose threads on this outfit, it seems to be be fairly well made in that regard. Though not all edges have seams in them, so I'm not sure if this outfit will survive very long. The material is polyester and is very soft. It feels like silk; it is not scratchy in the least bit and is very comfortable to wear.

The Blindfold

This is a long strip of fabric that is to be tied; it is made of the same material the rest of the outfit is made of. The problem with this piece is the material is shear, it can be seen through so it will not make a good blindfold. It is also mentioned that the blindfold could be used as an arm sash. This would be possible, but I think it would look rather strange and not sexy in the least.

The Cuffs

These cuffs are quite literally a joke in my opinion. All they are is two pieces of fabric, sown in a cylinder shape with elastic on both edges, and a strip of fabric sown in between the two cuffs. The elastic does not stretch much at all, I had a hard time getting them on my wrists and my wrists are only about 7.5 in. I have very small hands and wrists. The image of the model stretching the cuffs so one hand is at each hip, is about as far as these will stretch. When I tried I couldn't go any farther than that because I was afraid that I would rip them in half.

Thong

The thong is what I would expect in a thong. Though, I wish it were a little bit bigger so I could pull it up further in the back. As it is now, the top barely comes above my ass crack. On the front, the detail is an extra piece of fabric that is only sown at the top, and it imitates the scalped edge that is also on the top. The thong fit we well enough over my hips. Mine are about 40 in. and this is to fit 34-40 in hips. I think it would fit someone with slightly larger hips. It is very stretchy, so it will fit a wide range of people.

Top

The top is where I have my issues. I'm a 40C and this is to fit B/C 32-38. I expected the top to be a little small, though since it's an open front I didn't have a problem with that. When I put this on, there is a good 12 in. of my chest that this fails to even touch. This top will not fit anyone with a large chest. With the amount of open space in the front I'm not sure that this would even fit someone with a 38 in chest, it might fit the 32 in. chest but I don't think it will fit one much larger than that.
Experience
Because of the fit of the top, I don't expect to use this as much as I would like. I think it's going to become more of a joke piece in my collection than a serious lingerie piece.
Follow-up commentary
14 days after original review
I wore this once, and I don't think I will ever wear it again. I just can't get past how it fits. This piece is a joke.
This product was provided free of charge to the reviewer. This review is in compliance with the FTC guidelines.

Thank you for viewing
Jungle jane
– babydoll and panty set review page!