Meow! Sexier than we knew.
This chemise is so simple, sexy and fun! I recommend it to someone who's new to lingerie and needs something easy, but really sexy with lots of sex-kitten mixed in. It's one of those pieces that are likely to provide a nice, flattering, but comfortable fit. And for others, it's nice to have a sexy alternative to uncomfortable corsets. Long teasing for the lovie is comfortable and a pair of saggy crotchless panties make sex easy.
Published:
Pros:
Sexy back.
Bold color.
Bows.
Comfortable & easy to fit.
Cons:
Saggy, too large thong!
The Halter Chemise comes included with chemise, crotchless thong, and hanger. The pink in the product page was dull to me, so I was ecstatic to see that's it's super-hot pink in person and looks nicer! In my opinion, if there were photos of the thong and back of the chemise, this baby would've sold a lot better!
Design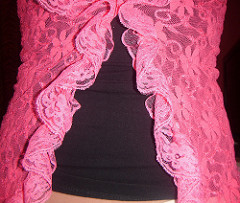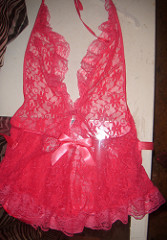 This chemise is designed more like a babydoll. The color is entirely pink, including the elastic. This is tough to describe, so you're best bet is to see my photos for better explanation on design. Basically, you have two strips of pink lace in the front that are closed under the bust via a small latch. This exposes between my breasts and the middle running the entire length of my abdomen -- best described by looking at photo above. The back is different, but my favorite part of the "chemise!"
The chemise is lined in a lace, pink material identical to the lace of the body, but this trim is ruched to create ruffle and there is two layers. They run around the bust, the two mid-section pieces and the hem.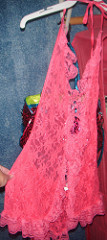 This ties via a halter-style, which ties behind the neck. It's made of thin pink elastic and runs around the outer portion of the bust, and around the back, which you'll see in the photos.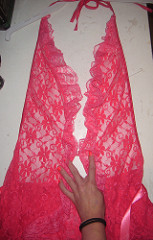 The elastic halter ties measure 19 1/2" long each. Then you have the little pink plastic hook under the bust -- identical to those on removable garters or bra straps. It simply slides into a notch of fabric.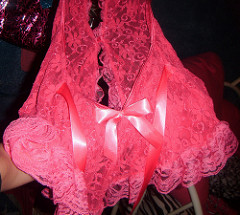 The back is entirely open until you reach right above the butt. Then there's a strip of the same lace to cover it. There's the one bow sewed above the butt, and a satin pink ribbon on either side, right above that bow. You tie these yourself and it creates a gathering of the lace at the bottom.
Above shows the bow that's placed above the rear, as well as the satin pink ribbon to tie your own bow, right above that one. I couldn't get this right when taking photos wearing it, but this should help. It actually does look sexy when tied correctly.
The Thong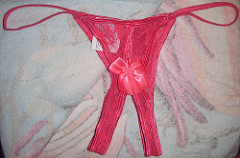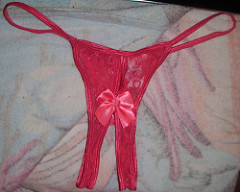 I love this thong! Unfortunately, it was too big and super-saggy, so it really doesn't look nice unless I'm sitting or lying down or holding the back of the thong, which is not sexy. I love it so much I've contemplating re-constructing it, but don't know how to go about it. The thong is entirely pink, floral, transparent lacey material identical to the chemise. It's crotchless! It has the two strips to make it crotchless rather than a hole. The two strips land on either side of your crotch, unless you're like me and it's so large that they just sag. As you see, the back looks pretty identical to the front, so your butt crack is entirely exposed. I imagine if you're a bit larger than me, these will look so sexy!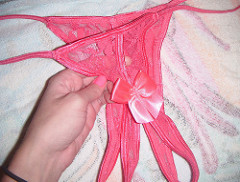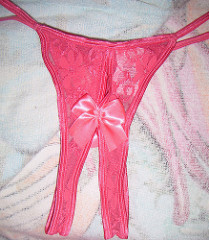 The thong has a lovely satin bow on the front right below a decorative split, and above the crotchless split, and another bow on the butt! How adorable can you get?
There is a huge tag that can be cut, and while they are saggy, they're still comfortable, and would've been had they fit too.
Material
92%Nylon, 8% Elastane.
The entire chemise and thong is made of this pink, floral lace.
This is very comfortable considering it's open and doesn't have a chance to glue to the body. The lace isn't itchy/scratchy and has a bit of stretch to it. It's durable lace, and will hold up to quite the rough housing. I'd describe the feeling of the material and its stretch similar to that of a body stocking. Not exactly like it and it doesn't have as much stretch, but the lace feels similar to something of that nature. This isn't the high quality lace I've experienced with other companies like some of Coquette's products, but it's still perfect, just doesn't feel as unbelievably soft.
Chemise's Measurements
One size fits most
- 25" Long from top to bottom (front, on either side) including ruffle trim, which measures 2" wide.
- 5" Wide bust, not including ruffle trim, which measures 2" wide.
- It's a bit tough to put a measurement on the waist since it's two strips of fabric on either side of the belly. Basically, it's like a "flyaway babydoll" in that it's only a strip of lace on either side, revealling your mid-section. However, each strip that creates the middle measure 7 1/2" wide, including 2" wide ruffle trim.
-Hip area, measured the same as waist: 10 1/2" wide each.
-Butt: 10 1/2" long.
Experience
My Measurements
Bust: Right: between a B and C cup. Left: 34B
Jean/shorts/size: Zero
Weight: 93lbs
Height: 5 2"
Waist: 26" Lower waist. Where I'm a bit wider, the love handle area: 29"
Fit
This is lacy, flowy and bouncy and since there's really no middle to it -- it's open -- it'll fit a wide range of sizes. I'd even say it'd fit a large, but could get snug the larger you are. It fits me with plenty of room left over, but the halter ties prevent sagging. This is listed as medium large as well as one size fits most, and Escante has no size chart for that specific size, so I suggest going by my measurements and this: if you're a medium or even large, but at the smaller end of a typical large, this will fit. It's roomy, adjustable and will accommodate many. However, for extra room, or if you're busty and feel you're closer to XL, it's safe to up-size. However, this item doesn't require you to meet specific sizes in order to fit, as I explained previously.
Made in Mexico.
Packaging and Care
This came on a hanger, with a plastic bag over it and a tag of a lady wearing it.
To store, you can crumple it up and toss it in a drawer without it wrinkling the lace material, or hang it with the included plastic hanger.
Experience
Honestly, I wasn't excited for this, but it was my desperate attempt to actually even have an assignment this month, and well, what a blessing in disguise! I wasn't thrilled about it because in the product pictures, the pink is dull and kind of ugly, you only see the front, which looks plain, and they didn't show the awesome thong or the sexy, playful back with bows! Had that been shown, forget a desperate assignment, I'd have bought this right away! Above is my attempt at showing you how it ties, or where it ties since the other photo of me wearing it wasn't clear on how the bows fall. Not the best photographing day for me, so I apologize that it's tough to see those. I know, it looks really dumb on, in the photos -- and my about-to-sneeze expression wasn't helpful-- but that is not the case when you're not wearing clothing underneath. It was tough to really capture the sexy-ness of this in my photos, but I hope I gave ya'll an idea of what it looks like & the fit. It's sexy and looks so pretty on with nothing underneath! Also, it's comfortable. I immediately felt nice and sexy in it, and that's unusual when I'm wearing a simple piece of lingerie. I love the color, it compliments my tanned complexion well. My shoulders, legs and back are my favorite parts of me, and that's one reason I adore this. It reminds me of a favorite bustier of mine that's got a cut-out back with a rhinestone and bow right above the butt. It seems I accumulate this style, but it really is extremely flattering on so many body types.
Follow-up commentary
1 day after original review
Fit & experience continued…

My partner liked this on me as much as anything, but I personally felt awesome, & that's what's really important. Instead of tugging and pulling and feeling like I should just hide under the bed before he gets a closer glimpse at me, I have the urge to taunt! To walk around and speed up the pace when he gets his hands on me, so that I can enjoy my prancing around just a bit longer. My last lingerie piece was something I put on and wanted to peel off immediately. I didn't want him getting a closer glimpse because I felt less than beautiful. This was one I *wanted* him to look closer at! I had to bend, turn and spin in every direction, it felt so nice. He chanted "sexy!" and "I think you dropped something" from the bed, so after I amused him, I snatched it off, threw it on his head and said "now I have an idea!" How excited he was to hear that, until I said "now you get to parade around in it for *me!*" Only kidding, but he did seem to enjoy the fun, and I especially noticed the difference in how when I actually feel sexy, it comes off as more sexy, even if it's a skimpy piece of lace. I could wear some fancy corset and if I'm not confident, I don't think it looks as sexy. You get what I'm saying? This is an easy piece to "strut your stuff" in, and would be perfect for someone shy or new with lingerie.

Even though I dang near cried over the thong because it was so adorable but did not fit right, I found that it feels just as sexy with no undies! However, you can dig up matching ones if you wish. This simple, more affordable babydoll (not chemise) was just what I needed – a break from the uncomfortable, hard-to-get-on bustiers and corsets. It's comfortable enough to sleep in and won't wrinkle! I think other girls who like me, enjoy a hot-pink, fun and bow-covered piece will find this to be a nice way to perk up their lingerie collection…and their partner!

It's not the most sexy, classy or high quality lingerie I own, but it's one of those I can slip on when I want to wear lingerie, but don't want the hassle of tight clothing, laces and such and still look lively and cute. This is easily slipped on, comfortable and brings out my feminine, playful sex-kitten! It exposes the right areas without highlighting them in an unflattering way. The middle of my abdomen is exposed, but it's actually flattering, even on those crappy bloated days when I feel like hiding that area. This looks perfectly fine even like that.

This product was provided free of charge to the reviewer. This review is in compliance with the FTC guidelines.

Thank you for viewing
Pink lace halter ruffle chemise
review page!