Meow This is Way Hotter Than I Expected
This adorable babydoll and thong set will definitely set the mood. And if you happen to tire yourself out and pass out in this set you will be perfectly comfortable. This print and sequins go surprisingly well together and it looks fabulous. I feel like a goddess while wearing this and am glad I did not pass this up like I almost did. At such an affordable price, and if you fall in the weight range and have less than a 38" bust, this will work for you and look hella good too.
Published:
Pros:
Sexy
Flattering
Soft Material
Not see through
Thong with liner
Comfortable
Cons:
Top will not fit busts larger than 36", 38's and above steer clear.
The Leopard Flyaway Babydoll and Thong by Dreamgirl at first glance looked a little bit busy to me. Leopard print in red with lace trim and a sequined empire waist? But I liked the cut, it grew on me and I decided that I flat out just had to give it a try. And I am super glad that I did.
The sizing is the first topic I will touch on. It is a one size fits most with a weight range of 90-160lbs. THIS IS A LIE! If the sequined empire portion stretched it would likely be true to the size range that Dreamgirl provides. I measure 35" around right below my breasts. A 36" bust line would work with this, however; anyone with a 38" bust or larger would likely not fit. A-D cups I do feel would fit in this top. Especially because it is a tie halter top there is a whole lot of adjustment room here.
My personal measure ments are 5'2", 130lbs., panty size 6, dress size 6-8 and a 36C or 34D in a bra size. This is how the top fit me from the front: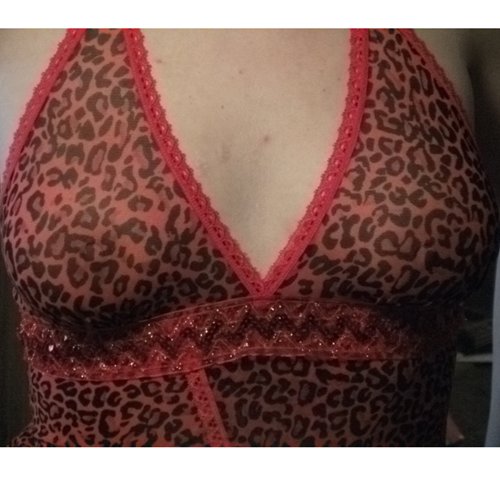 This is how the top fit me from the back: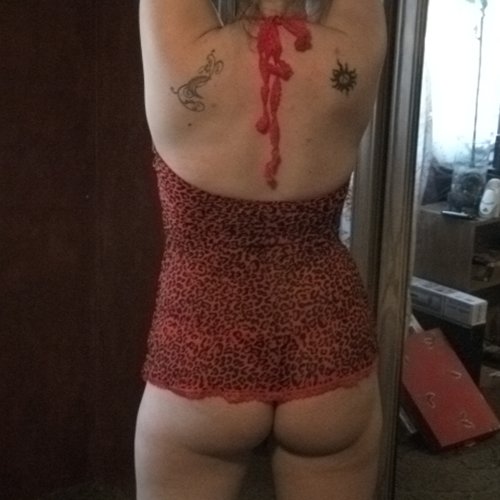 This is a side view of me in the set: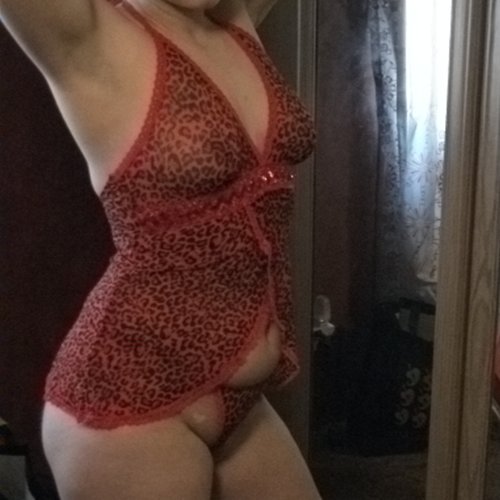 The thong is very well made and is very comfortable. This thong style underwear could be worn comfortably all day and does include an appropriate sized pantyliner in it. I adore dreamgirl underwear that comes with their sets, they always seem to be able to be used for daily wear as well. Another plus is that it is super stretchy so pear shapes and apple bottoms(me) will not have a problem with the thong. It would definitely fit the 90-160lb weight range.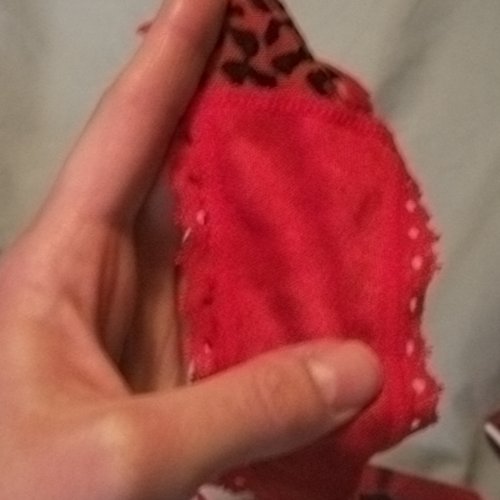 Now for the set itself. It is made of a super soft nylon/spandex combination that makes it breathable, comfortable, stretchy and somewhat sheer. The good thing is that the pattern prevents you being able to see nipple and/or genitals through it. I personally like that because lingerie that does leave a bit up to the imagination is nice in my opinion. Plus if I answered the door with this top on I would not be embarrassed since you really can not see through it. The entire top is edged with a thin 1/4" lace border. The halter ties are made from this same, stretchy yet durable lace. The thong is also bordered by this same lace. It gives it a subtle yet attractive extra splash of red. This red is bright and does pop. The red on the actual babydoll and thong is a bit deeper. I love the sequined strip below the cups as well. I gives the breasts an attractive appearance and slims the waist somewhat. The overlapping "flyaway" design of the front bottom portion of the top is very flattering and sexy as well. This is a very sexy and unique piece of lingerie.
This set is to be hand washed only in cold water and hung to dry. I wash mine in the bathroom sink with cool water and mild laundry detergent and hang mine over my shower curtain rod to dry. The beauty of this sheer material is that it does dry rather quickly. Another one sized nylon dream girl set that came out of the same type of packaging that I got in the same order had a smell to it that was identical to the smell of rubber party balloons. This however, did not thank goodness.
The packaging is a simple cardboard recyclable package that had the set inside wrapped in a clear plastic bag. This could be used to store the lingerie in, since this material does not seems to wrinkle. In hindsight I probably could have kept the cardboard package to keep mine in to keep both pieces of the set together. Oh well. The front of the package displays a model wearing the product from a front view, the back of the package has a model showing the back view of the lingerie and gives the size range.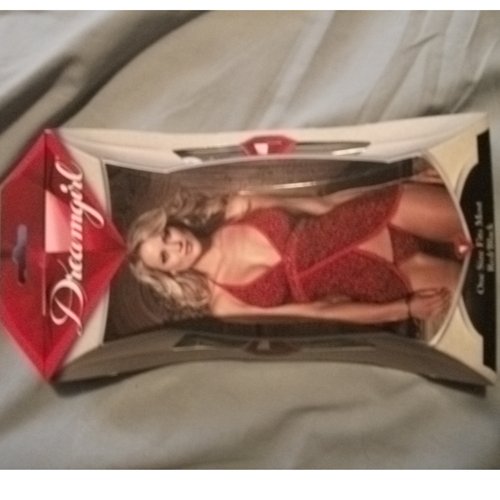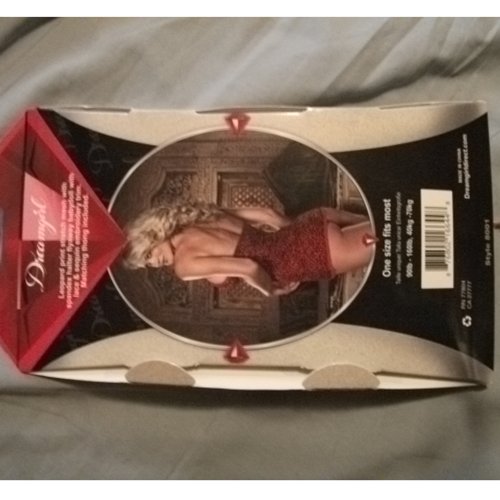 One last thing. This is super comfortable. The halter straps are stretchy and soft. They do not dig into my neck at all. My boobs do not fall out of this top. This is so comfortable to lay around in and I know I could sleep in this for sure. The only thing I noticed is that the tag on the top is a bit itchy, so I cut mine out. I cut out the underwear tag too just to prevent that potential for discomfort. This passes the comfort test with flying colors.
Experience
I LOVE this set and glad that it grew on me. I showed this to my man, who in 8 years of being my best friend and two and a half years together had NEVER seen me in red and said, "hey this would be totally hot on you." That made up my mind for me and I definitely had to have it then. I modeled it first for him out of the five total pieces of lingerie I just got, and I had to protest to get him to get his hands off and get the rest of the pics taken before we got down to business. I love the looks of this and I feel that this will be a long lasting set if cared for properly. Again, with all of the dreamgirl products I have ever received I have noted no major flaws. I sometimes have a problem with sizing not being quite as described, like with the non stretchy bust line on this set, but it does work for me. Just anyone with a 38" bust or larger should not get this. I am in love with this and I know this will see a whole lot of use!

Also if you are daring, pairing the top with a black sweater, or a black leather jacket and jeans would make a cute outfit too. I recommend this for night wear/club wear though, not a day out. I may just wear this out to a dimly lit restaurant/bar with my man sometime, and if I do i will tell you how that went in my follow up review.
Follow-up commentary
2 months after original review
I do still like this. I have noticed that the color on the sequined trim has faded off from hand washing this. It also has faded a tiny bit but is still just as comfortable and sexy. I lost a sequin or two also but I kind of expected that to happen. Overall, still a good buy.
This content is the opinion of the submitting contributor and is not endorsed by EdenFantasys.com

Thank you for viewing
Leopard flyaway babydoll and thong
– babydoll and panty set review page!