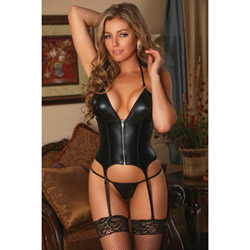 Zip up merry widow corset and g-string
Corset and panty set
by Magic Silk
Merry widow. The words consume themselves. (LXL)
This is an okay piece, but it is overpriced. I wouldn't recommend this for very busty women as there is no underwire and the halter ties will irritate the neck if they are used for support. Also, although the fabric looks sort of like leather on the product page, the fabric is really more of a standard "wet-look" fabric. The garters are not detachable, but this piece couldn't be worn without them, anyway.
Published:
Pros:
Nice style, Easy to put on, Stretchy, Surprisingly comfortable (excluding halter ties), Machine wash
Cons:
Cheap zipper, Plastic boning, Halter ties, Little bust support, Not very flattering
I need to get something out of the way. It really annoys me how much the word "corset" gets thrown around. It seems to have become synonymous with "tight-fitting" in some instances (as in this garment). By this standard, I could start calling my socks "feet corsets" or my shoes...."deluxe ultra feet corsets." I mean, I know full well that I'm not getting a corset from Eden. I'm even okay with some of the tops on the site being called corsets, but calling this a corset is just ludicrous. This isn't even a wannabe corset or a corset top. It's just.....a top with garters attached. From now on I will refer to it as "the garment."
When I saw that Eden was carrying a new brand of lingerie (Magic Silk), the adventurer in me jumped at the chance to try it out. This item appealed to me the most in this brand, so into the cart it went.
The set came wrapped in plastic inside of a cardboard box. Certainly not packaging one would expect for a corset or even anything posing as one. The packaging worried me.
Included in this set: The garment and a matching thong.
The tags of the garment and the thong read: 92% Polyester 8% Spandex, Machine wash cold, No bleach, Dry Flat (DO NOT PUT THIS IN A DRYER!)
The garment, laid flat. It only has four boning pieces. These are made of plastic, and they are warping-prone. I've only worn this about 3 hours total, and the front two bones are already warped in accordance to my ribs/waist.
The fabric... is something I don't really want to talk about, because I don't really know how I feel about it. My first impression was that it felt really cheap, but I may have been under the influence of the cheap packaging. Now, I'm of the opinion that it feels pretty nice. It is certainly smooth and has a nice look to it. It looks like standard "wet-look" fabric, but it doesn't feel as nice as Escante's (I don't have any wet-look pieces from Coquette. Sorry).
The halter ties don't feel all that nice against the skin. They are too narrow and not soft enough to be used for any sort of bust support.
The zipper is sort of low-quality. It does "catch" some when I zip and unzip it, but at least it doesn't unzip itself when I'm wearing the garment.
The rings that connect the bust triangles to the halter ties....I don't know what they are. I seriously can't tell if they are cheap metal or really nice plastic. I feel moronic for not being able to tell. I had concluded that they were plastic, actually bit on one, and decided they were metal....but my husband still thinks they are plastic. Strange.
The garment has four garters that are adjustable but not detachable. It doesn't bother me that they aren't detachable. The garment wouldn't be wearable without them. They are of a good length and a good range, in my opinion (I've had issues with garter lengths before).
This thong is decent and seems well made. It's just a little too tight on me. The T-style back can be troublesome because it's one of those deals where the bottom string loops around the band that goes around the hips, so it's just a loop that's free to slide all over the band it's attached to. It's hard to describe, but it leads to this when I take it off :
Sizing Information:
Eden doesn't have a Magic Silk size chart, and the Magic Silk size chart I found (annoyingly) only includes general sizes, rather than measurements. Everyone knows that these can vary greatly, which basically means if you're anywhere close to being near to between sizes, it's worthless. Here it is: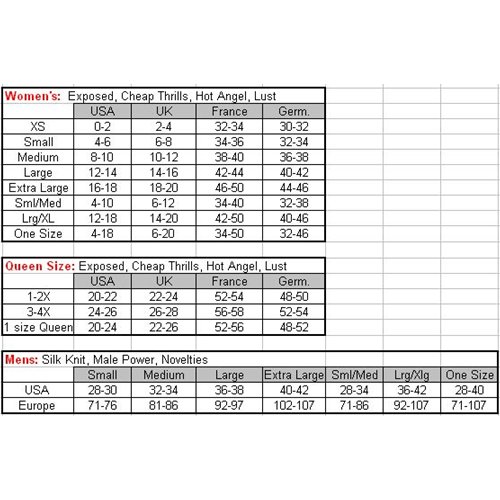 All we have to go on, according to this chart, is that a LXL will fit:
Size 12-18
(Geez, thanks)
Me:
Size 16
Cup C
Bust 42
Waist 32
Hips 42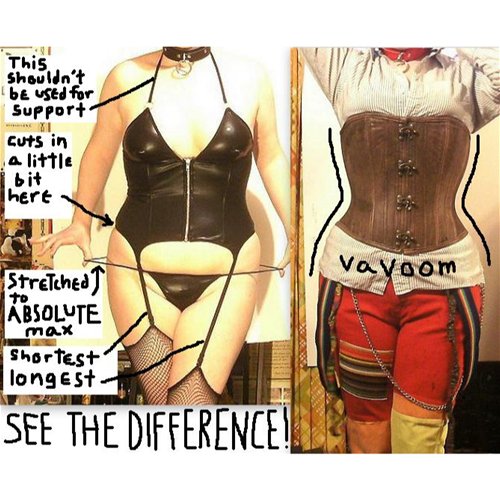 I've included a picture of me in an actual corset to show just how not a corset the garment is.
Fit on me from top to bottom:
I have the halter ties tied loosely, so that they do not cut into my neck. The tie fabric is a little rough.
Experience
(continued)
The cups fit my C-cups nicely. By my reckoning, these would best fit full B-cups to D-cups. Note that the seam that comes up from the bottom of the cup will create a point no matter how much you fill out the cups.
The underbust cuts into me ever so slightly. I wouldn't recommend this for those with an underbust over 39 inches.
The waist fits fine. The boning has warped some to conform to my waist, but the boning doesn't do that bowing outward thing under the part that's bowed in that some people may be familiar with with bad plastic boning. The garment isn't long enough to allow for that.
The bottom of the garment cuts into my skin just a little bit. This particular part of my body has a circumference of 40 inches.
The thong is a little too tight on me, personally. It will probably only fit hips up to 40 inches comfortably.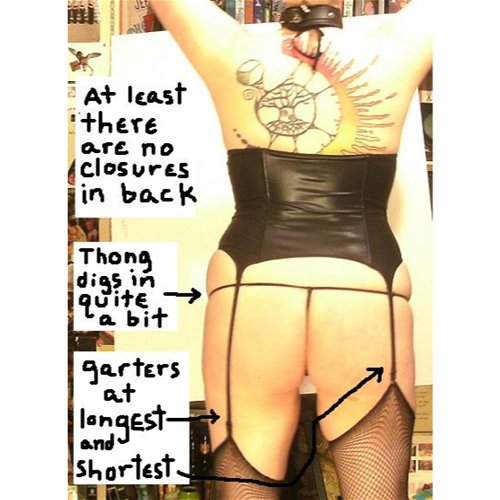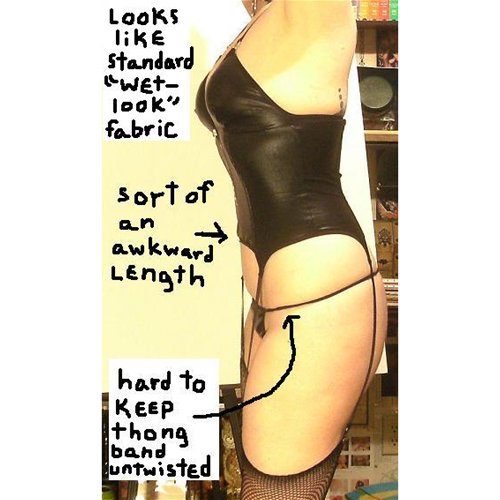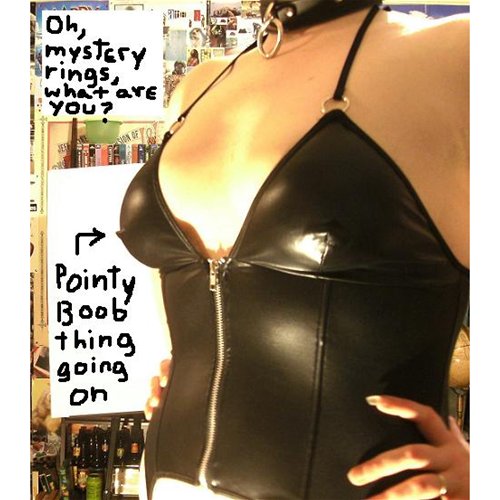 More Sizing Information
As best as I can tell, the garment would best fit someone who fits the following:
Cups: Full B-D (and hopefully you aren't looking for support)
Underbust: 32"-39"
Waist: 30"-35 or 36"
Whatever the halfway point between hips and waist is called: 35"-40"
Hips (applies to thong only): 34"-40"
..........................
For the record, I was going to give this set three stars for it's extreme mediocrity until I saw that the boning had warped after only wearing it twice (and I took into account the price).
If you have any questions, I'll try my darndest to answer them!
This product was provided at a discounted price in exchange for an unbiased review. This review is in compliance with the FTC guidelines.
Thank you for viewing
Zip up merry widow corset and g-string
– corset and panty set review page!