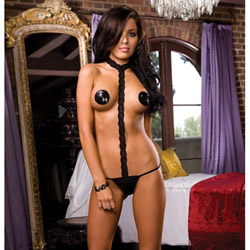 Strapped thong and pasties
Teddy by DreamGirl
Micro Teddy and Space Saucers
Considering that pasties can cost this much themselves, you really are getting a deal here. The micro teddy is well made, although simple, and is very soft! The material stretches and will accommodate a fair amount of hip sizes. You'll be surprised how much fun this is to wear!
Published:
Pros:
Eye catching, Fits a decent amount of sizes, Soft and stretchy material, Pasties can be reused
Cons:
Pasties are very rigid, Sequins can itch on sides sometimes, Some sequins fell off
My boyfriend enjoys eloquent lingerie, but sometimes he says he likes things that look down right trashy with the least amount of fabric possible. Could it get any smaller than this set? I don't think so! Considering the fact that similar pasties are priced at only a few bucks cheaper, I thought this was a great deal. I basically get a thong, pasties, and a little extra for the same price. As a one size fits all item, it's not bad as long as you like thongs. The pasties are decent quality, have great adhesive, but are not very flexible. I didn't think I'd ever feel so sexy in such little fabric!

*Contents/overview: Three pieces

*2 sequin pasties
*1 teddy/thong

This set from DreamGirl has three pieces, a micro teddy, and set of sequin pasties. It comes in one color, black. It is currently available in one size fits most.

*Material: Good, Soft

The teddy is made of 95% polyester and 5% spandex. The panty material is very soft and comfortable. It is also stretchy and breathable. The lace is thick and also soft and stretchy. It has a vague floral pattern and scalloped sides. And finally, the ribbon is made of a smooth satin like material.

The pasties are made of sequins. A tag on the plastic bag they come in says they are made of 100% polyester, but I'm pretty sure that is just referring to the backing that the sequins is sewn to. The sequins are shiny black, but not metallic. They are VERY stiff and have little to no flex. The inside has a strong adhesive.

*Design/craftsmanship: Great

Basically the smallest, skimpiest teddy ever, the main part of this piece is the panty. The panty is VERY soft and feels high quality. It's a bikini style thong with full front and back. It's very normal sized. The very top of the front measures almost 4 1/2" across. The back is 2 3/4" across in the back. There is a nice cotton panty liner in the crotch. The entire panty is nicely stretchable.

On the inside of the panty, the long lace band is sewn in the center. It is sen very well, I might add! That lace is not budging at all. The lace is about 1 1/8" in diameter. It varies slightly due to the scalloping. It is 19" long and goes between the breasts, over the belly button, stretching from neck to the lower stomach.

There is then another lace band of the same size that connects and goes around the neck. It is just over 11" long. On either end a piece of 1/2" ribbon is sewn to it. These pieces are 16" long, so there is PLENTY of tie space.

The pasties are large and are designed to cover the nipple and areola. They are circular, cone shaped and very rigid without much flex at all. Similar in size to a Chips Ahoy cookie, they have a diameter of almost 3". The outer surface has sequins sewn in a spiral pattern. They are sewn well, except for the very tip. Where the pastie comes to a point, the sequins can easily fall off there. On the inside of the pasties is a fabric lining that is covered in adhesive except for a 1" wide circle that has no adhesive. This part is supposed to make contact with the nipples so the adhesive doesn't damage the thin and sensitive skin there.

*Cleaning/care/storage: Hand wash, bag/box

The teddy can be washed by hand in cold water. Because of its design, I wouldn't try to put it in the washer or dryer. Just lay it flat or hang it to dry. The pasties come with an adhesive lining so it can be replaced after use. I have used them once and believe I will be able to get at least one more use out of the original adhesive, but you can add hem tape, eye lash glue, or breast tape to use them again. When you put them on make sure your skin is clean and free of oils that will stunt the usage length of the pasties. When removing, pull slowly. It didn't hurt me at all.

It all comes in a box with pictures of the model on the front and back. The pasties come in a bag.

Made in China.
Experience
*Sizing/fit:
OS, Fits a lot of people
Obviously there isn't much to this. The most important part is the panty. I was worried it would be too small since this product is so cheap and probably wouldn't have gotten it if it weren't for my boyfriend's interest. DreamGirl has been running much better for their one size fits most items and there is not much to worry about with this one. The pasties should fit pretty much anyone but might have some areola peak out. And for the thong, you just have to worry about the hips. According to the package it should fit 90-160 pounds, and size 34-40" hips,
I'm a size 8 in jeans and wear a size medium in Victoria's Secret thongs of most types. The thong fits me, but doesn't create a seamless look like I prefer. The panties can totally stretch to fit another inch bigger than my 38.5" hips, but it will cut in. This is probably ideal for a size 6 and for someone of my height. The length was perfect on me. I'm 5'6". It will stretch if you are taller, but is probably more problematic for those who are shorter.
My Re-done chart:
Dress: 4-10
Hips: 34-38" (can stretch to fit larger if you don't mind it cutting in)
*Possible accessories: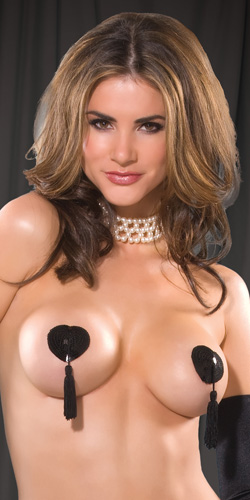 Sequin Pasties
replacements are a good investment if you want to change up your look with this piece. You can choose different options here:
Sequin Pasties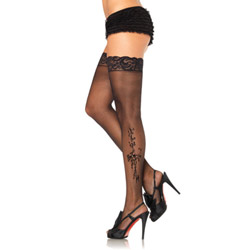 I recommend
these thigh highs
because they have a rhinestone detailing. Or if you can get a hold of
these
, they'd be perfect. Eden discontinued them, but they might be available elsewhere.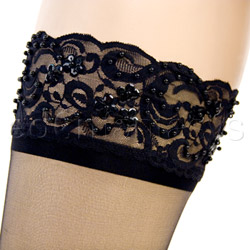 *Conclusion:
★★★★
The Strapped Thong and Pasties set is a great price for what you get, considering pasties can cost this much alone! The design is very eye catching even though there isn't much to it. I could totally make this myself, so I'm glad they aren't trying to charge me an arm and a leg for this. It's a lot of fun to wear! My partner certainly loves it! If you want, save the pasties for something else and go bare chested for this!
Follow-up commentary
1 month after original review
I have not used the pasties again since I am saving them for a special occasion, but I have worn the Strapped Thong. It looks really interesting under different pieces of lingerie and is holding up just fine. I have only hand washed the thong portion.
This content is the opinion of the submitting contributor and is not endorsed by EdenFantasys.com

Thank you for viewing
Strapped thong and pasties
– teddy review page!